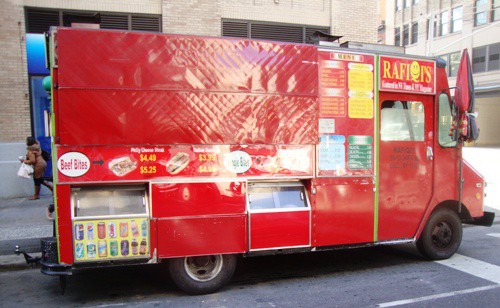 One of the stalwarts of the New York street food scene is Rafiqi's, with new carts and trucks seemingly popping up all over the place on a regular basis.   I can't keep track of them all – there must be at least 10 Rafiqi's carts and trucks around town at this point.  It's basically a street meat mini-chain.
Sometimes all the halal carts in town blend into each other and just become part of the cityscape.  Rafiqi's tries to differentiate themselves a couple of different ways.
First is the look of their carts and trucks, which are all predominantly red, with a smiley-face inside the Q.  If you like Rafiqi's, you should be able to spot them fairly easily.
The other way they differentiate themselves is  by offering up an assortment of toppings at no extra charge.  You can have lettuce, tomato, corn, olives, black beans, green peppers, chickpeas, onions and cheese as toppings and on the salad.  There is also white sauce, green sauce, hot sauce and bbq sauce available.
I got chicken and "lamb" with white sauce, green sauce and hot sauce.  For the side salad I got lettuce, red onions, corn, olives and chickpeas.  This cost $5.75, but is $5.25 if you get only one meat.  It's even cheaper if you get a sandwich on pita or falafel.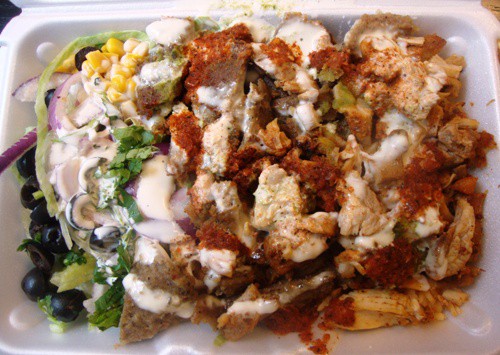 The chicken was made from white-meat breasts.  I could tell the chicken was rubbed with some spices, but couldn't tell you exactly what, although paprika seemed to be in there.  They have a quick turnover during lunchtime, so the chicken was still fresh.
The "lamb" was processed gyro meat, aka "street meat".  It's not something I eat regularly, but occasionally have a hankering for.  If you've ever had a "gyro", you know what to expect.  
The rice was an orange rice with a few carrots and peas.  It wasn't anything special, but was fine.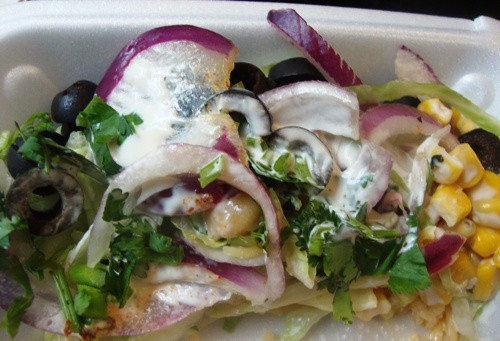 Finishing lunch with a decent side salad was nice.  At most halal carts, the salad is an afterthought.  At Rafiqi's, it's almost like having a small salad bar.
With white sauce, herby green sauce and hot sauce (which was actually hot), this was a classic "street meat" lunch.  It was better than most of the anonymous halal carts on just about every corner of midtown and downtown, but not as good as Comme Ci Comme Ca or Bistro Truck, who do similar meals, but with higher quality ingredients (and prices).
Rafiqi's does have a twitter account here, but I can't say I've ever used it.  When I crave street meat, there are enough of them around to find one pretty easily.