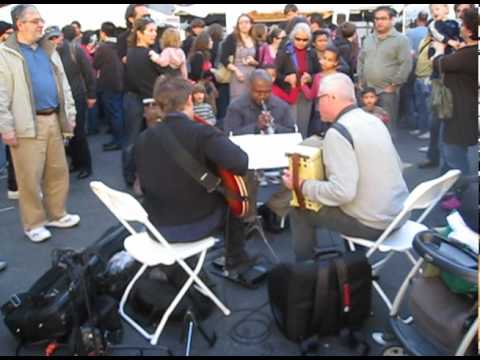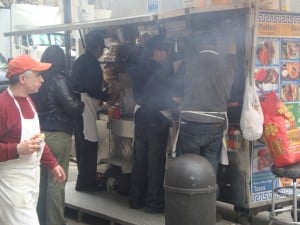 Regular readers of NYSF know how much I like Carnegie John's cart.  A freshly-grilled chicken breast over rice with white sauce and hot sauce makes for a great meal.
Street food aficionados know that Carnegie John learned the business from Tony Dragonas before going out on his own 9 years ago, and that Tony was a finalist in the very first Vendy Awards back in 2005.  Since the weather was starting to get better, it was time to check out Tony's cart on the SW corner of Madison Ave and 62nd St, which is usually a bit out of the way for me.
The first time I go to a cart, I usually order their strongest dish – the one that made their reputation.  That may be why I have chicken over rice on a regular basis.  I'm still making my first pass through some of the best street food carts in New York, and that's often their best dish.  Therefore, Today's Lunch was the chicken over rice platter, which cost $6.50 here.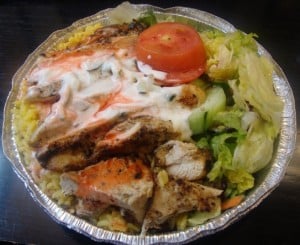 Tony took the freshly-cooked chicken breast and sliced it up into strips on the grill.  He heaped in 3 or 4 large spoonfuls of yellow rice, almost enough to feed a small African nation.  He then put the chicken over rice and asked what I wanted on it.  White sauce and hot sauce, naturally, with some extra of both.  He then put some salad on the side and asked if I wanted dressing, which I accepted.
When I took off the lid, you could tell the chicken was grilled because it was nicely charred in spots, and the extra white and hot sauces made a cool pattern on my chicken.  The taste was really good, too, although the chicken could have been done a little less.  It wasn't dried out, but I would have liked it a little less done.  You can't underestimate the grilling aspect, though.  It was like the chicken came off the barbecue in someone's backyard.  Barbecues are about the only thing I miss living in the city.  I love that slightly charred, grilled taste on chicken, sausages, burgers, shrimp, corn on the cob, and almost anything else grilled.
As far as the sides, the yellow rice was good (and plentiful) and the salad was a cut above the usual.  There was lettuce, tomato, cucumber, arugula and an Italian-type dressing.  Much better than a lot of carts, which just give you lettuce and some white sauce glopped on.
I guess the question people ask is which was better, Tony Dragonas' or Carnegie John's?  In my opinion, John's chicken didn't have quite as much grilled flavor, but I liked the rub on his chicken better.  I did like Tony's sauces and salad a little better though.  I will give Today's Lunch a 9 out of 10.  Next time, it's sausage, which looked really good on the grill.