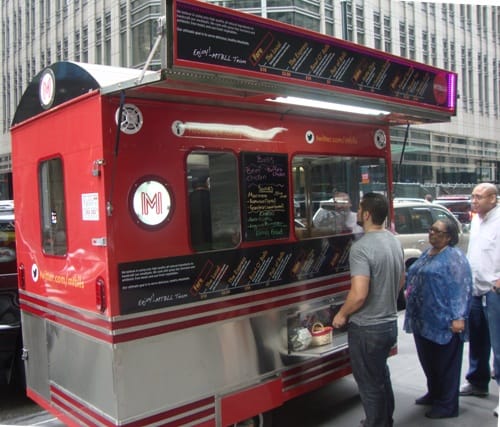 Due to a quirk in NYC law, food trucks are technically illegal, but food carts are not. East 47th St between Park & Madison Aves. used to be a food truck paradise, until the city cracked down on the "illegal" food trucks.
New Yorkers will not be denied their street food, and as we reported, a bunch of food carts took their place along East 47th St. One of the newer ones is the Mtblls Cart.
We already tried the Mtblls Cart once, but a Buffalo Chicken Special brought us back for a return visit.
You can get sliders, a bowl of balls, or a hero. We got the hero for $10.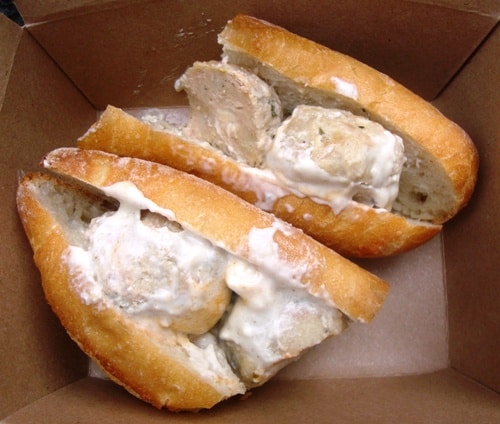 Feel like Buffalo Chicken? Most food carts are pretty basic in design, but the Mtblls Cart is designed to look like a subway car. Even the menu has a subway motif. Heroes are called The Local and sliders are called The Express.
After ordering, we were handed a box of Buffalo Chicken meatballs, which was on the small side. We were afraid this was going to be a small hero for $10, but upon opening the container, we saw the hero had been cut in half. Together there were two decent-sized halves, which together made for a whole sub, hero, hoagie or grinder, depending on where you're from.
The hero had 3 large meatballs in total, with a generous portion of blue cheese dressing and buffalo sauce.
The buffalo sauce was pretty spicy, which is to our taste. The blue cheese sauce was nice and cheesy, with chunks of actual blue cheese in the sauce.
We don't usually like ground chicken, but these meatballs were tasty. There were enough herbs and spices to perk up the ground chicken, which can often be bland.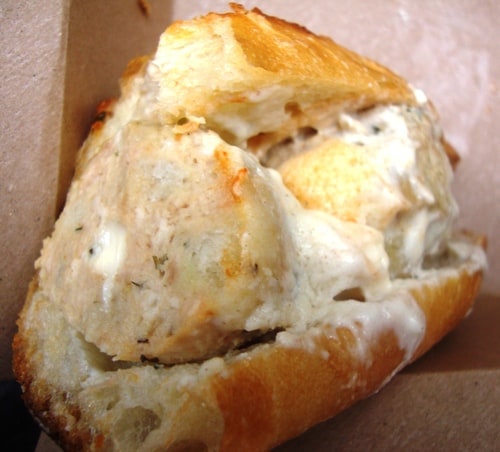 The bread at the Mtblls Cart comes from Amy's Bread. We've been regulars at Amy's store on Bleecker St for years, so we know the bread there is good. To make it even better, they cut the bread in half horizontally and toast it before putting any meatballs or sauce on it.
Even though $10 is on the high side for a meatball hero, lunch was filling enough to hold us until dinner.
The Mtblls Cart usually parks on 47th St between Park & Madison Aves, but lately they have been parking on 50th St between 6th & 7th Ave. Check twitter here, our Mobile Munchies twitter feed, or their Facebook page here.
If you want some variety, they are perfectly happy to give you 3 Buffalo Chicken meatballs with different sauces on one hero. That's a good way to see whether you prefer their marinara, romesco, francese or blue cheese sauces.