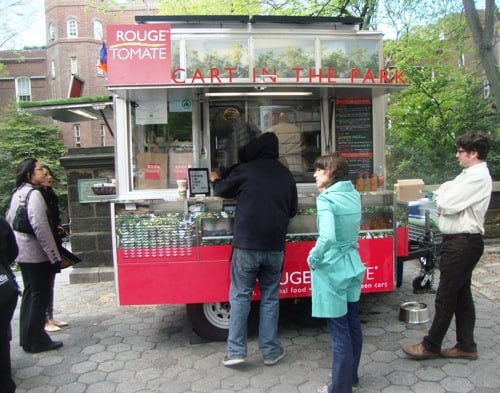 We first saw the Rouge Tomate cart at last year's Taste of the Parks event, where the NYC Parks Dept were showing off some of the new vendors in various NYC parks.  The Rouge Tomate cart served a chilled white gazpacho soup made with cucumbers, grapes, almonds and whole yogurt pureed into a small, delicious taste of 3 or 4 bites.
Rouge Tomate is a restaurant at 10 East 60th St, but their cart is on 5th Ave at 64th St, right outside the Central Park Arsenal and one of the Central Park Zoo entrances.
We heard the cart opened last week, and the menu was totally revamped.  Instead of grilled cheese, BLT's and other sandwiches, they switched to burgers, and one in particular caught our eye – the Moroccan chicken burger for $8.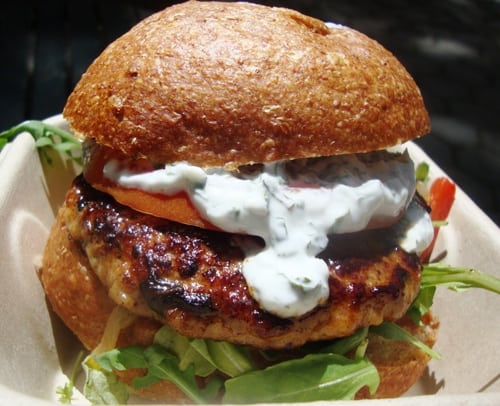 I'm not usually a big fan of chicken or turkey burgers, but with Moroccan spices in the meat, harissa, and a minted yogurt sauce, it was worth taking a chance.
My hunch was proven right when I opened the container.  Maybe is was the dappled sunlight poking through the trees in Central Park, but this was one of the most beautiful grilled burgers I've seen.  It literally glistened in the sun.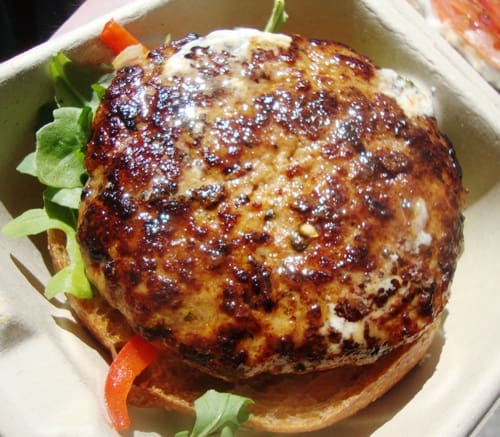 While the burger was the centerpiece of lunch, there were plenty of other ingredients, both above and below the patty.
The soft bun was whole wheat and came from Amy's Bread.  On the bottom half of the roll were arugula, grilled onions and red & yellow bell pepper slices.  The chicken patty was next, then a big slice of rouge tomate (red tomato), minted yogurt sauce, and the top of the bun, which had harissa spread on it.
At home recently we've been making Moroccan meatballs with a minted yogurt sauce, and this was in the same family, but even better.  Minted yogurt sauce goes even better with chicken than it does with beef, and the grilled bell peppers and onions really added to the taste of the burger.
They also had small containers of pickled vegetables like jalapeños, carrots and more.  They were a nice side snack while I was eating the burger.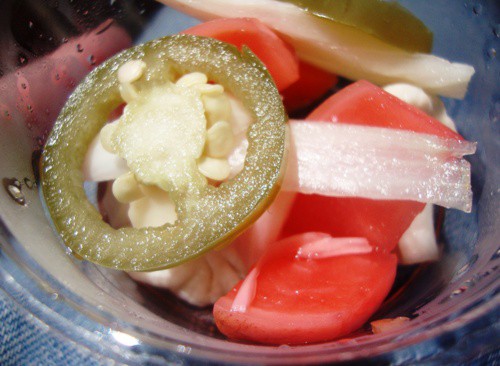 This had to be one of my favorite new lunches of the year.  Bistro Truck also does great Moroccan food, but they haven't been out yet this year due to bureaucratic problems with the city.
My only complaint during lunch was with Mother Nature.  I wanted to try one of their ice cream sandwiches, but it was just too cold and windy.  Oh well, that gives me an excuse to go back again when the weather gets warmer.
The Rouge Tomate cart has a twitter account here, but it's not like the location or menu changes.  In this case, that's a good thing, because this lunch was delicious!