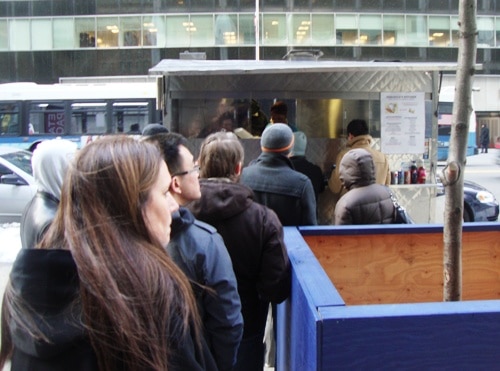 Ever had a really hot Jerk Chicken Platter? Well, we were downtown for lunch yesterday, which is a fairly rare occurrence, but one we wanted to take full advantage of. What better way than to have lunch from Veronica's Kitchen?
Veronica's Kitchen is a stalwart of the Financial District, serving lunch on Front St by Pine St for many years. In fact, Veronica's was a Vendy Award Finalist in the 3rd Vendys, back in 2007.
Because of the snow, the cart was on Water St by Pine St, but that looks to be a temporary situation.
It was our first time at Veronica's Kitchen, and the line was about 12 people long, so we did our best to see what others were ordering.
Even though the menu is a decent size, everyone seemed to be ordering jerk chicken, and we did the same. A small is $6 and a large is $8. Both come with your choice of 2 side dishes.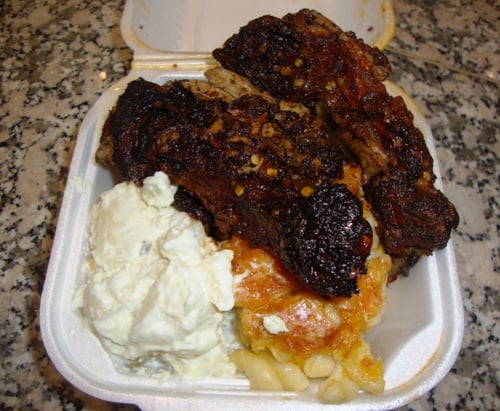 We know from the Jamaican food vendors in midtown like Jamaican Dutchy and Jerk Pan that a large is usually way too much food for lunch.
The list of side dishes was long, and we went with mac & cheese and candied yams. Unfortunately, they only had a few yams left, so Veronica supplemented our platter with potato salad too.
Opening the container, we were right to get a small. There were 2 pieces of chicken, a large wedge of mac & cheese, a nice portion of potato salad, and the last couple of candied yams were buried underneath.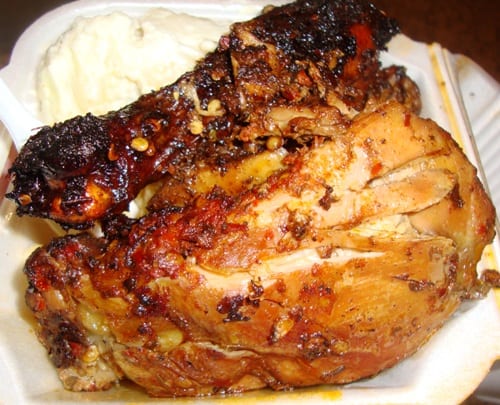 The chicken leg was dark and foreboding, but the thigh was more inviting. When Veronica was making up our dish, we saw her ladle several spoons of sauce over everything, and it was some serious jerk sauce! Our lips and tongue were on fire, with a vinegary, peppery blast that hit you right away.
The chicken was cooked long enough that it came right off the bone, and was very tender and moist. When people talk about jerk chicken being really hot, this is what they're talking about!
Digging into the mac & cheese for a little relief, not much was forthcoming at first. The spoonfuls of jerk sauce had seeped down into the mac & cheese, and it had quite a kick too. Luckily, it was only near the top.
The base of the mac & cheese was good, but pretty basic. However, the top crust of the mac & cheese had a nice tang from what seemed like a Swiss-type cheese. The tangy crust was able to stand up to the jerk sauce, and some relief was found underneath the crust.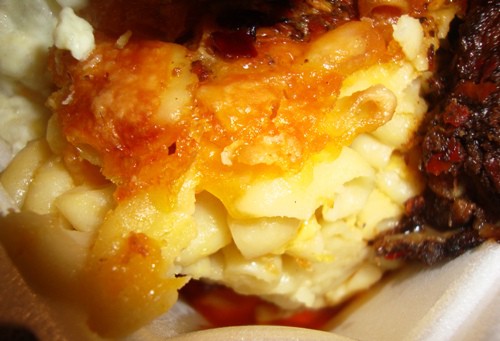 The potato salad and yams didn't get any of the jerk sauce, and the potato salad was also cold, which made it the bestsolution for  cooling off our mouth. It was creamy and solid potato salad.
We were sorry to have only gotten the last of the candied yams, because we really enjoyed them. The yams were very soft and sweet, and would be very welcome on our Thanksgiving table. It might be too sweet for some people, but not for us.
Lunch from Veronica's Kitchen was very enjoyable, and we look forward to trying some of her other dishes when the opportunity arises. They don't have a twitter account or website, but if you go by Pine St and Front (or Water) St at lunch, you will see a cart with anywhere from 6-12 people lined up, and that was in mid-February. It's probably longer in the nice weather.
We almost went for the curry shrimp, but when 90% of the people were ordering jerk chicken, that's what we did too. The fried chicken is on our list too, and the stewed red snapper on Fridays sounded great too. So many choices, so little time.