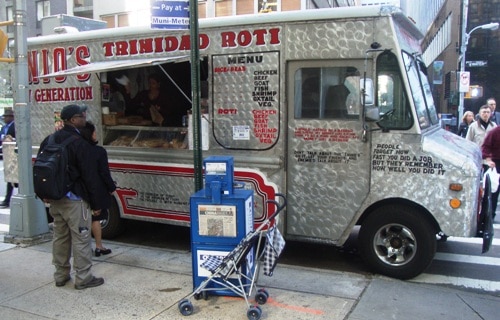 Ever had a  Fish Roti Wrap? Well, one of the benefits of going down to the Financial District for lunch is being able to try new street food vendors. We have never worked downtown, so many of the lunch options there are new to us.
For example, we knew about Nio's Trinidad Roti truck, but didn't have a chance to try them until a few days ago. Nio's has operated a restaurant at 2702 Church Ave in Brooklyn for nearly 30 years, but the truck had been off the road for quite a while. A few months ago, Nio's silver truck returned to Water St & Pine St every weekday for lunch.
The menu is comprised of roti wraps, with various fillings such as vegetable, chicken, beef, goat, shrimp, or a few other choices. Prices range from $5-$8, with our choice, fish, being $8. We also got a Trinidadian double for $2.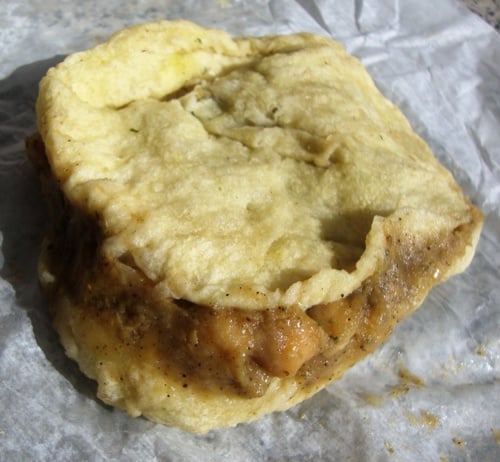 Opening up the double, it was a sandwich with two pieces of bread similar to Indian poori. That means a soft, light fluffy bread, with a chickpea mixture in the middle. The filling was spicy, herbaceous and curry flavored. It was also pretty filling for $2. The only thing we would say is to get some tamarind sauce either on or inside the double. The sweet tang would go well with the double.
As for roti, we have seen it on both Indian and Caribbean menus. In our experience, it is also made with a spongy, thin bread like poori that you tear apart and use to pick up pieces of meat or veggies stewed in a curry-ish sauce.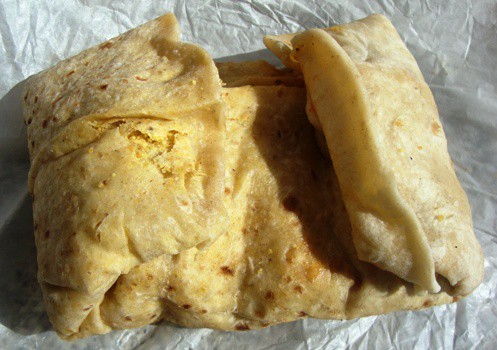 At Nio's, the bread is about the size of a large tortilla used to make burritos. In fact, a burrito is a good dish to use as a comparison to a roti wrap. Various fillings are put into the bread, and it's folded up like an Indian or Caribbean version of a burrito, albeit a huge one. This had to be one of the heaviest dishes we've picked up and eaten for lunch.
There were potatoes, veggies and fish inside, with the aforementioned tamarind sauce and a distinct curry taste.
We are usually big fish fans, but this was even a little too fishy for us. The pieces of flakey fish were good to pick out and eat, but the sauce in the roti was too fishy.
Next time, it's the chicken, beef or veggie for us.
Looking at their printed brochure, Nio's is also a Caribbean bakery. They may not have every item every day, but the menu included currant rolls, coconut drops, bread pudding, cassava pone, pineapple turnovers, beef pies and more. Definitely have to try some of their baked goodies next time.
Nio's Trinidad Roti Shop doesn't have a website or twitter account, but they park on Water St by Pine St every weekday for lunch. The food is quite interesting, and the only other vendor we know of with similar food, the Trini-Paki Boys cart, is in midtown.