Feel like Italian Sliders? We were near Lincoln Center recently and decided to stop by Eddie's Pizza Cart for lunch. Last year at Taste of the Parks, we learned about Eddie's new cart in Richard Tucker Park at Broadway & 66th St, but hadn't had a chance to try them yet.
We've eaten at Eddie's Pizza Truck many times, but what we really wanted to try were their new slider.  The sliders are only available at Eddie's Pizza Cart, not the Truck.
There are 4 choices for sliders on the slider menu, although they allowed us to bend the rules a little.  The Italian Sliders are $4 for 1 and $6 for 2.   We got one hot and one cold slider for $6.
We started with the cold slider, which had proscuitto, sliced mozzarella, tomatoes and arugula on a soft slider roll.  This was a refreshing small sandwich, with very fresh ingredients, and balsamic vinegar on the sandwich as a condiment.  Nice!
As for hot Italian Sliders, the menu only listed meatball and chicken parmigiana, but I asked if I could have the buffalo chicken sandwich as a slider and got a "sure".
The buffalo chicken slider had a nice piece of breaded chicken cutlet, spicy tomato sauce, onions, shredded mozzarella cheese and several slices of hot Italian peppers under the hood.
I really like spicy food, and this slider had a nice kick.  Not only were the peppers spicy, but they were a little sweet too.  Yum!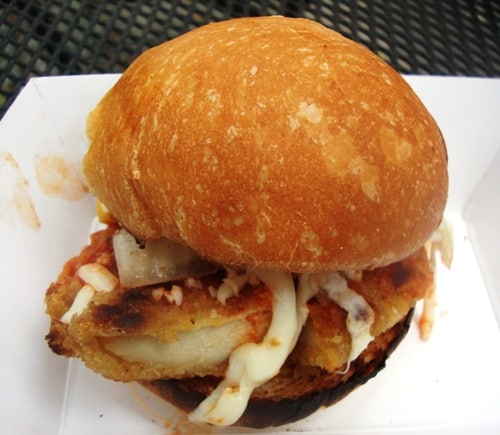 I wasn't quite sure what to expect from the Italian Sliders at Eddie's Pizza Cart.  I've had both good and so-so sandwiches from the truck, so the sliders were a nice surprise.
I'd have to say these Italian Sliders were among my favorites meals from Eddie's.  Honorable mention should be given to the rolls too, which were soft, sturdy and tasty.
Eddie's Pizza Cart can be found across from Alice Tully Hall on Broadway & 66th St.  They are open until 8pm, so if you have an event at Lincoln Center and the weather's nice, this is a much cheaper alternative to the restaurants in the area.