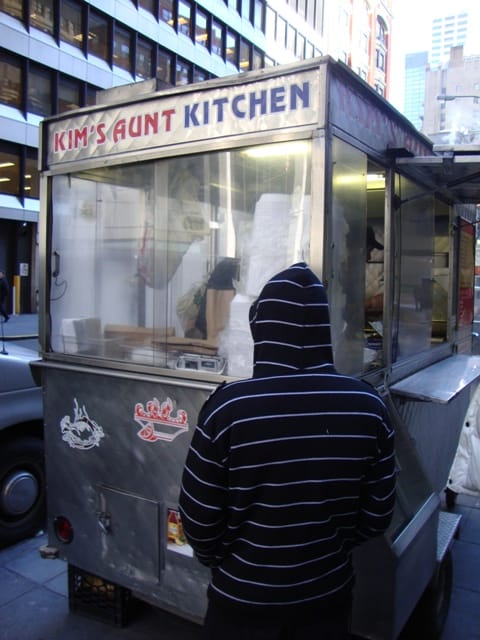 We love seafood, but it's usually expensive, so we're glad to have Kim's Aunt Kitchen around for lunch. Their name may not be grammatically correct, but they have good, basic seafood at some of the best prices around. The cart is located on 46th St between 5th & 6th Ave, but much closer to 6th Ave.
Kim's Aunt Kitchen is best known for seafood sandwiches and plates, offering breaded and deep-fried flounder, shrimp and whiting, but the day we went, there was a handwritten sign they had grilled salmon for $8.
What the heck, let's try something healthy for a change!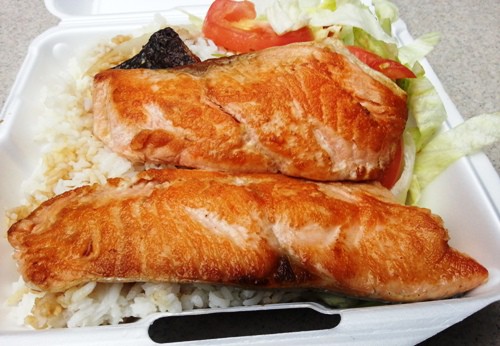 The cooking at Kim's Aunt Kitchen is basic, but good. When they say grilled salmon, that's what you get – salmon over white rice. They have fried rice and noodles available too, but white rice is the best option here.
Kim's Aunt Kitchen offers tartar sauce, white sauce, hot sauce, ketchup and bbq sauce, but we didn't want to bury the fish. We just asked for some lemon to squeeze onto the salmon, and went our happy way.
Opening the container, there were two pieces of nicely grilled salmon. A little squeeze of lemon, and we were good to go.
The salmon was cooked through just right. It was still nice and juicy, not overdone, and flaked off the fork as it should. We were definitely happy with lunch today.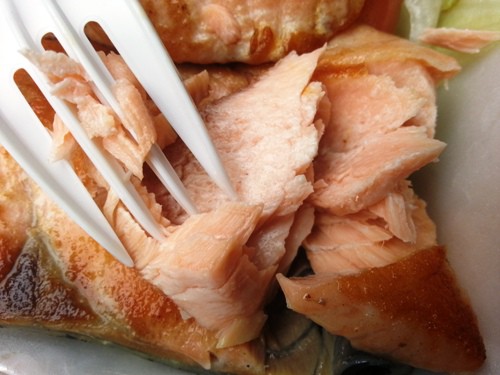 The platter includes a basic salad of iceberg lettuce and a slice or two of tomato, but it's more of an afterthought than an integral part of lunch.
You can't beat two pieces of salmon over rice for $8. Yes, you have to be careful with inexpensive seafood, but we've been eating at this cart for years, and never had a bad meal.
Actually, let me be more specific – we've always enjoyed seafood lunches at Kim's Aunt Kitchen, but they also offer beef bulgogi and lo mein noodles, which were not so great. If you're going to Kim's Aunt Kitchen, stick with the seafood.
As we said, they are on 46th St just east of 6th Ave every weekday for lunch. No twitter or website, but you don't need one when you're in the same place every day, and have built up a good following.