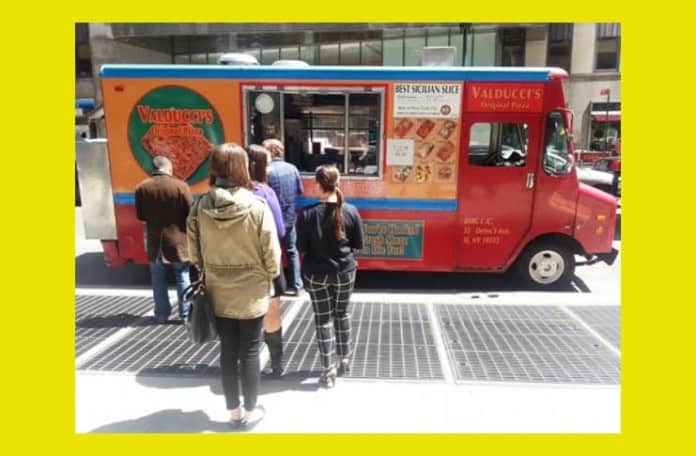 Valducci's is best known for their Sicilian-style pizza, which we previously told you about, but they recently expanded the menu.
In addition to half a dozen options for pizza toppings, the menu now includes a meatball sandwich and zeppoles for dessert…but we didn't order any of those.
Valducci's has been testing out an eggplant panini sandwich, and the only way to know about it is to follow them on Twitter. It cost $10, which seems high for a meatless eggplant panini, but let's try it out before passing judgment.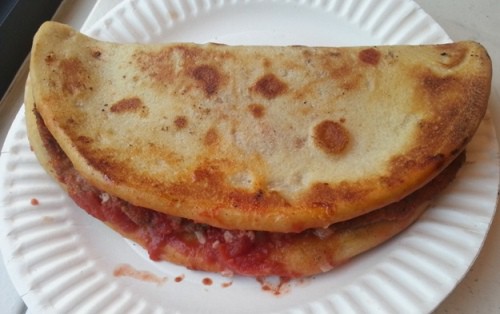 It took about 10 minutes after ordering to get lunch. The sandwich felt pretty light walking back to the office, but once we opened it up, this was a substantial panini.
This is not a panini in the pressed sandwich sense of the word – to us it was more like a panini-calzone hybrid (a "pazone"?).
The bread was made of pizza dough, just like a calzone. Breaded eggplant, tomato sauce and mozzarella cheese were placed on the plate-sized disc of dough, folded over (but not sealed) and baked in the pizza oven.
Similar to pizza, the crust was chewy, but it was softer more towards the center of the panini.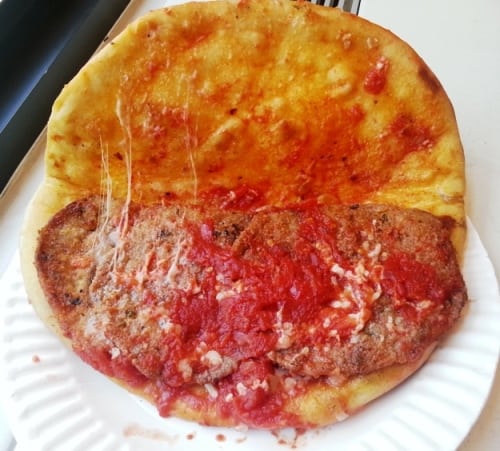 There was plenty of breaded eggplant and the right amount of tomato sauce, but we would have enjoyed more mozzarella cheese. How many times have you heard us say "more cheese please"? That seems to be our refrain in life.
Overall, we enjoyed the eggplant panini, but $10 was too much for breaded eggplant, tomato sauce and mozzarella cheese on pizza dough. A price of $7-$8 would have been more appropriate.
It was definitely filling enough to hold us until dinner, though.
You can follow Valducci's on twitter here or on the Mobile Munchies twitter feed. That's the best way to find out about specials like the eggplant panini.