We finally got down to the latest incarnation of Madison Square Eats, which runs through the end of May. There were some interesting vendors included, but it was damn crowded! Our suggestion is to go early, late or after work for a drink and a bite, since they are open until 9pm every night. Several vendors serve booze, so dinner might be a better option if you want to imbibe.
This time we decided to eat at Takumi Taco, which we tried only once before, with a quick taco last summer.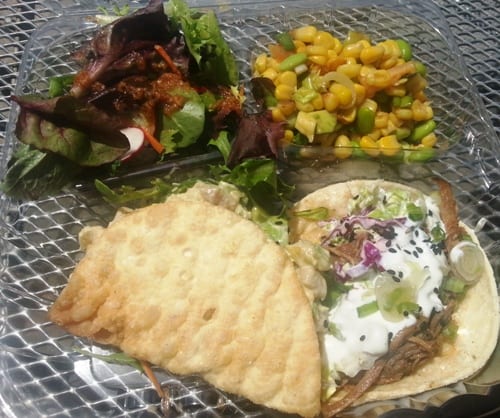 The prices are pretty high, with most tacos costing $5-6, so the way to go is with a Bento Box. For $12, you get any 2 tacos, 1 side dish, and a small salad.
After ordering a short rib taco and a yellowtail taco, we found out the yellowtail taco was $1 extra. Another word of advice, always look for the fine print on the menu, and this print was pretty small.
The concept behind Takumi Taco is Japanese-inspired tacos that use fried gyoza skins as the taco shell. At least they did on some of the tacos. A few tacos were served in regular tortillas.
The yellowtail taco had chopped fish, avocado & red onion combined in a mayo-type sauce. It was cold and refreshing on a nice day, and there was a nice amount of filling in the taco, but we probably would have been just as happy with a spicy shrimp taco for $1 less. It was good, but not amazing.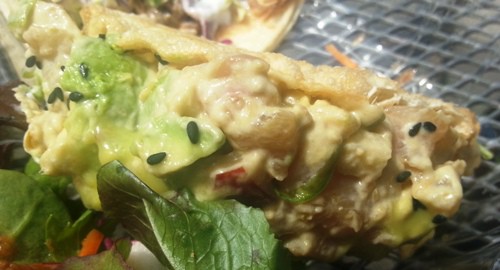 The fried gyoza skin shell was crispy and lighter than either a hard or soft tortilla shell. The crispiness did mean it broke during eating, but not enough that we ruined our clothes (which has been known to happen).
The short rib taco was served in two soft flour tortillas. Good to see they used two tortillas instead of one. We don't like it when tacos are served with only one soft tortilla.
Between the two tortillas and them being soft, there was no problem with breakage.
Inside the short rib taco, there was no shortage of shredded beef. A little bbq sauce would have been welcome, but the meat was tender and juicy. A little sour cream, red cabbage and black sesame seeds did vary the flavor a bit, but a good meaty short rib taco doesn't need much else besides the beef.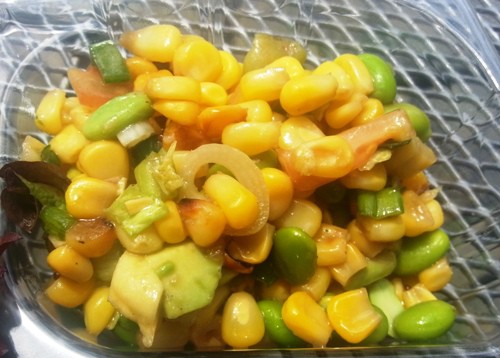 For the side dish, we got the charred corn. It was a cold salad with corn kernels, edamame beans, scallions, a little tomato, and a nice little sauce. The small side salad was good too, with decent greens and a ginger dressing.
Takumi Taco is usually at the Starrett-Lehigh building during the week (26th St & 11th Ave), and Brooklyn Flea, Smorgasburg and other markets on weekends.
You can follow Takumi Taco on twitter here or on our  Mobile Munchies twitter feed.