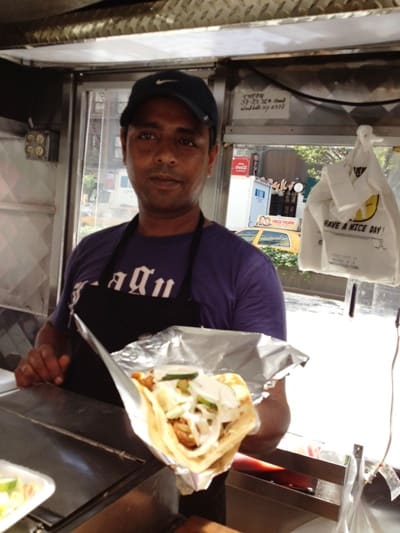 Feel like chicken biryani? Well, we always like to hear about good street food from readers who love it as much as we do. If there is a street vendor you think goes above and beyond the usual street fare, let us know about it. We might even ask you to write a Guest Post, as we did with JR.
JR emailed us a few days ago about a cart that he really likes near his office that's on the NW corner of Park Ave South & 19th St. It looks just like another generic cart from the outside, but the tip-off is the sign taped to the front of the cart with Daily Specials like shrimp biryani, chicken tikka masala and kati rolls. That means the cart is Indian cuisine as opposed to the usual halal carts. (Update: There is now a sign that says Tariq's #1 Halal Food)
Without further ado, here is JR's review of Tariq's cart, along with some good-looking photos he took.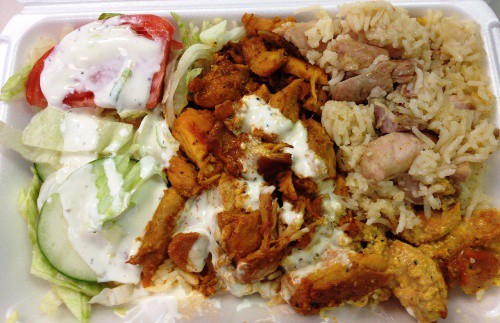 While the Union Square area is host to a wealth of dining and street food options, good halal carts are scarce. Of course, it's not hard to find a serviceable chicken over rice in the area, but I have to trek down to Sammy's Halal on 6th Ave and 4th St (go with the green sauce!) to get a really good one. (NYSF Note: We totally agree about Sammy's green sauce.)
Two weeks ago, I left my office in search of lunch and found myself waiting in line at a generic looking Halal cart on the NW corner of 19th and Park Avenue South. I can't put my finger on just why I stopped there, but Tariq, the gentleman running the cart, had a great vibe that pulled me in.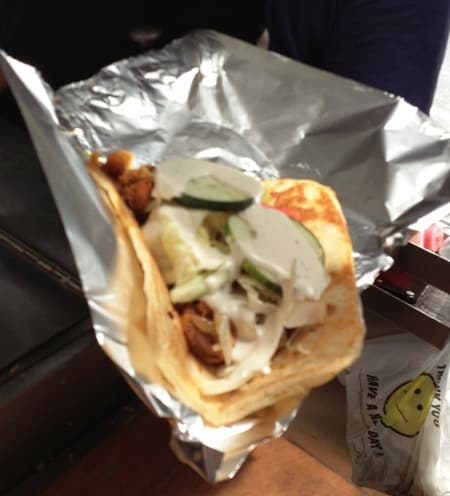 I was more than pleasantly surprised by the food. The chicken biryani had been marinated in a blend of spices that gave the dish some real depth, and it was sitting on top of some deliciously earthy basmati rice. Tariq also mixed in some freshly grilled onions and grilled slices of eggplant—his vegetable of the day.
On subsequent trips to the cart, I have enjoyed a tender and flavorful chicken biryani cooked with a special chef's secret rice. Also of note are his kati rolls, some of the first I've seen in the Union Square area. Fat rolls packed with fresh cucumbers, meat and veggies that are almost a meal in themselves.
On most days the owner also had a little something special cooking up on the side that he adds to your dish as a little appetizer. Lately, it has been a sublime chicken tikka that is so good that it might actually be too rich for a full lunchtime dish.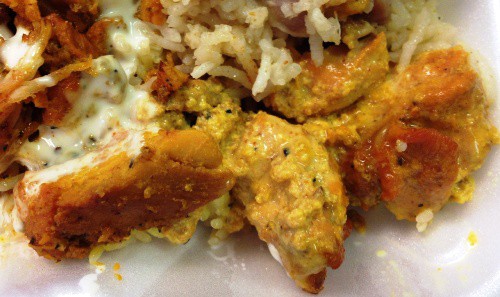 While this cart may not win a Vendy Award this year, it is one to watch. As previously mentioned, the cookie-cutter cart is not in any way representative of the food coming out of it. Tariq's food and his preparation are soulful, and it's obvious that a lot of care goes into it. He's not running an assembly line grill with a mountain of half-cooked chicken pushed to the side.
Tariq puts care into each plate he serves, which means that it might take a little longer to get lunch, but it also means that he'll make you up a combo plate of his greatest hits of the day if you can't settle on just one thing. And if you love your spicy foods, he will gladly toss in a few (very) hot peppers on the side.
Most of the chicken dishes are in the $5 range with the kati roll coming in at $3.50. While he also serves lamb and a fish over rice dish, I've been having such a good time with his chicken dishes that I haven't felt the need to branch out just yet.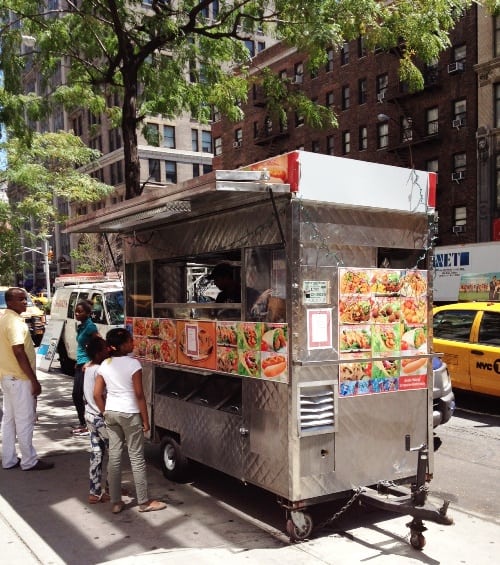 Thank you JR for that mouth-watering description. After reading your review, we might head down there to try the shrimp biryani. (Update: After reading this, JR emailed us to say the shrimp biryani is his weakest dish. Tariq says he is discontinuing the shrimp biryani, but has other shrimp dishes planned. BTW, this cart has only been around for a month, so it should get even better.)
If you have a special street food vendor that stands out from the crowd, please email perry@newyorkstreetfood.com. It's a big city, and we can't cover it all without your help.