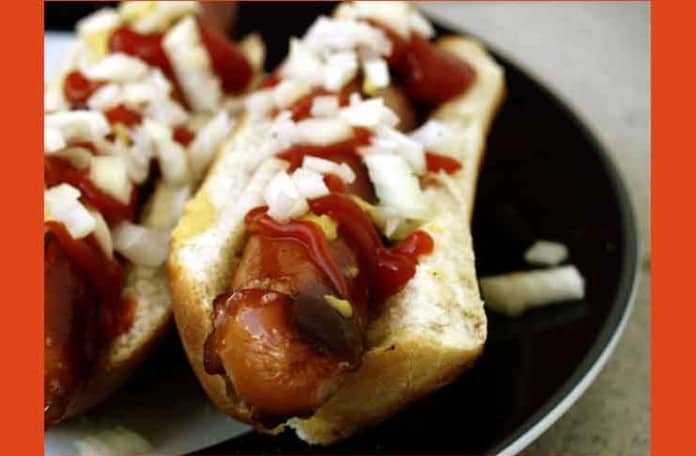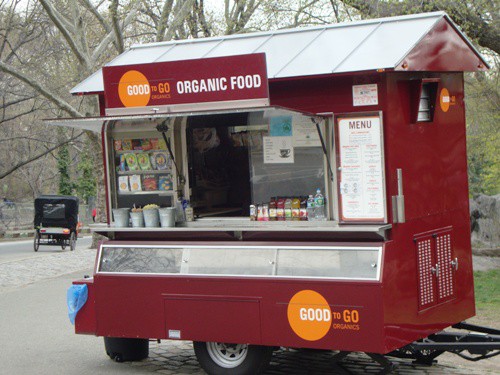 This is my first day back in the office after being in L.A. last week, so time for lunch was a little tight.
A few weeks ago, I heard about some relatively new carts in Central Park with organic hot dogs and sausages, and thought it would be a nice, short walk from my office.
Today's Lunch is an organic beef hot dog ($3.50) and an organic chicken & apple sausage ($5) from Good To Go Organics, who have 2 carts in Central Park and one at Chelsea Piers.
The one I went to is inside Central Park just north of 59th St between 6th & 7th Ave (more towards 6th).  They have a second cart in Central Park closer to 5th Ave and a third cart at Chelsea Piers.  Click here for the exact Central Park locations and here for the menu.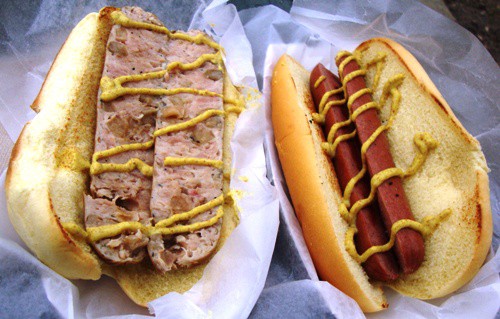 I guess the first question is whether food carts in Central Park qualify as street food.  In my opinion, if they are hot dogs and sausages, they certainly do.  The second question is whether they are significantly better than regular New York hot dog carts, and should be included in the New York Street Food directory and map.
Let's start with the regular beef hot dog.  Two things were immediately different from regular hot dog carts – the hot dog was grilled, not boiled, and the bun was toasted.  Were these enough to justify the $3.50 price for a hot dog?
Well, it was organic, as all the food in the cart was.  It also tasted like a good, all-beef hot dog. It didn't seem like there was a lot of filler.  Whether it's worth the extra money is something everyone has to decide for themselves.  Personally, I would rather pay a little more for higher quality food, but not everyone would.
The chicken apple sausage was even tastier.  There were chunks of apple in the sausage, which you can easily see in the top picture.  The sausage was also more peppery than I expected.  Chicken apple sausages are usually fairly sweet, but this sausage had a nice amount of black pepper too.  I think $5 is a fair price in New York for a chicken apple sausage like this.
The buns were really good too.  Besides being toasted, they were Martin's potato buns, which had a nice taste to them, and were definitely more substantial than the buns you get from regular hot dog carts.
What I didn't realize until I started looking around was that everything was made by Applegate Farms.  When I asked about it, the guy serving told me the cart was owned by Applegate Farms.
I've seen Applegate Farms in the grocery store, and the food is a better quality than most of the regular hot dogs on the grocery shelves.  I don't know why they didn't just call the cart Applegate Farms Organics or something like that.  Doesn't matter – it's still much better than the regular hot dog carts that are around. (Update: After reading this post, the manager of Good To Go Organics emailed us to say the carts are independently owned.  They are not owned by Applegate Farms.)
Today's Lunch was a good, quick, tasty meal from the Good To Go Organics cart in Central Park.  I just wish they were in Central Park when my kids were little, because the choices were much more limited back then.  Street food has certainly come a long way.