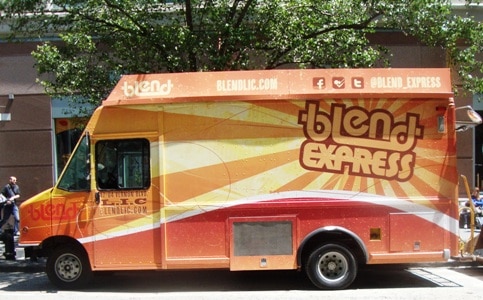 Ever had a Latin Beef Bowl? Neither have we.
Another new food truck on the scene this summer is Blend Express.  Some food trucks cross over and open brick-and-mortar restaurants, but Blend Express is an example of a reverse crossover.  They already have a restaurant in Long Island City called Blend.  Now they have expanded with a food truck.
The menu isn't very large or descriptive, with the truck calling itself Latin Fusion. Not sure exactly what that means, but they had  burritos for $6, bowls for $7 and a Cuban sandwich for $7.  The options were beef, chicken, pork and veggies.
I opted for a beef bowl for $7, and told the chef that I wanted everything on it, and I like it spicy.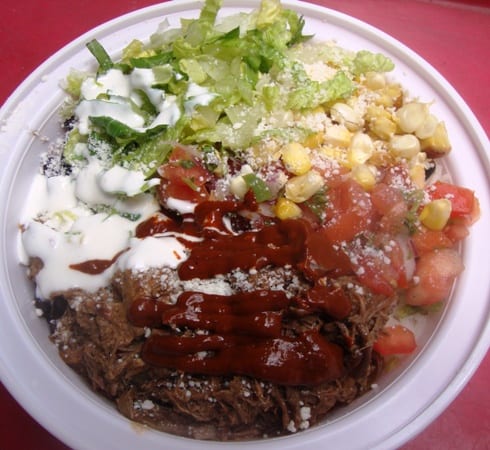 Opening up the container, there was a large portion of shredded beef on one side with a little crema and a spicy brown sauce added.  The beef was very similar to ropa vieja – slow cooked with a very light tomato base.  I even ran across a few bell peppers that were cooked with the meat.
The hot sauce was most definitely hot too.
The rest of Latin Beef Bowl lunch was comprised of a bunch of side dishes.  There were black beans, white rice, lettuce, pico de gallo and red onions, with crema and cojita cheese added as well.
The rice was good, but I thought the black beans were even better.  The beans were cooked, but still firm, and with some cojita cheese sprinkled on, they were quite tasty (and healthy).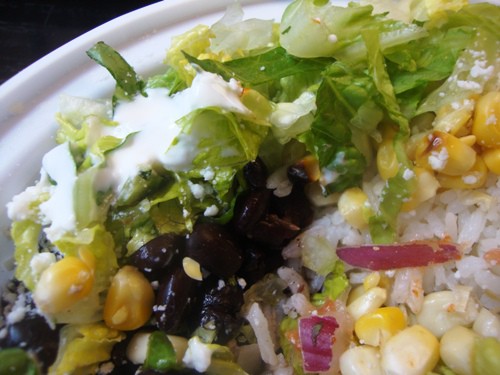 This was a nice amount of food for $7.  I was pretty full afterwards, and pretty happy too.
Blend Express is a fairly new truck that is not out every day, but they seem to be increasing their schedule as they get their sea legs.
They hit different neighborhoods, and I caught them in Midtown West.  To find Blend Express, you can locate them on Twitter here or on our Mobile Munchies Twitter feed.