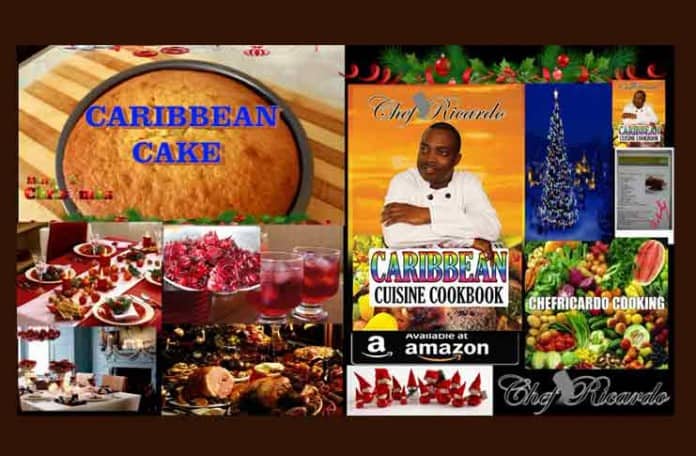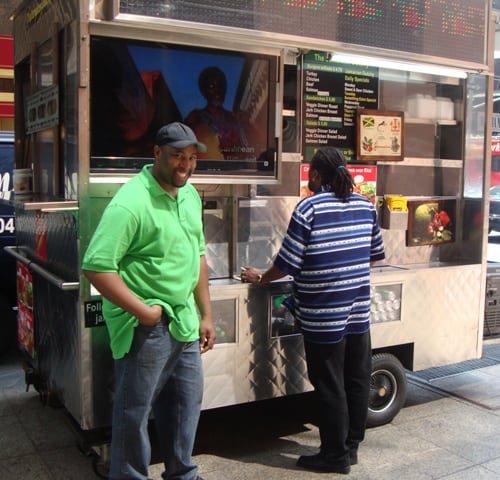 One of the more popular food carts in midtown is the Jamaican Dutchy (JD) cart on the NE corner of 51st St and 7th Ave.  JD was founded by O'Neill Reid a few years ago, and they were a Vendy Award finalist in 2009.  While they didn't come home with an award last year, JD gained a lot more fans , in addition to the many customers it already had.  The Jamaican Dutchy cart is well-known and loved by New Yorkers of all types.
O'Neill agreed to sit down with us for a NYSF Featured Vendor profile.  It took a little time for us to get together, but once we did, O'Neill gave us a friendly and engaging interview.  Here's the latest NYSF Featured Vendor Profile with O'Neill Reid of Jamaican Dutchy:
NYSF:  When did you start JD?  Did you have any food, cooking or business background before this?
OR: I started JD 3 1/2 years ago.  I didn't have any cooking background other than cooking at home.  I worked in security before JD, but always wanted to be my own boss.  People who ate my food said I should cook for a business, and I eventually did.
NYSF: How did you come up with the idea of serving Jamaican food from a cart?
OR: I watched the guys with the halal carts, and realized I could do the same thing, but with Jamaican food.
NYSF: How long did it take to get everything together – the cart, permits and menu?
OR: It took about 2 years from an idea to actually being on the street.  I did a lot of research and made sure everything was planned out.
NYSF: What were some of your early challenges?  How did you get the word out about JD in the early days?
OR: Getting business was the biggest challenge, but word-of-mouth eventually spread.  People told their friends and co-workers about this cart that served good Jamaican food, and more people came.  When I talked to returning customers, I asked them to go on the JD website and leave a comment or two about the food.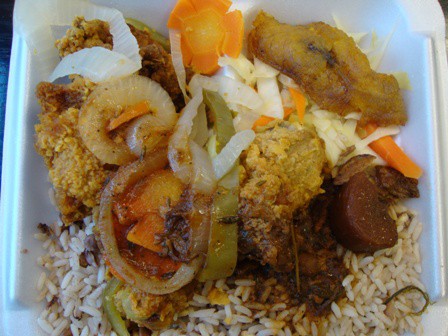 NYSF: Tell us a little about the Vendy Award nomination last year.  Was it a surprise?  How did it change your business, if at all?
OR: It was a bit of a shocker, but a little before the finalists were announced, people were coming around taking pictures and asking me questions, so I thought something might be up.  As far as how it affected business, it wasn't immediate, but for the next few months, people regularly told me they first saw JD at the Vendy Awards, and now that they were nearby, they wanted to try some other things from the cart.
NYSF:  What are some of your favorite non-Jamaican foods?
OR: I like Japanese hibachi cooking – and pizza.  Now that I'm cooking for a living, I'm always open to trying new things.
NYSF: Do you have any advice for aspiring street food vendors?
OR: Do your research first – don't just come out onto the street and expect everything to work out ok.  Make sure you keep your cart and the surrounding area clean. And always be smiling and welcoming to customers, as well as curteous.
NYSF: Do you have any plans for the future?
OR: I've thought about a few things – possibly a storefront or another cart to serve downtown.  I'm always having people ask about JD coming downtown.
NYSF: Is there anything else you want to mention?
OR: Just that I make the jerk sauce and everything else on the cart from scratch.  Nothing is pre-made.  I'm self-taught and burned quite a few things in the beginning, but people love my food now.
NYSF:  I appreciate your taking the time to talk with us.  Thank you and best of luck with JD.
OR: Thank you.
Jamaican Dutchy Website: http://thejamaicandutchy.net/site/
Jamaican Dutchy on twitter: http://twitter.com/Jamaicandutchy
Jamaican Dutchy on facebook: http://www.facebook.com/jamaican.dutchy