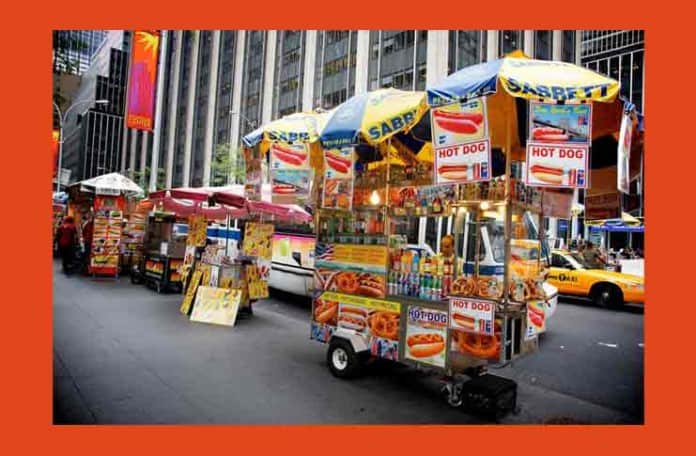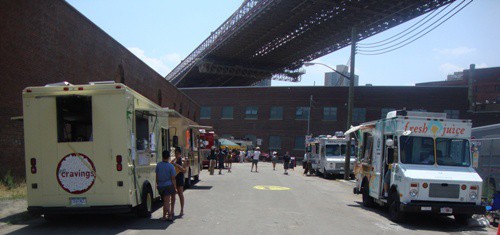 Yesterday (June 26th) was the first Food Truck Drive-In held as part of the 4th Annual Food Film Festival.  The drive-in was under the Brooklyn Bridge in DUMBO with over 30 food trucks in 2 different sections and another area for food vendors from the Brooklyn Flea.  It was a beautiful day to enjoy street food from some of the best vendors in the New York area.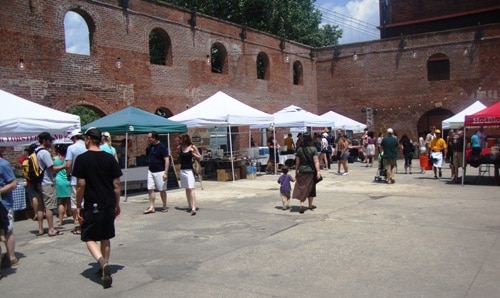 Upon entering, the first section had stands with vendors from the Brooklyn Flea and the seating area for film screenings.  I've had some of the Brooklyn Flea vendors' food before, such as Asia Dog, but one I hadn't tried yet was Choncho's Tacos.  They set up a little tiki hut in one corner, and their menu was written on a blackboard on a surfboard.
I spoke with Forrest, who owns Choncho's (as well as The Loading Dock) and he told me about a new item – taco negro.  It was a calamari taco with squid ink.  Sounded good, but I had to go with their best-known dish – a beer battered mahi-mahi taco with cilantro, red cabbage and crema.  I added some hot sauce, squeezed on some fresh lime juice and took a bite.  Delicious!  The fish was perfectly cooked and held up very well to the toppings.  This was one of my favorite dishes of the day.  Always love fish tacos.
After the fish taco, I walked through to check out the food truck areas.  First there was a closed off street with NYC Cravings, Schnitzel & Things, Eddie's Pizza Truck, Street Sweets, the Green Pirate Truck, Dominican Soler and Bistro Truck.  These are some of my favorite food trucks – but today was for trying some new things.  I've written regularly about most of the above trucks, but one I haven't tried was Dominican Soler.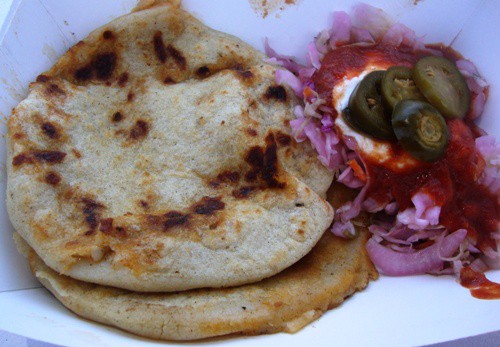 Dominican Soler was a Vendy Award finalist in 2008 and are best known for their pupusas.  Rafael Soler even made pupusas on the Martha Stewart show last year.  Pupusas are flatbreads stuffed with meat, cheese, beans, or a combination, such as the beef and cheese pupusa that I ordered.
There were 2 pupusas per order – and it was a good amount of food for $7.  The fixings on the side were fresh jalapenos, pickled onions, salsa and sour cream.  I dipped the pupusa into the toppings and took a bite.  It was very hot (temperature wise) with shredded beef and cheese in the middle.  It tasted very good, but was a bit heavy for such a hot day.  One pupusa would have been enough, especially with all the other new trucks to try.
After Dominican Soler, I went into the open lot where the rest of the food trucks were located.  This was also the main seating area, as well as for s of water and beer.  This section had most of the trucks I have not tried yet, such as the Cinnamon Snail, Krave Korean BBQ tacos, Louisiana Spice Truck, Le Petit Temptation and the Green Truck.
For Part II of our NYCFFF Drive-In review, click here.