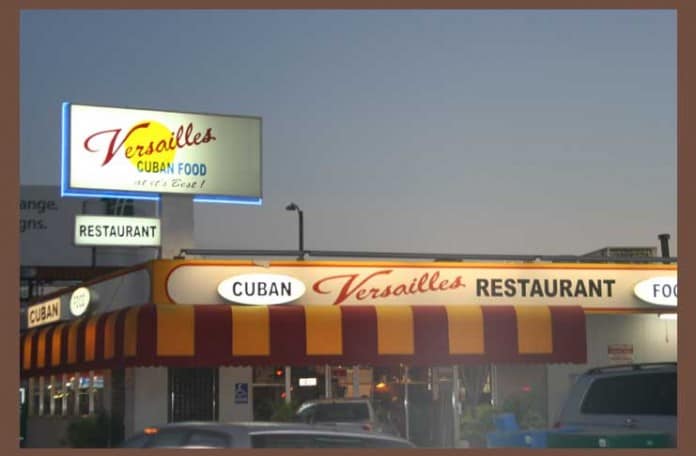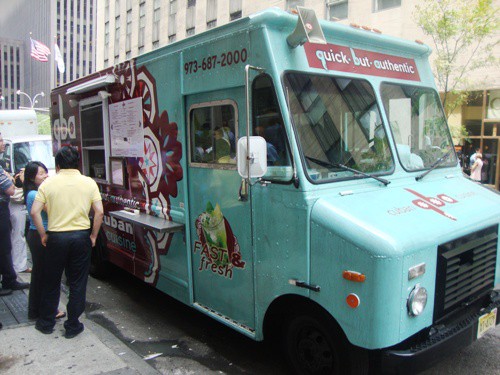 There's a new truck in town – the QBA Cuban Kitchen Truck.  QBA stands for Quick But Authentic.  Their mission is to serve premium Cuban cuisine fast & fresh – and they have big ambitions.  QBA wants to grow into a national chain.
They were on 48th St just east of 6th Ave yesterday, but transmission problems kept them out of service today.  You can follow them on twitter here to see when they will be back in the city, hopefully next week.
We checked out their menu and it looks pretty good.  Today's Lunch is their Cubano Sandwich for $7.  If a Cuban food truck can't do a good Cubano sandwich, they're in trouble.  Let's check it out after the jump.
Walking back to the office, I was a little surprised at the weight of the sandwich.  Their value meals come with rice and beans – which I expect to be heavy – but the Cubano sandwich was just a sandwich with no sides.  I wanted to try their specialty chips, but they were not available today.  Instead, I got a mint-mojito limeade drink to help cool off.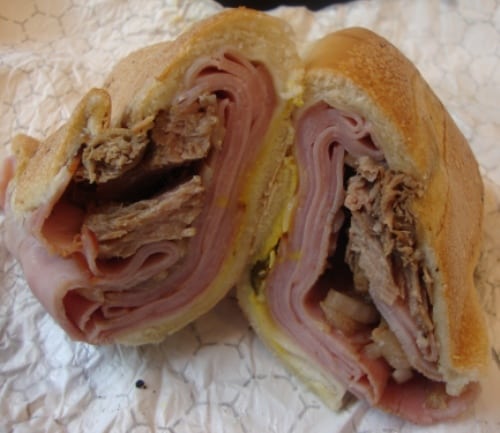 The Cubano sandwich was packed pretty full.  There was a large amount of sliced ham wrapped around Cuban pulled pork, with one slice of Swiss cheese, cooked red onions, pickles and mustard on the bottom.  This was a fully-packed and very tasty sandwich.
The ham was a good quality ham – not exactly Virginia ham, but similar.  The pulled pork was marinated shredded pork with some chunks and spices flecked throughout.  I didn't really taste the Swiss cheese, but the pickles, onions and mustard were great condiments.
It was kind of difficult to appraise the bread because the sandwich had been pressed – standard operating procedure for a Cubano – but it kept the bread from being anything other than two things holding the sandwich together.  That's not bad or good – it just wasn't a factor unto itself.
The mint-mojito limeade was very refreshing.  According to their menu, it's all natural lime juice, cane sugar and seltzer, with a mint leaf.  It was only lightly carbonated, which I prefer.  There's nothing worse than walking around burping all afternoon, which should not be a problem with this drink.
Today's Lunch was a solid 9 out of 10.  The ingredients were all good-to-high quality and the overall bites of the Cubano were really good.  I would have liked a little more Swiss cheese, as it would have added another dimension to the sandwich.  The bread also came apart a bit, but it wasn't really problem because this was not a saucy sandwich.
I'm not Cuban, but have had enough Cubano sandwiches to know this was a good one.  I'm definitely going back to try their steak and chicken value meals in the future.  They also have 4 specialty sauces that I'm dying to try – especially the jalapeno cilantro and guava-habanero bbq.  Oh well, that's for another day.
Needless to say, the QBA Truck will be added to the New York Street Food directory this weekend, and it's already on our daily Mobile Munchies twitter feed.