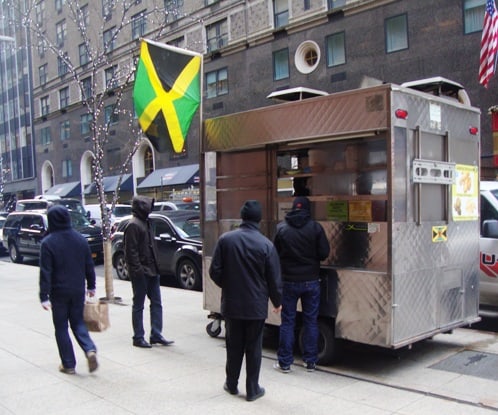 Walking down 7th Ave yesterday, we saw the Jamaican Dutchy cart in its old spot on 51st St just east of 7th Ave.
What's going on? Were we accidentally transported back in time to 2010?
Talking to the guy in the cart (not O'Neill Reid, the owner), he said the Jamaican Dutchy Truck (with O'Neill manning the stove) was still on 43rd St & 3rd Ave every weekday.
O'Neill was bringing the Jamaican Dutchy Cart back to its old stomping grounds on 51st & 7th from Mondays through Wednesdays.
On Thursdays & Fridays, the cart will be on 52nd St between 5th & 6th Ave. If we remember correctly, the truck parked there back in the summer of 2011. Looks like it's Déjà Vu All Over Again in more ways than one.
Now you can enjoy Jamaican Dutchy whether you are in Midtown East or Midtown West. Check their twitter here for details.