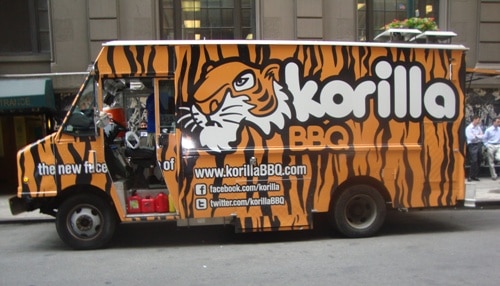 There have been a lot of food truck freebies this week, and we found out last night about another one.
To celebrate the holidays and help alleviate shopping stress, Best Buy has partnered with our friends at Korilla BBQ to offer consumers shopping during their Korilla BBQ Lunch hour – and lunch is on Best Buy!
Click through for all the gory details.
The first 200 customers to visit Best Buys today between 11:30 am and 1:30 pm will receive a mystery gift card valued at between $10-$250.
After pocketing your mystery gift card, enjoy a free lunch from Korilla BBQ, the Vendy Award Winner for Rookie of the Year in 2011 – and it's all on Best Buy!
The first 200 customers will receive vouchers for free lunch inside the store, and the participating food truck will be parked outside.
· Date: Friday, December 14th
· Time: 11:30 a.m. – 1:30 p.m.
· Store Location: 52 East 14th Street, New York
Follow Korilla BBQ on Twitter here or on our Mobile Munchies Twitter feed for the latest info.