Ever been to Frites and Meats (better known as Frites 'N' Meats) ? Well, since we've been doing this gig for a while, the best way to get us to your food truck is to come out with new menu items.
That's not necessarily easy for food trucks, who don't have the space or equipment to have a lot of different items on the menu.
We've been to Frites and Meats numerous times, but this week they came out with a new BOTW (Burger of the Week) that combines two of our favorite foods – burgers and Cuban sandwiches. It costs $8.50, as their BOTW usually does.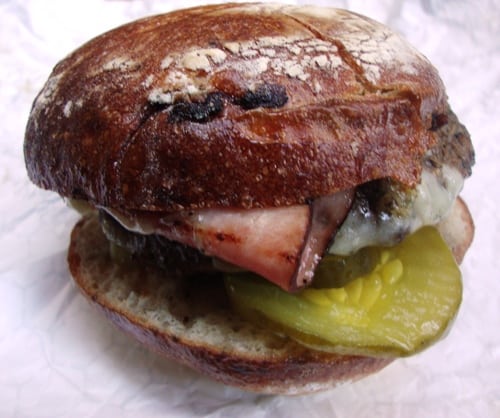 Between the burger, the bun, and the toppings, this is a pretty tall order to fit into your mouth.
The buns are from Balthazar Bakery, a local NYC purveyor whose rolls are light and airy. The buns are thick enough to handle a large beef patty and condiments without breaking apart or getting too soggy, but light enough not to sit in your stomach like a rock.
The burger itself is a nice size. Larger than average, but not excessive. The meat is not heavily seasoned, so if you like your burgers tasting like beef, these should satisfy. They also cook to order. I asked for medium, and there was still pink in the middle.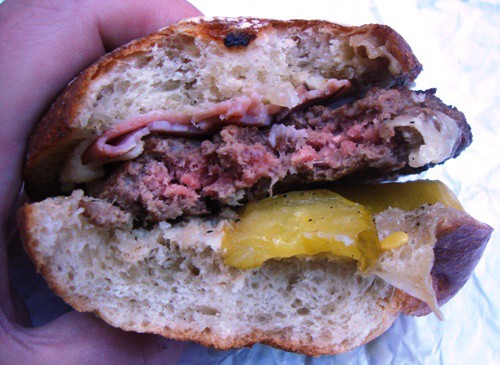 But the whole reason we got this burger was for the Cuban elements. There was rosemary ham, gruyere cheese, pickles and "sassy sauce". Since this was a Cuban, the sassy sauce was mustard based.
We would have liked more of the sassy sauce around the edges. The first few bites barely had any sauce, but we tasted the mustard sauce as we approached the middle of the burger. Mustard is an important part of the Cuban sandwich experience, and we say, lay it on a little thicker.
The pickles, gruyere cheese and rosemary ham all satisfied the Cuban urge. All we needed was a mojito to finish the trick.
We also ordered a brownie for dessert, forgetting that Dum Dum lollipops are included with every order as a freebie. Oh well, who can complain about 2 desserts.
You know how some brownies are more fudgy and some are more cakelike. TheFrites and Meats brownie was quite fudgy on the bottom, and the top layer was cakey. Talk about the best of both worlds. They do have walnuts too, but not a lot. Chocolate was the main taste.
Frites and Meats have a regular weekly schedule that hits different business areas of Manhattan. You can find them on Twitter here or on our Mobile Munchies Twitter feed. We recommend keeping an eye out for their BOTW, which is usually interesting.
Their frites are excellent too, but we must say, a burger and frites from Frites and Meats is a big lunch.