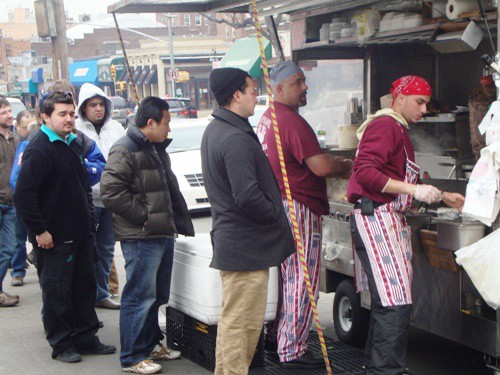 I was out in Astoria over the weekend, and when it comes to great street food, Astoria means one thing – Fares "Freddy" Zeidaies a/k/a the King of Falafel & Shawarma.
Freddy was a Vendy Award Finalist in 2007 and 2009 and didn't win.  But he made up for it in 2010, when he won both the Vendy Cup and the People's Choice Award.
Freddy proudly displays both awards right in front of his cart at Broadway & 30th St in Astoria, Queens.  For those of you who don't get out of Manhattan much, Freddy's cart is only 1 block from the Broadway stop in Astoria on the N train.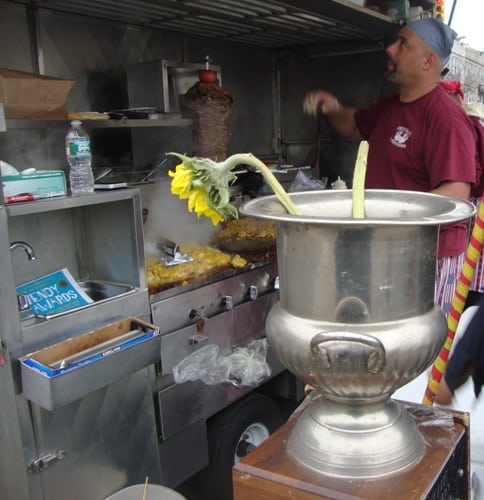 There's always a line, but it moves pretty quickly, and I waited less than 10 minutes.  I got a combo platter of chicken and shawarma over rice ($7)…but there were a few things that made this lunch stand out from the multitude of halal carts out there.
The first difference was the enormous amount of food.  In addition to lots of chicken, shawarma, rice and salad, Freddy tossed in a piece of falafel for the heck of it.
Freddy's falafel is different from the falafel that most vendors serve in that it's oval, not round.  Freddy told me in our interview last year that "egg-shaped falafel has a better crust and is moister on the inside.  Round falafel get too crunchy and are not as moist on the inside as mine.  In the West Bank where I'm from, that's how they do it."
And the falafel was crunchy on the outside and moist inside.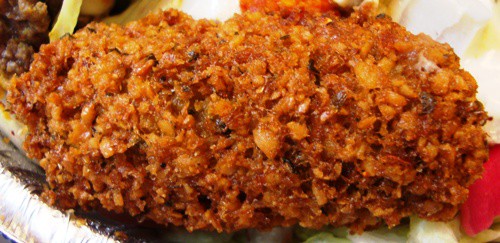 The next thing that sets Freddy apart is the shawarma.  It's not that processed quasi-meatlike product you see at most street carts.  Real shawarma is comprised of thin cuts of meat stacked on top of each other and roasted on a spit.  I didn't get a good picture of Freddy's shawarma, but the picture below (not from Freddy's cart) gives you an idea what I'm talking about.  His shawarma is real roasted meat, not that processed stuff.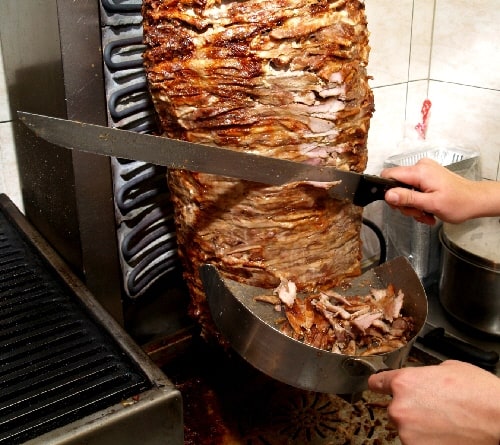 Once the meat is cut, the next difference is the sauce.  While Freddy has a mayo-based white sauce, he also has a sesame-based tahini sauce.  A lot of the vendors serving falafel have tahini sauce, but you don't see it too often at the chicken and shawarma carts.
I really enjoy sesame, and am not a big fan of mayo-based white sauces (yogurt-based is another story), so a tahini sauce was much appreciated.  I also got hot sauce on my lunch.
Boy, did this lunch look and smell awesome!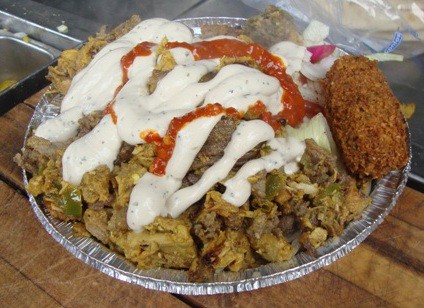 The chicken and shawarma with tahini and hot sauce were delicious.  The meats were very moist and flavorful with good seasonings.  You could see the chicken breasts on the grill had a yellow spice rub, and the shawarma had some crunchy pieces and some softer pieces.
I really loved having a thick sesame-based sauce to eat with the meat.  There were plenty of grilled onions and a few peppers mixed in too.
Under the meat was a light and fluffy basmati rice that was nicely spiced.  Freddy also has yellow rice for another option.
There was also a good salad buried in the platter, but that was more of an afterthought with this much meat and rice to enjoy.
This lunch from the King of Falafel & Shawarma was excellent.  Freddy has been doing this for a long time, and he gives both the food and his customers the care they deserve.  No wonder there's always a line – but there usually is for most good things in New York.