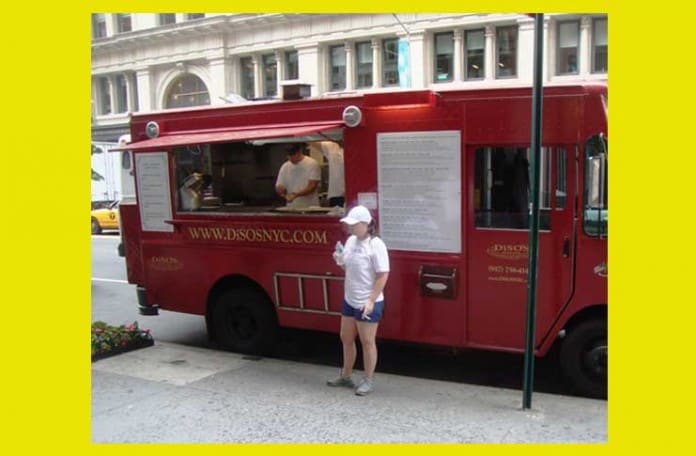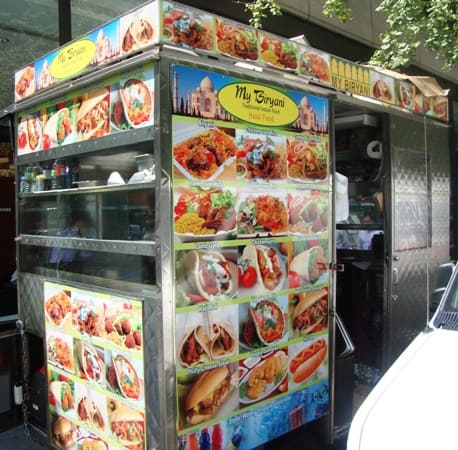 Enjoy some great New York Street Food today from the vendors on the right and the trucks below.  Most of the trucks are out, with a couple of exceptions at the bottom of the list.
Be sure to watch Eat St. on the Cooking Channel tonight at 8pm to see our friends at Schnitzel & Things cooking up a storm.  Luv the schnitz! Other great street food vendors from around the country will be showcased as well.
As always, check the Mobile Munchies twitter feed before heading out, in case anyone had to move. Mexicue already had to move because Law & Order was filming in their usual Tuesday spot.
schnitznthings Morning everyone:) truck will be @ 46th b/w 5th & 6th today from 11:30-2:00. Store on 3rd ave b/w 45th & 46th from 11:00-8:00. C ya soon:)
Mexicue Law & Order is in out usual spot today. We're on 55th and Lex @ 11:45.
biandangnyc
24th btwn Park and Madison: With every purchase, we'll be giving out Wrigley Gum's Extra Dessert Delights Mint… http://fb.me/YYpjuFm1
PapaPerrone
55th Btwn Park&Mad. We have pizza rustica today limited amount. We have italian ices and we are serving calzones today
KorillaBBQ
Rain or shine we gotta show SoHo love. Heading to Varick & Vandam. Check back for times. See you soon!
RickshawTruck
Hey Tuesday Truck Lovers. We are headed to: Soho: Hudson+Houston, Midtown East: 52+Lex and also Rock Center: 50+6av 11a-3p Woohoo!
bigdsgrub
4/12 (tues) G'morning Fi Di! We are at Hanover Sq. Betw. Water and pearl St from 11 to 2:30!
Chefsamirtruck
is on 38th St @ Broadway today! Soupe du jour: Butternut Squash Soup $3; Belgian Chocolate Mousse Cake $3
UncleGussys
Good morning all Were up and cookin on 51st and park:) Tuesday= pork chops lemon potatoes Greek salad, OPA
SweeteryNYC
Good morning Columbia U Broadway/115st have we got a surprise 4 u, incredible out of control ice cream sandwiches, 4 now 5 different combos.
waffletruck
Tantalizing Tuesday! Le Truck is on 52 btwn 3 & Lex til 4:33pm. Alzo ze CARTZ! The Goesting is at Fordham (60 & Columbus) til 7:57pm The Bierbeek is on 31 & Park til 4:54pm. Give Joe "That Wafel Guy" marriage advice for 1 free dinges.
joyridetruck
It's Tuesday, which means @
stumptowncoffee
is being brewed to perfection in the FlatIron District. Come do your am coffee right, 26th&Park.
LCBBurgerTruck
The LCB Burger Truck is at 101 Barclay Street today. Come on down for a delicious 100% all natural grass fed steakburger or sandwich! Enjoy!
KimchiTruck
Good morning all! We're off the road today due to rain forecast, but back tomorrow (wed) in midtown 52nd & 6th. See you soon.
KELVINSLUSH The big blue truck will not be out today. Hope to see you Wednesday.
New Jersey
TheTacoTruck Giving away a pair of 4/16 #RBNY tix to the most creative tweet that includes @TheTacoTruck & @NewYorkRedBulls! Good luck & Eat More Tacos;)