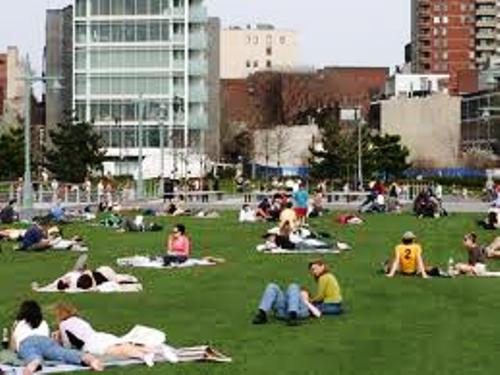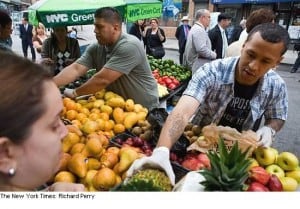 Starting next month, Central Park vendors will bring apples and bananas to hot dog and ice cream territory.  Not only will the new fruit carts' offerings be healthier than normal vendor fare, it will be cheaper.  According the NY Post, they'll sell "three bananas for just a buck, half-pound boxes of strawberries for $2 and mangoes for $1.50."
A spokesman says the Parks Department is "trying to vary our food offerings and include healthy and diverse options." Still, New Yorkers weren't all enthused. "Bring on more junk food!" said one bagel-hardened skeptic.
The new fruit stands are an extension of the city's Green Carts campaign, which we previously wrote about here.  Their inventory will come from the Hunts Point Market.
Look for them at three locations: parkside on Fifth Avenue between East 80th and East 81st streets, Fifth Avenue between East 86th and East 87th Streets, and West 110th Street between Lenox Avenue and Central Park West. [Gothamist]
Not to be outdone, San Francisco's Recreation and Park Department is moving forward with its plan to welcome food vendors into its parks.  Last week, a list of who will be selling what where was released.
Golden Gate Park will become the home to mobile versions of Blue Bottle Coffee and Annie's Hot Dogs behind the band shell and Let's Be Frank will park itself in front of the Conservatory of Flowers.  Annie's will also sell at Civic Center Plaza and near Spreckels Lake in Golden Gate Park.
Justin Herman Plaza will get Let's Be Frank, La Colombe Bakery, La Cucina and Onigilly while Blue Bottle will get a second location at Mission Dolores Park, which is not going to be completely closing for renovation after all, possibly.
Rec and Park hopes to generate $145,000 a year in revenue once the vendors are up and running by this summer. It's a small step to closing a $12.4 million shortfall, but Supervisor and mayoral hopeful Bevan Dufty is still looking to bring non-corporate street food vendors out of the shadows. [NBC Bay Area]