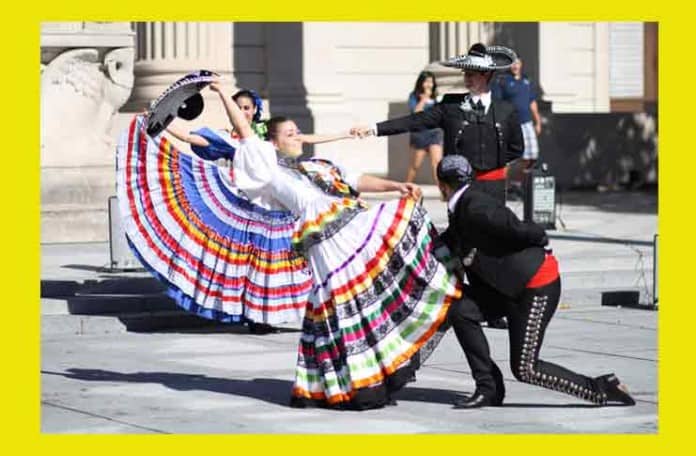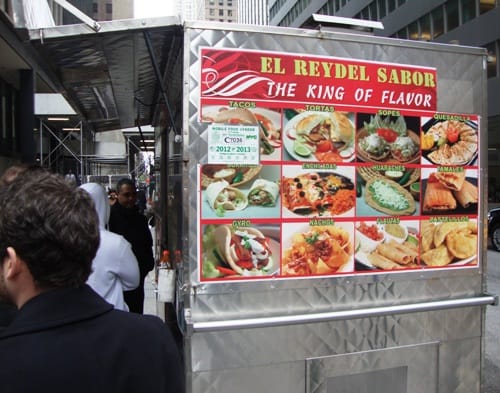 With all the attention being paid to the new Korean taco trucks this year (Korilla, Big D's & Kimchi Taco), I decided to go back to El Rey Del Sabor for some good old-fashioned Mexican tacos.  El Rey Del Sabor was a 2010 Vendy Award Finalist, and they have 3 carts in midtown – 43rd & 6th, 49th & Park, and 60th & 3rd.  Even though the Korean taco trucks have gotten a lot of press, El Rey Del Sabor still had a line of 5 people or so, and more people came up behind me.
While I was waiting on line, a couple of small menu items caught my eye – tamales & pastelillos.  I decided that Today's Lunch would be two tacos ($2.50 each) and dinges (you know, "stuff") – a tamale and a pastelillo ($1.50 each).  For those of you not familiar with Wafels & Dinges, that's where the expression "dinges" comes from.

When I opened my lunch, the tamale looked very cute, wrapped in a corn husk with a little tie around it.  I slipped off the tie, unwrapped the tamale, and cut it open to look inside.
Inside the cornmeal were pieces of white meat chicken and spicy green salsa.  The tamale was a bit spicy, but not overly so.  The salsa verde perked up both the chicken and the cornmeal in the tamale.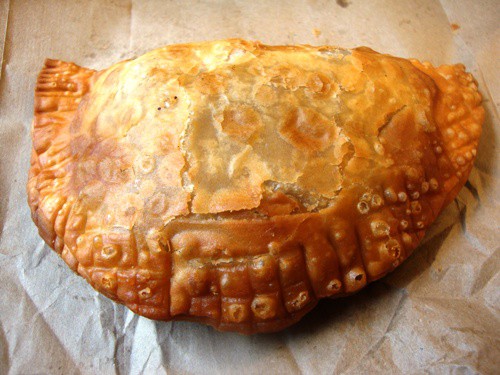 Next up was a beef pastelillo, which was basically a Mexican version of an Argentinian empanada.  The dough was nicely fried and crispy, but inside was a lot of air, and not a lot of beef.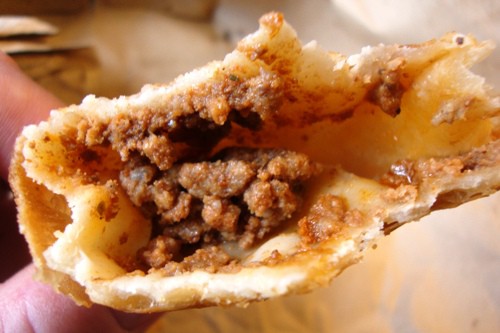 When I got to the beef, it was tasty, with a small amount of spiciness in a light, red salsa.  But it would have been better with more meat inside.  I liked the fried dough (who doesn't?), but there needs to be a bit more meat inside.  I would rather pay $2 instead of $1.50 and have more beef filling in the pastelillo.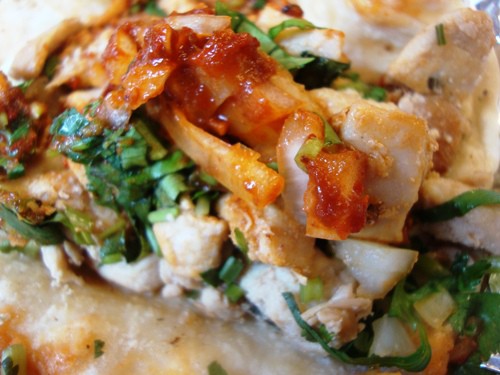 Now it was time for the tacos, and I tried the chicken first.  Unlike the pastelillo, there was a huge amount of chicken in the taco, along with plenty of chopped onions and fresh cilantro.  They used two tortillas per taco, which was smart, because a tortilla with this much filling would never have survived without severe breakage.
I asked for hot sauce, and that's what I got.  It was definitely hot!  The chicken by itself was a little bland, but with all the toppings and salsa caliente, this was a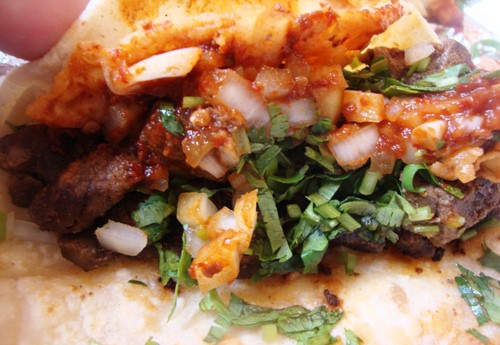 The beef taco had the same toppings as the chicken taco, but with chunks of beef, it was a different experience.  The beef had more flavor by itself than the chicken, and with the onion, cilantro and hot sauce, it was delicious.
Today's Lunch from El Rey Del Sabor was pretty good.  There were a couple of bumps in the road, but overall, I enjoyed it a lot.
The tamale was really good, and if you have a normal appetite (unlike me), two tacos would be a good, filling lunch for $5.
The taco meats at El Rey Del Sabor can vary from day to day and location to location.  You might be able to get lengua (tongue), salted beef, spicy pork or chorizo tacos depending on the day and which cart you visit.