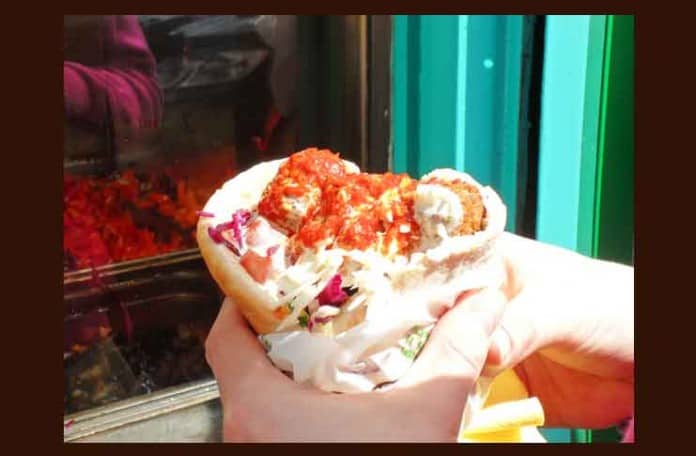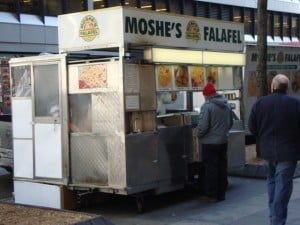 Today's Lunch is a falafel sandwich from Moshe's Falafel on the southeast corner of 6th Ave and West 46th St, right next to Kim's Aunt Kitchen.
I used to see their truck around fairly often, but haven't seen it in the past few months.  However, their cart on 46th St and 6th Ave is still going strong, and I can see why.  For $4.75, I got a pita stuffed with fresh lettuce, tomatoes, hot sauce, what they call white sauce but is actually tahini, a bunch of large falafel balls (4 I think), and a pickle on top.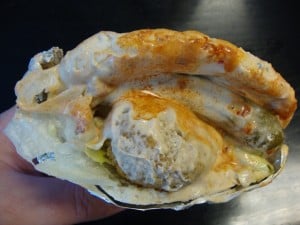 The falafel balls are made with corn meal, but the corn meal/chick pea mix was nicely spiced and tasty.  I actually prefer having a little corn meal in the chickpea mix.  There were plenty of both sauces, and the tahini had that good sesame flavor, although the hot sauce wasn't hot at all.  I really enjoyed the pickle on top, too.
Once you get past the pickle, lettuce and tomato on top (although I don't get tomato), it was pure falafel and tahini from about mid-way down the pita.  A great way to finish the meal.
Today's Lunch was very good, and at $4.75, hard to beat financially.  Is it the best falafel in New York City, as they (and some people) claim?  That's beyond my pay grade.  I'm just looking for some good street food, and this fit the bill.