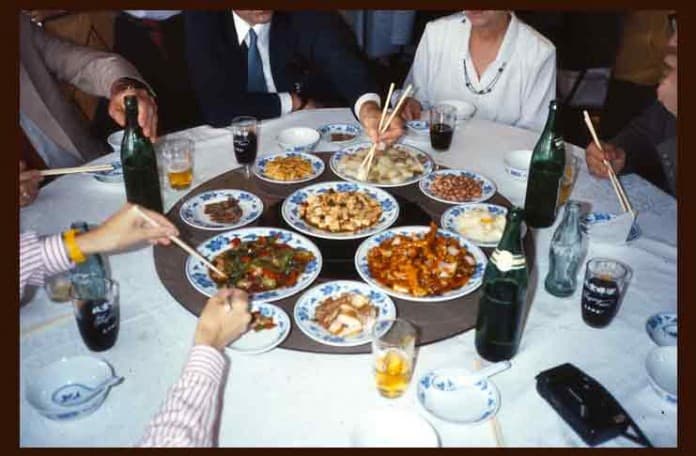 Friday's Recipe this week is a simple, tasty take on chicken with cashews, a staple of many Chinese restaurants.  You can use honey roasted cashews to give it a little more flavor, and pineapple gives this dish a sweetness and texture that is really nice.  Recipe after the jump:
1/4 cup peanut oil
2lbs. chicken breast cut into 1 inch cubes
4 Tbl. rice wine
2 Tbl. cornstarch
2 tsp. salt
1 cup pineapple cut into ½ inch cubes
1 cup honey roasted cashews (regular cashews if you want)
1 cucumber cut into ½ inch cubes
2 cloves garlic
½ cup scallion
Marinate chicken at least ½ hour in 2Tbl. rice wine, 2Tbl. cornstarch and 1tsp. salt.
Cut pineapple into ½ inch cubes.  Peel and seed cucumber.  Cut into ½ inch cubes.  Mince garlic fine.  Chop scallion using the white and pale green parts only.
Heat peanut oil in wok until a drop of marinade sizzles when dropped in the oil.  With slotted spoon remove chicken from marinade and place in wok.  Stir quickly until golden brown then add cucumber and pineapple.  Stir for 3 to 4 minutes then add garlic and scallions.  Add remaining 2Tbl. rice wine and 1 tsp. salt.  Serve over white or brown rice.
For a slightly different taste, add some sesame oil or sweet chili sauce for a nice zest.
Sorry, we don't have any photos of this dish.  If you make this dish, please send us a photo and let us know how you liked it.  (newyorkstreetfood@gmail.com)