There are many people who'll tell you that London is the food capital of the world.  OK, so they may be all Brits but the city does have a very impressive range of world cuisine of the highest order and if you're looking for authentic Chinese food then you'll find plenty.  Chinatown alone has over eighty restaurants, many of them offering home delivery.  So here's a handful of reasonably priced restaurants serving authentic Chinese food.
Baozi Inn.  26 Newport Court. WC2H7JS
Not for everyone and if you're looking for cheap and cheerful chow mein this is probably not for you. What's on offer is authentic northern Chinese cuisine such as spare ribs, cold tripe dishes, pork lotus buns, ginger spinach and dan dan noodles plus a range of delicious soups.  The interior is a striking contrast of light walls and dark wooden tables and seats presided over by an enormous poster of Chairman Mao.  Not a golden dragon or red lantern in sight.  The waiters are brisk and austere, but who cares when the food is this good and arrives this quickly.  Cash only but very reasonably priced.
Café TPT. 21 Wardour Street, Chinatown.  W1D6PN
Midway between Leicester Square and Piccadilly Circus this Chinatown venue offers a huge menu, not always a good sign but in this case the exception which proves the rule.  Standouts are the duck, sizzling tofu served in a hot stone bowl and kalian in garlic sauce with steamed chicken. There are also over fifty different seafood dishes to choose from.  The food is consistent and the service fast.
Hungs. 27 Wardour Street, Chinatown. W1D6PR
Open until the early hours of the morning this is good, cheap, basic Chinese food.  For under twenty pounds you can have a set menu with a drink of your choice.  A wide range of authentic Chinese dishes with great crispy duck and a good selection of beef, pork and chicken dishes.  Not sophisticated dining but good value for money, very popular with the Chinese.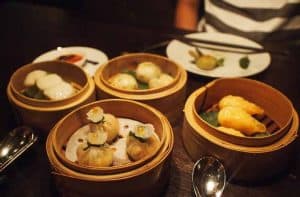 New Mayflower. 68 Shaftsbury Avenue.  W1D6LY
Retro décor and Cantonese dishes. Consistently high quality food, among the standout dishes are salt and pepper spare ribs, Singapore vermicelli, crabmeat and sweetcorn and the mixed meat and seafood dish with Shahe Fen.  Can get very busy and the waiters can be a little short but worth putting up with for the food.
The Good Earth.  233 Brompton Road.  Sw32EP
One of a trio of established restaurants offering classic and modern dishes in an authentic traditional setting.  Despite its location in the heart of busy Knightsbridge, The Good Earth offers a haven of relaxed oriental splendour.   Dishes of note are the crispy fragrant duck, preserved and fresh vegetables cooked in a clay pot and the seabass and mixed seafood platter.  There are also plenty of vegetarian dishes to choose from.
My Old Place. 88 Middlesex Street. E17EZ
Not in Chinatown, but just four minutes away from Liverpool Street Tube Station.  This traditional Chinese restaurant, complete with wall hangings, serves excellent Szechuan cuisine.  The hot and sour soup is outstanding as are the fried beans and the spicy lamb kebab and for the adventurous the pigs' trotters and fugi feipian, sliced offal in chilly oil, are an unusual experience.  This is authentic Chinese cuisine but not for the faint hearted.