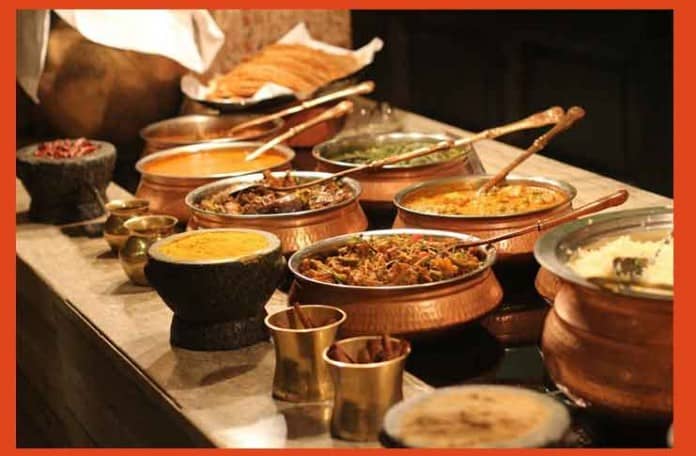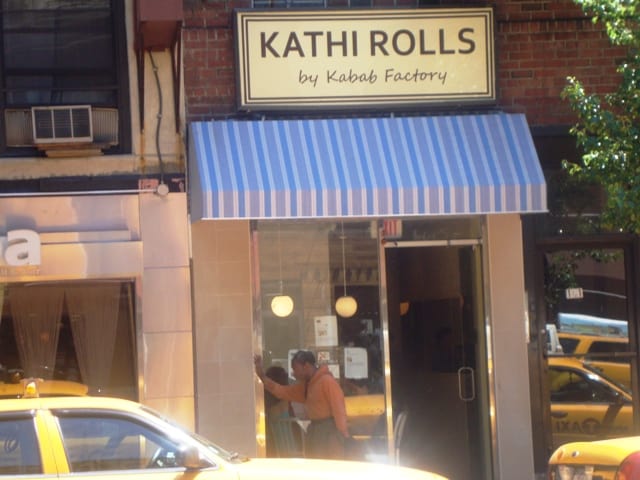 When Kebab Factory opened a few months ago at 101 Lexington Ave (bet 27th & 28th), they were listed in our Honorary Street Food category, since it is basically a storefront with only a few tables that serves street-type food.  Now they are emphasizing kathi rolls, and have amended their name to Kathi Rolls by Kabab Factory. Click here for their website.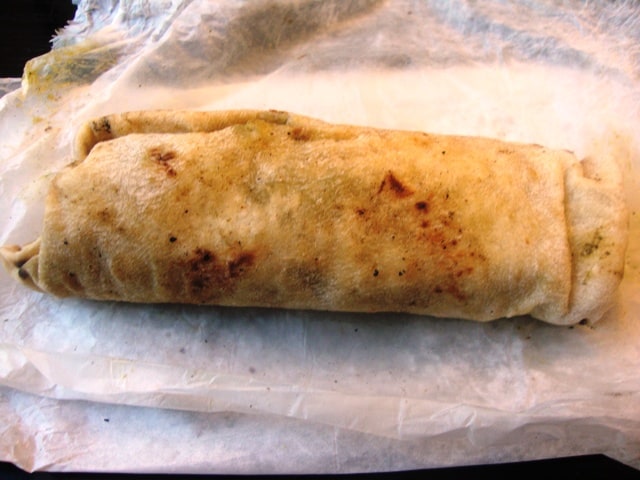 They have 5 kathi rolls to choose from for $5 each, 4 different chicken choices and 1 lamb.  They also have a lunch special with any 2 kathi rolls and a soda for $10, but looking at the rolls on people's tables, one looked like enough.
Today's Lunch is the Malai Kabab, which is curry chicken with honey dressing.  You can also add lettuce, tomato, green pepper, onion and egg for no extra charge.  You also have a choice of white or wheat bread and can have it grilled or not grilled.  I asked for green pepper and red onion on grilled white bread.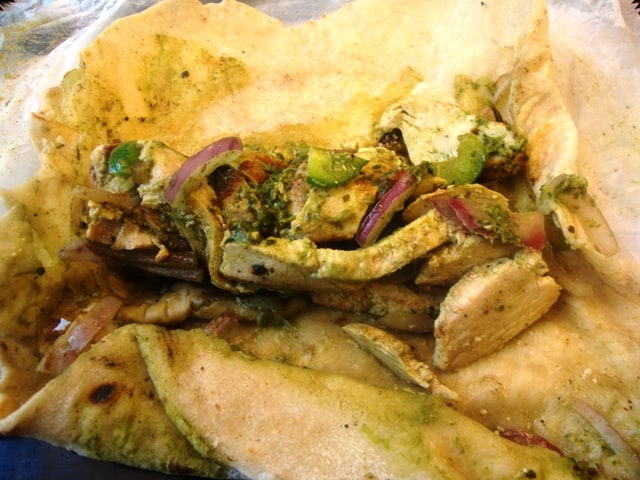 The first bite was an explosion of flavors in my mouth.  It was a little spicy, but not overly so.  Besides the chicken, the other predominant flavors were red onion and cilantro.  Very nice.  I didn't really taste the honey dressing, but it would have been a nice addition.
The chicken was cut into large chunks, not shredded or chopped.  It was a little dry, but not nearly enough to ruin lunch.  If they upped the honey dressing, that would have helped.  With everything else on the kathi roll, lunch was very good.
Today's Lunch gets a 9 out of 10.  If the chicken is cooked a little less, a 10 is not out of the question.  If you order just 1 kathi roll, they might be a little pushy about the 2 for $10 lunch special, but I have a pretty good appetite, and 1 was enough for me.