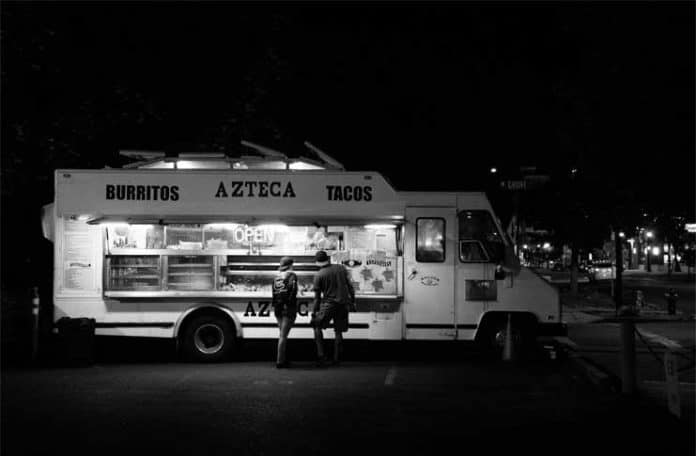 New York street food is an integral part of city culture. From Halal carts to hot dog stands and some of the best food trucks around, you're not a real New Yorker until you've graced these institutions. 
Food trucks are beloved for their fast service, low prices, quality cooking, and on-the-go convenience. But many people do not understand the challenges that food truck owners and operators face all the time in the pursuit of selling their food. 
There are several obstacles that food truck owners must overcome if they want to remain a thriving, successful street food vendor in New York City. Whether you're thinking about starting your own food truck business or are just curious to know what happens behind the seasons, read on to learn the everyday struggles of a food truck owner.
1. Red Tape
Serving food from a parked spot on the side of the road seems simple, right? No set location, no building rent to pay, just a truck that can go wherever you go. Unfortunately, the process of getting the go-ahead license to sell food out of a truck has its own limitations. In order to operate legally on the street, owners will need to apply for and get approved for special certifications and permits. Some examples of food truck red tape include:
Certificate from the health department

Permit to sell

Proper food safety training certifications

Truck permits

Truck driver license

Mobile vending laws

Liability insurance
2. Kitchen Maintenance Problems
Just because your kitchen is located in a truck doesn't mean there's less maintenance to worry about. In fact, there's almost more, because not only are you making the necessary kitchen maintenance measures, but you also need to maintain the truck itself.  
Waiting too long for maintenance spells out bad news for food truck owners and customers alike. The longer you wait, the bigger the potential problems could become. 
For example, when the kitchen garbage disposal responsible for managing a large portion of the waste gets clogged, there could be a huge clog with a whole sink full of standing, dirty water. This kind of hold up could slow down your cooking and serving process, leading to a loss of profits. Luckily, there are online resources to help out with emergency situations like this disposal scenario here.
Still, don't wait until things build-up to an emergency. Stay ahead on the maintenance of the truck and kitchen.
4. Mitigating Long Lines
While for many new food truck owners, a long line is a great sign of success, many veteran vendors know that long lines can lead to angry customers and bad reviews. It can be tough to get into a workflow within the truck that can keep up with the demand, but after a while, most trucks get the hang of it.
Those who don't, usually won't last very long. This makes it crucial to find a system to beat long lines at the beginning of any food truck journey.
5. Rain on Your Parade
For brick-and-mortar restaurants, bad weather gives customers an excuse to come inside and seek shelter (as well as drinks, appetizers, and entrees). Food truck vendors don't have this privilege since their businesses operate outdoors only.
When it rains or the weather is poor, food truck vendors are left alone on the street with few customers that are willing to brave the conditions for a meal. Paying attention to the weather and having back-up plans for sudden changes is crucial for a food truck to remain open and thriving.
The Result is Worth the Work
As for the successful food truck owners of New York City, almost all of them will tell you that despite the many challenges and unique obstacles that present themselves when trying to get up and running, it's worth it. A thriving food truck is a great way to make a living – interacting with the people of your community face to face, serving them food made with love, and never being "tied down" to one place or one menu.