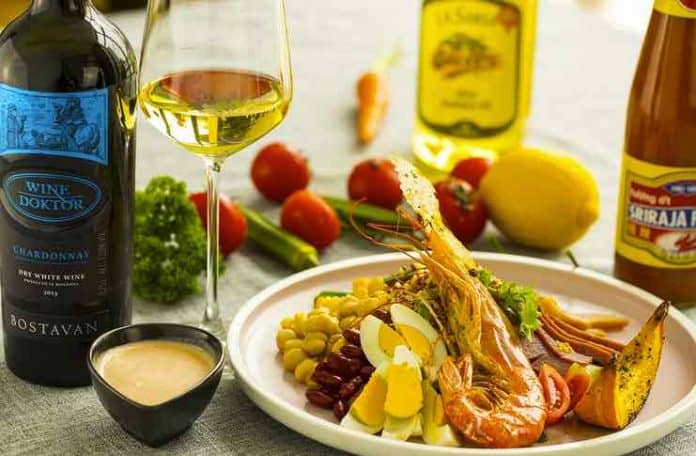 The basic rule of wine pairing is that: Red goes with red, and white goes with white. With that being said, it is no question why chardonnay is best paired with seafood. Chardonnay is the most popular among white wines. It is dry, therefore having a higher alcohol content. 
Chardonnay has four different styles. Each has unique characteristics in its flavor and aroma. It varies depending on how they process the wine or what flavor they add to it. Different styles go with different food pairings. 
You thought wine pairings are pretty generic? Well, you got it wrong. You have to sift through all kinds of wines and be familiar with all its elements. You have to apply the science behind wine pairing to enjoy it better. 
Read on to discover more clues on how it works. 
The Flavors of Chardonnay
The region where the grapes used in making the wine significantly affect its flavor. That factor will be the primary flavor of the Chardonnay, while the secondary taste is affected by how the wine aged.
Primary Flavors
This flavor depends on where the grapes had grown. Climate is a significant factor that creates the distinct character of the wine. Cool-climate Chardonnay is a bit citrusy due to the timing when harvesting the grapes. 
Picking the grapes too early makes the wine more acidic. The cold temperature that drifts to the fruit brings out the flavor of the fruit. The best example of cold-climate chardonnay is burgundy and champagne. 
Warm-climate chardonnays, on the other hand, are less acidic and have more sweetness. It is because the grapes had a longer time in the vine before it was harvested. It is a bit milder than the flavor of cold-climate chardonnay. The Australian and South African chardonnays are just a few examples of warm-climate chardonnay. 
Secondary Flavors
It is where the flavors of aging kicks in. The oak-aged chardonnay has a scent of vanilla, a taste of coconut with a little bit of praline and baking spices. With these characteristics, it is easily recognized. Unoaked Chardonnays are fermented in stainless containers trapping out the oxygen. 
It is crisp that has a fruity note and a dry finish. Malolactic fermented chardonnays have a smooth buttery flavor. MLF (Malolactic Fermentation) that takes place inside the oak barrels. It makes the wine in touch with the yeast and plant particles. Due to the process of fermentation, this kind of chardonnay has a richer and creamier taste. 
Another Distinctive Flavor of Chardonnay
Other than the primary and the secondary flavor that you will taste as you take a sip of a glass of chardonnay – there are more distinct flavors hidden inside the bottle. Acidity is one of the characters you need to watch out for when drinking a glass of wine. Next will be the body of the wine. Does it have a medium or full body? 
The body signifies the weight and texture of your wine, then followed by the structure. The alcohol content, the tannins, and the residual sugar composed the structure of a wine. Then you will need to discern the mouthfeel. It is the smoothness and softness when you take a sip. 
And after feeling that smoothness, you will smell the aroma of the primary fruit ingredients that are present in the wine. It is what they refer to as a nose. And after you feel and taste your wine, that last flavor of clean and dry is what they called as the finish. It finishes off all the elements that you have been experiencing as you drink your wine.
Chardonnay and Seafood: What is the Best Seafood Dish for Each Type of Chardonnay?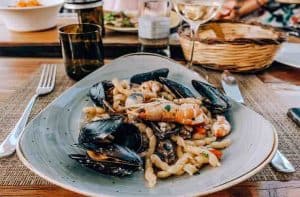 In General, the best recipe for Chardonnay wines is the scallops chowder. It has a creamy texture and light scallop meat that complements the strong taste of chardonnay. So if you are planning to have a mouth-watering scallops chowder for dinner, better pop that bottle of chardonnay. 
Cold Climate, unoaked Chardonnays is best paired with lightly cooked shellfish, especially crabs and prawns. Its young taste will also nicely complement steamed or grilled fish and sushi. 
While the fruity, lightly oaked Chardonnays from warm climates are a good match with dishes that have a richer taste. It will blend well with the rich taste of salmon, given it's a smooth and fruity attribute.
Oaked aged chardonnay's have a full-body flavor. Properly aged in a barrel, the fullness of this type is perfect for a dish that is made of turbot. Grilled or poached turbot will be just excellent.
Chardonnay's that are fermented and matured on the barrel have a creamy and a little nutty taste. Its lightness will nicely contrast with any delicate seafood dishes. The best example is the broiled lobster with butter. Or a lovely platter of lemon butter scallops. There are so many wineries that are selling wine online. They should have a type of chardonnay that will fit your palate. 
For some more lobster recipes, you could pair with a glass of Chardonnay – check out this post or ours.
Takeaway
Light wines are best paired with light dishes. Chardonnay is not just for seafood only, but it can also go well with chicken and veggies. Just follow the simple rule of pairing light wines with light food, and you should be good to go.