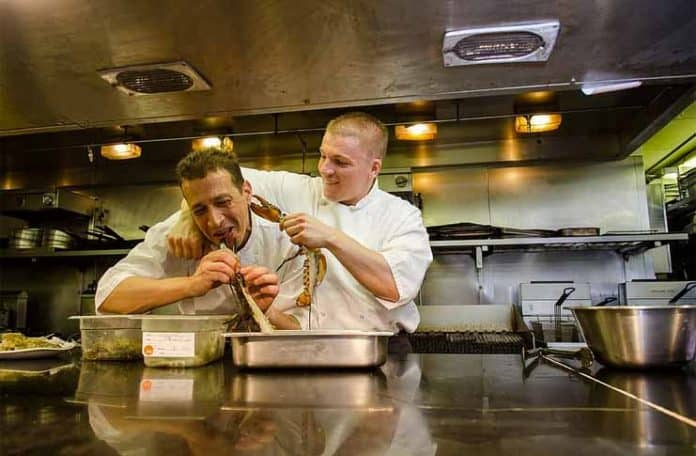 Lobster is a versatile seafood with a myriad of ways you can prep, prepare, and cook these delectable ocean-dwelling creatures.

Although the convenience of enjoying a professionally prepared restaurant lobster is lovely, a luxurious at-home dinner centered around your favorite seafood can be just as, if not more, fulfilling. 
But for most of us, having lobster at home isn't a regular occasion, and we might not be prepared or ready to cook our freshly caught feast. Don't worry, we've got you covered.
This guide will walk you through five of our favorite quick and easy lobster recipes that you can make right at home using fresh or canned lobster. As always, we suggest fresh lobster when available. Don't live in or around Maine or can't make it to the local store or market? Luckily online seafood specialty stores, such as Lobster Anywhere, allow you to buy freshly caught lobster online with overnight delivery right to your front door!
Without further delay, let's dive in…
1. Maine Lobster Roll
This dish is for those who love lemon…
Prep Time: 20 minutes
Servings: 4
Ingredients
Two 1-1/2 to 1-3/4 pound lobsters (boiled or steamed)

1/4 cup finely chopped celery

Fresh lemon juice

3-4 tablespoons mayonnaise

Salt

Pepper

4 leaves of lettuce

4 split-top buns (New England style hotdog buns)
Directions
Cut lobster meat into half-inch chunks. Place in a bowl and refrigerate until chilled. Drain any liquid out of the container.

Add mayonnaise and toss lobster until completely coated.

Add lemon juice, salt, and pepper to taste.

Cover and refrigerate for at least 30 minutes (up to 6-8 hours) before serving.

Toast your buns and place the leaf lettuce inside before topping with the mixture.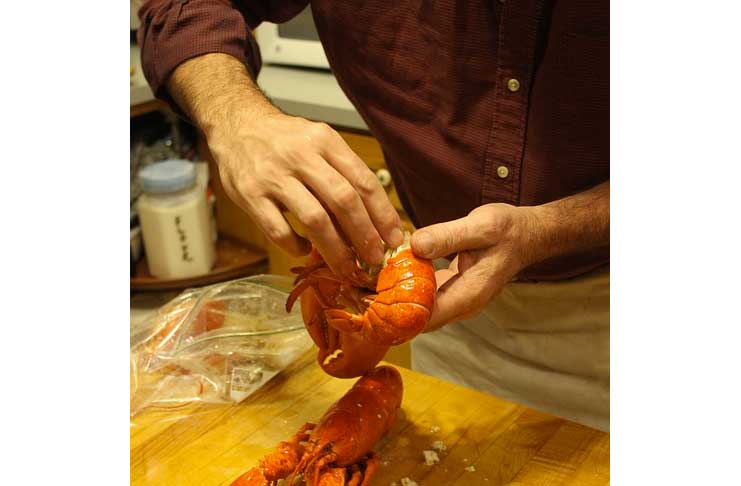 2. Lobster Mornay
This dish on our list of easy lobster recipes has a prep time of only 10 minutes!
Prep Time: 10 minutes
Cook Time: 20 minutes
Servings: 4
Ingredients
1 pound lobster meat

1/4 cup butter

1 cup freshly-sliced mushrooms

1/4 cup flour

1/2 cup grated Parmesan cheese

1 cup chicken broth

1 cup heavy cream

1/2 teaspoon pepper
Directions
Using a medium saucepan, melt the butter over medium heat. Add the mushrooms and stir until tender. Mix in the lobster meat and cook until opaque. Remove mushrooms and lobster from the pan.

Reduce heat to low and place the flour in the pan. Stir for about 2 minutes before adding the chicken broth, heavy cream, and pepper. Simmer on low for 5-10 minutes to thicken the sauce. 

Add the mushrooms, lobster, and Parmesan cheese to the pan. Cook for 5 more minutes.

Remove from heat and serve over noodles, rice, or vegetables.  
3. Lobster Salad
This lobster dish is for those who just love salads…
Prep Time: 20 minutes
Servings: 4
Ingredients
3 lobster tails (3 cups chopped)

1/4 cup mayonnaise

2 tablespoons finely chopped chives

2 tablespoons fresh lemon juice

1 stalk celery (finely diced)

Salt and pepper to taste

Lettuce

Sliced Avocado

Lemon wedges
Directions
Mix mayonnaise, celery, lemon juice, and chives together in a bowl. Season with salt and pepper before folding the chopped lobster meat into the mixture.

Lay lettuce on a platter and top with the lobster salad. Garnish with avocado, chives, and lemon wedges.
4. Lobster Mac and Cheese
Like every Newyorker – we love mac and cheese, so this is one of our favorites on our list of easy lobster recipes.
Prep Time: 20 minutes
Cook Time: 30 minutes
Servings: 6
Ingredients
1 pound cooked lobster meat (chopped)

1 pound short pasta

9 tablespoons butter

1 clove garlic (minced)

1 1/2 cups crushed Ritz crackers

3 cups whole milk

1/4 cup flour

1 1/4 cups sharp white cheddar cheese (shredded)

1 1/4 cups Gruyere cheese (shredded)

1 cup Fontina cheese (shredded)

1/4 teaspoon salt

1/4 teaspoon pepper
Directions
Preheat the oven to 350°. Coat a baking dish with non-stick spray.
Boil noodles until al-dente. Strain and set aside.
Melt 3 tablespoons of butter in a skillet over medium heat. Add garlic and cook for 30 seconds. Add lobster meat and cook for 3-5 minutes. Remove from the pan and set aside.
Melt 2 more tablespoons of butter in the pan. Add crushed crackers and toast until lightly brown. Remove from the pan and set aside.
Melt 4 tablespoons of butter over medium heat in the pasta pan. Whisk in flour to create a roux. Gradually whisk in the milk and turn heat up to medium-high. Bring to a boil, frequently whisking, until the sauce is thick (2-3 minutes).
Remove from heat and stir in cheese, salt, and pepper. Once the cheese is melted, mix in pasta and about 3/4 of the lobster meat.
Pour into the baking dish and top with the remaining lobster and cracker crumbs.
Bake for 20 minutes, until crumbs are golden brown and sauce is bubbling. Remove from the oven and rest for 5 minutes.
5. Lobster Dip
Prep Time: 10 minutes
Serving: 16
Ingredients
1 (7 oz) can lobster meat (drained and flaked)

1 tablespoon lemon juice

1 tablespoon minced onion

1 (8 oz) package cream cheese (softened)

4 tablespoons butter (softened)

1 tablespoon horseradish
Directions
Combine all ingredients in a medium bowl and mix until smooth.

Cover and chill in the refrigerator until ready to serve.
What Dish on our Easy Lobster Recipes List Will You Make Next?
Lobster is buttery, savory, and a real treat at home or dining out. Although it's a dish often saved for special occasions, these easy lobster recipes can help you incorporate lobster into your meals with ease. You'll surely be surprised once you knew how many easy seafood recipes there are to satisfy your cravings. We hope you enjoyed the recipes in this guide. Don't forget to tell us about any of your own favorite lobster meal plans.