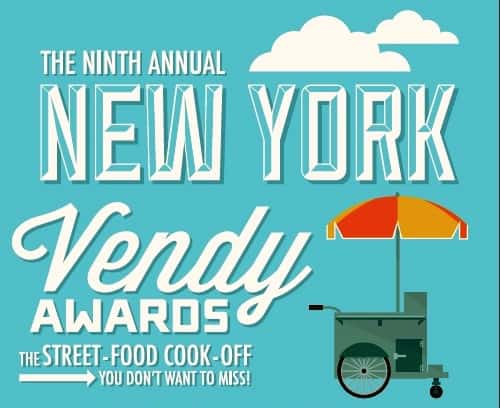 The finalists have just been announced for the 2013 Vendy Cup!
The winner will be crowned as the Best Street Food Vendor in NYC.
Last year, Piaztlan BK won the coveted Vendy Cup and the Cinnamon Snail won the People's Choice Award.
Vendy Cup Winners are not eligible to compete in the Vendy Awards again, but the People's Choice Winner is (hint, hint).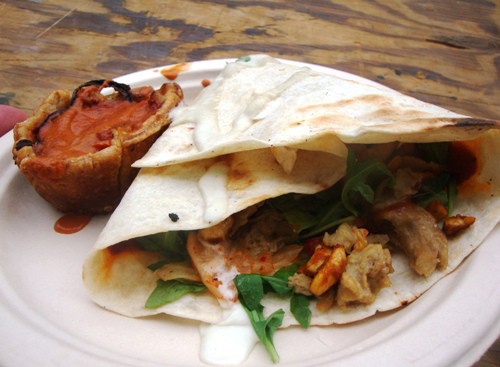 In alphabetical order, this year's Vendy Cup Finalists are:
Cinnamon Snail – These 3-time Vendy Awards veterans, who previously competed for Rookie of the Year (2010), Best of NJ (2011) and the Vendy Cup (2012, where they won the People's Choice Award) have taken vegan cuisine into previously uncharted territory. Bold, spicy flavors in their savory offerings, and amazing baked goods, give them as good a chance as anyone else at capturing the elusive Vendy Cup this year.
El Olomega – This vendor from the Red Hook Ballfields specializes in pupusas, the Salvadoran specialty for which Solber Pupusas won the Vendy Cup in 2011. You can never count out one of the Red Hook Ballfields vendors, as they have won 3 of the last 4 Vendy Cups – Country Boys Tacos in 2009, Solber Pupusas in 2011 and Piaztlan Bk in 2012.
King Souvlaki – We have not been to King Souvlaki of Astoria, a Greek-street food truck. "Grilling fast and grilling good" is the name of the game at this meat-on-a-stick street food stop. Our friend Street Grub Steve visited King Souvlaki earlier this summer, and you can read his review here.
Luke's Lobster – A perennial NYC favorite, Luke's not only has amazing lobster rolls, but they also serve shrimp rolls and our favorite, crab rolls. In the cooler weather, Luke's makes a mean chowder too.
The Chipper Truck – We are not familiar with The Chipper Truck, a late-night only, Irish food truck based in Woodlawn. In this mini Irish community tucked away in the Bronx, eager night owls come hungry to The Chipper Truck for addictive Irish comfort food. Here, chips are king.
You can still get Vendy Awards tickets here, but they will undoubtedly be gone by the day of the event, Sept 7th at Industry City in Brooklyn.