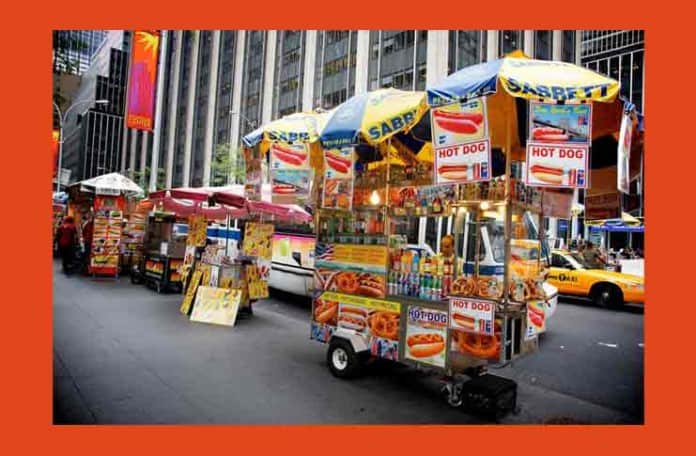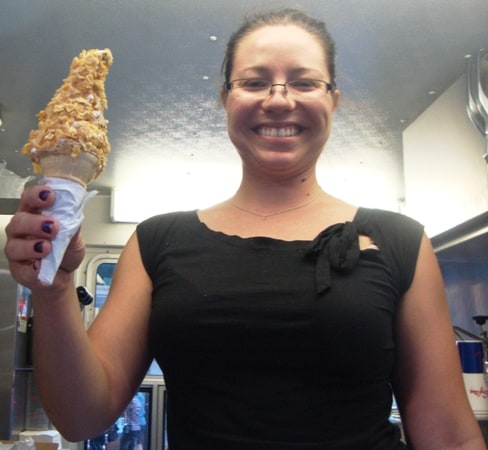 Who says you can't have dessert before dinner? After reading about Miss Softee's "fried" ice cream, I had to try one – even though I was on my way home for dinner.
Miss Softee has a normal Mister Softee truck, but has come up with some interesting combinations that elevate the product.  You could find oatmeal cookies, cinnamon buns, crushed potato chip choc dip, cappuccino, into the woods, cherry dream and more depending upon the day.
She is usually at 44th St & 6th Ave from around lunch until 6pm or so.  Then she moves to 55th St & 6th Ave for "happy hour" until 8 or so. After that, she often ends the evening in the Times Square area.  To know exactly where she will be, you can follow her on twitter here.
What exactly is "fried" ice cream?  Click through to find out.
Although she usually makes this dessert with vanilla ice cream, I'm more of a chocolate person – so I requested a twist cone.  This way I could see what she intended, as well as check out how it tasted with my favorite flavor, chocolate.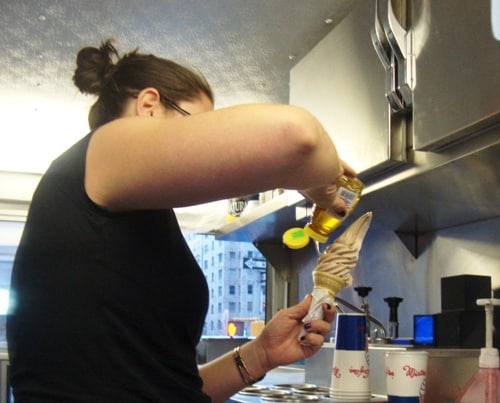 After pulling a twist cone, she poured some honey on the ice cream.  Then she dipped the cone in crushed corn flakes and handed it to me.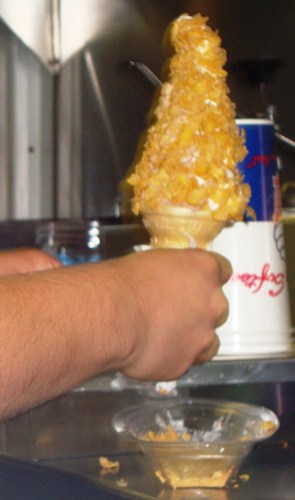 Although Mister Softee is ice milk versus ice cream that is served at some of the other "gourmet" trucks, what goes better with cereal than milk and honey?  This was a great combination.  Sweet and crunchy!
I can see why she usually uses vanilla, but I thought the chocolate portion had even more going on.
Why does Miss Softee call it "fried" ice cream?  Because she said it tastes like Mexican "fried ice cream".  Can't say I've ever had Mexican fried ice cream, but this was certainly delicious.  The honey added another dimension to this dessert – and I'm curious to try some of the other combinations she has come up with.
If you have tried some of Miss Softee's other combinations, please let us know your favorites in the comment section.  Now it's time for me to head home for dinner.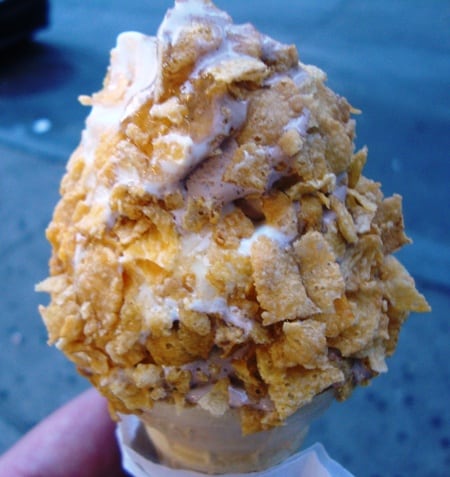 NYSF Note: Miss Softee is taking tomorrow (Tues) off to get some things done.  She'll be back Wed on the streets. As a reminder, you can follow her on twitter here.