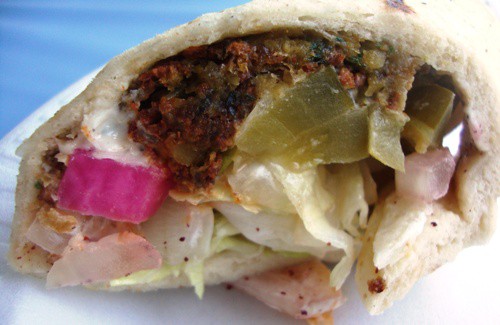 It was an exciting weekend with the Vendy Awards on Saturday.  Congratulations again to all the Vendy Finalists and to the Vendy Award winners – The King of Falafel & Shawarma (Vendy Cup and People's Choice Award), Kelvin Natural Slush Co (Best Dessert) and Souvlaki GR (Rookie of the Year).
The weather may not be cooperating, but many of the vendors will still be out there today.  Show them your support in bad weather as well as good.
Things should be a bit quieter this week, with the UN General Assembly and President Obama not in town anymore – but you should still check the pink Mobile Munchies twitter feed before heading out for the latest locations.

schnitzeltruck – Water and broad we have veal for ya. Don't wait in the rain, preorder. Hey guys regular biz phone is not working so just call 917-399-5560
waffletruck – Happy Columbiaonday! We're on Broadway btwn 113 & 114 til 4:30pm. Come and sing in the rain for 1 free dinges today. For our old friends at Hudson& King St: we're back today, with a new cart instead of a truck. Should be worth braving the rain…
fritesnmeats – Chilly. Rainy. Dreary. Let Burger Love be your ray of sunshine today! Were on 46th b/w 5th & 6th Ave. Avoid the rain! Call in your order and just pick up. 917.292.9226
EddiesPizzaNY – 26th btwn 11th and 12th! We will be there by 1145am! Have no fear! Make sure you call your orders into 9174397522. Roasted red pepper pesto is this wks special!
GOBurger – Today at seaport pier 17
CupcakeStop – CupcakeStop Truck on 52nd and Lexington and the other will be on 7th Ave and 6th Street in Park Slope Brooklyn by 11am!
ETRAVAGANZA – Good mornin and congrats @ vendy awards. We hope to enter and compete for the 2011 vendys 0h! I can't imagine..All right! Back to reality, lunch ready folks!
LCBBurgerTruck – The La Cense Beef Burger Truck is parked at 111 Wall Street today. Coming soon, delicious new grass fed beef sandwiches!
KELVINSLUSH – Not sure. Going to be a game time decision. Stay tuned. RT @HungryRabbitNYC: @KELVINSLUSH will u guys be at 22/5ave 2day, rain or rain? 😉
1 new tweet.
biggayicecream – Craptastic weather! Let's hope for better tomorrow, and I'll see you out then.
joyridetruck – Joyride is closed today for repairs.
StreetSweets – St Sw apologizes today the rain has KO us, we r hopeful 4 better weather Tues. The good news is we'll soon have many fun events 2 talk about
nyccravings – Hey Midtown~ We will not be operating today. Will resume schedule next week.
Hoboken/Jersey City
qbacubankitchen – Headed to JC for lunch! We'll try to be on Hudson, plz stay tuned… Gracias!
TheKrave – No lunch due to rain. Standby for dinner http://tumblr.com/xl1jtg8d9