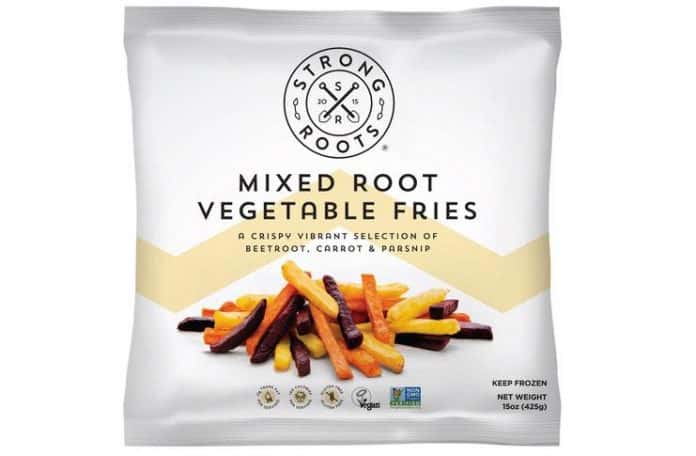 Plant-based foods are everywhere these days. You can find them in supermarkets, coffee shops, and restaurants all over the country. According to the latest surveys, plant-based eating is trending not only among vegans or vegetarians. People from all walks of life want to eat fewer animal-derived foods. Annual sales of plant-based foods reached $4.5 billion last year, growing at 5X total food sales, according to PBFA.
If you haven't been aware of this hot trend in the food world – let me give you a short intro about plant based foods.
What are plant based Foods?
It basically refers to food products that are primarily made from plants. This includes foods made from fruits and vegetables, as well as nuts, seeds, oils, legumes, beans, and whole grains. It's all about proportionately selecting more of our foods from plant sources and fewer animal products. I usually look for whole food and snacks with a healthy mix of carbohydrates, fats, and protein. This helps me stabilize my energy levels and blood sugar, which leads to fewer energy crashes during the day.
Eager to start biting on some plant based foods? Here is our golden list…
5 Plant-Based Foods & Snacks You Should Try:
1. Strong Roots: Feel like Beetroot and Bean Burgers? 
We selected Strong Roots with our No. 1 pick, because of their unique and delicious plant-based products. This Irish brand has taken Ireland by storm and is now doing the same in America. They sell healthy plant-based and vegan products with cool names like Mixed Root Vegetable Fries or Cauliflower Hash Browns, and they've made it their mission to completely reinvent the freezer aisle.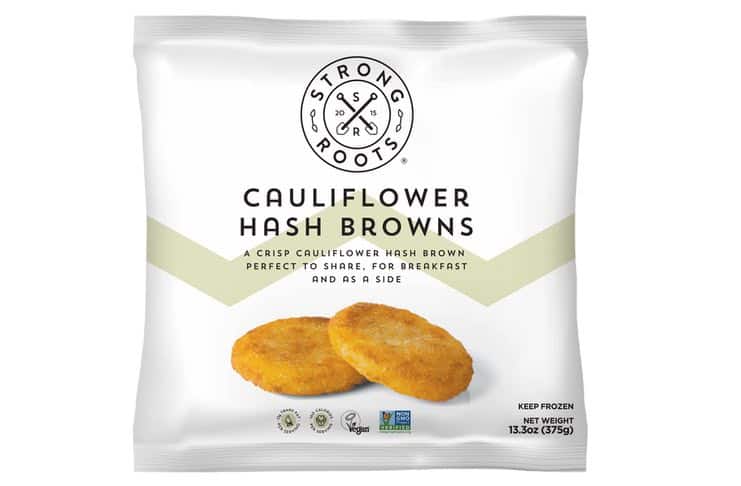 One of Strong Roots' first and most popular products is their veggie burgers. These burgers were actually not designed to imitate real burgers, like Beyond Meat or Impossible Meat;. They are more like veggie patties but much more delicious! They have no competitors in terms of taste. In every bite, you can taste pieces of carrot, kale, soybeans, and much more. We absolutely love Strong Roots veggie burgers, as well as their Vegetable Fries and Cauliflower Hash Browns.
Want to try it out? You can easily find Strong Roots products in the frozen vegetable aisles in a growing number of stores, such as Safeway and Wegmans supermarkets, regional grocery chains including Kings and Key Foods, and more than 600 Target stores.
You can also get them online here.
All the way from Ireland, Strong Roots is on a sure path of becoming a household brand in America.
2. GoMacro Bars: Dairy-free Plant Based Snacks
If you're looking for an alternative for all those protein snack bars that contain whey (a cheese by-product) – then GoMacro might be the snack for you. It launched back in 2004, by Amelia Kirchoff, on her Wisconsin farm during her fierce battle against breast cancer. Her daughter convinced her to fight with a plant-based diet, as an alternative to conventional cancer treatment. Her victory over the disease gave birth to the GoMacro brand, which quickly grew from selling at small local markets to nationwide distribution.
GoMacro bars contain organic ingredients like nut butter, seeds, and pea protein to provide a powerful mix of healthy fibers, fat, and protein. There are no additives or preservatives in any of their products. Try one of these plant-based bars with fruit for breakfast and you'll be surprised with the energy you get.
You can order these here on Amazon.
3. From the Ground up Snacks: Cauliflower is King
This brand has a long name and a great product. From the Ground Up required two years of research and development to come up with its Cauliflower Crackers and Pretzels. This plant-based snack is packed with real Cauliflower and Butternut Squash, delivering a tasty and crunchy experience.
From the Ground Up snacks come in three yummy flavors: Sea Salt, Cheddar and Nacho, and the Pretzels come in Original flavor. All of them have that strong taste of cauliflower, which we love. Just make sure your kids don't have anything against it.
Also here, the snacks are certified Vegan, GMO-free, as well as Gluten-free. Since the main ingredient is Cauliflower, it contains lots of benefits, including big amounts of vitamin C and fiber.
Want to taste? You can get it on Amazon.
4. Banza: The Chickpea Pasta
If you love pasta and want to find a healthier version of what you already know so well – then Banza is the way to go. This pasta is made of chickpeas, the same healthy ingredient of the famous hummus. Surprisingly, Banza is not as gummy, stringy or soft as other pasta alternatives (like the ones made of black beans or red lentils).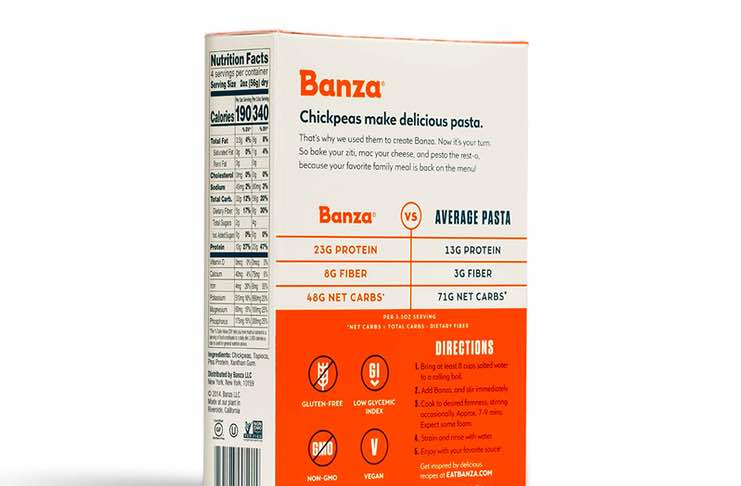 Banza is a great source of protein and fiber, much higher than traditional pasta, and much lower in carbs. Banza is also gluten-free, and most importantly – it tastes great with garlic, olive oil, tomatoes and any other pasta sauce that we love.
If you want to try it out – you can get it here on Amazon.
5. Soñar: Organic Tortilla Chips
This organic product also contains chickpeas, but not only. Soñar's grain-free tortilla chips are rich in plant-based fiber and protein, made with garbanzo beans, cassava, hemp, chia seeds, flax, all topped with Mexican-inspired seasonings. They come in three tastes: Salt sea, Salsa Verde and Nacho.
With Soñar, we don't only love the taste and nutritional facts, but their mission. Co-founders Maria Garcia Brennan and Pete Brennan donate 1% of their annual sales to support and empower the Latino community. Soñar's products contain Latino youth on the packaging, and they only work with strategic partners that are aligned with their mission. We love that.
If you want to taste or support their cause – get a pack on Amazon.
Bottom-line
Similar to vegan diets, Plant-based foods are a hot trend and a powerful growth engine that is outpacing overall grocery sales. As supermarkets and online stores continue to offer more variety and maximize shelf space in the category – you should be on top of the latest products. Keep tuned for our next updates!
Searching for some more Healthy Vegan posts? Check out Guide to Making Vegan Street Food, or some unique vegan dishes you should try.