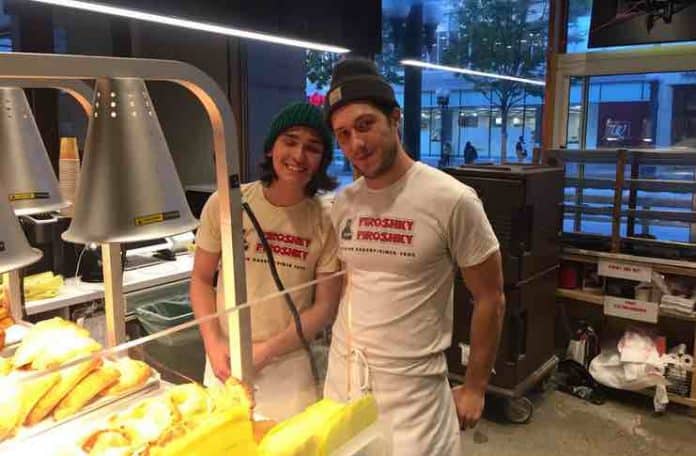 I Love Seattle and Seattle Loves me…at least that's what I have been told by many.
My Seattle choice served multiple pleasures. 
Last year my sister was relocated to Seattle for work. The great beautiful Pacific Northwest. Booming in tech and traffic the food scene rivals that of any high priced, overrated big city food experience.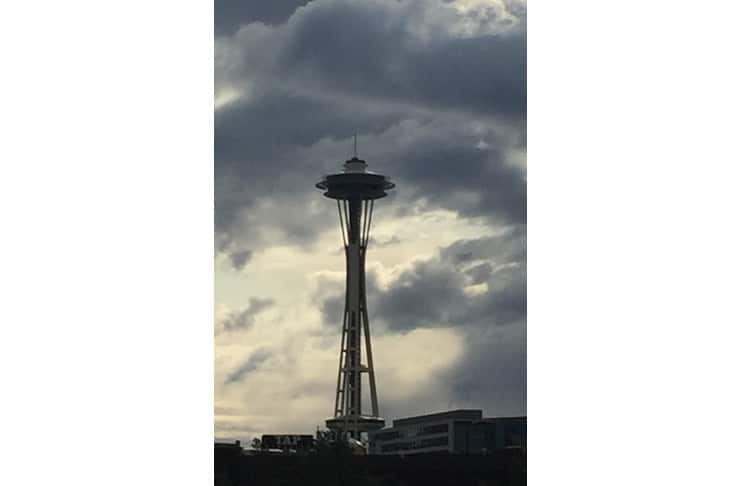 I also have a few of my very dearest friends living there as well. 
So my choice to spend a week was an easy one. 
I reached out to a few places I had read about in Seattle as must go to's. 
Piroshky Piroshky answered my call. 
As a writer for a site called New York Street Food, I understood my reputation might not be known 3000 miles from home. 
Seattle welcomed me with open arms. Have you heard of the Seattle Freeze?  They say it's a real thing. 
I'm from NY so I can relate to natives being a bit closed off to newcomers.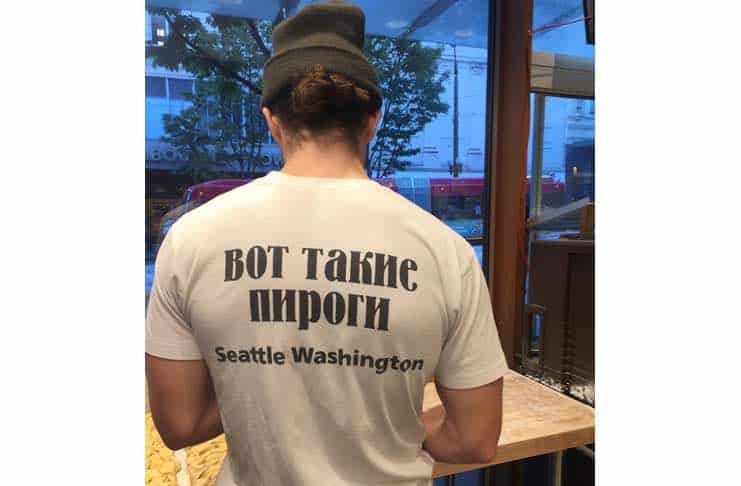 Food is always the ice breaker. Also, I was playing the role of tourist. A bit of a travel writer specializing in Food fulfilling one of my nicest fantasies of being a real travel/food writer. Not wanting to hurt my Olympic status I continue to do what I love for the love of it. Pay makes you professional. Doing something for the love of it makes it special. 
Let's be clear, this visit was to spend a week away from the day job and relax with family and friends. What I do to relax is to cook and eat. And of course rest, napping has become one of my favorite things to do but sadly my day job frowns on napping at my desk.  Which is why a vacation was much needed. I also really love food.
After a 5-hour flight JFK – SEA/TAC. I planned on taking the Light rail to downtown. Not like the MTA at all. I found my way to the train station  "I passed through the seven levels of the Candy Cane forest, through the sea of swirly twirly gum drops, and then I walked through the Lincoln Tunnel." Then alas… the entrance. No turnstile! I just walked in. Forgetting that my sister said my friend Nehemiah Hooks would be meeting me with an Orca card (their version of the metro card). I bought an Orca and put $30 on it since I didn't really know where I was going, therefore, I couldn't put a specific destination. I kept seeing signs saying tap on tap off. I worked in dance for a long period in my life so I was either doing a shuffle ball change or fan kicks. 
Neither was true. Nehemiah was leaving my sister's luxury high rise since she was in London until the next day he was to be my guide. As we were for each other for many years when he lived in NYC. 
We both know we're on the train to downtown. Westlake station apparently and he also had never been on this train and was a bit confused about the whole tapping thing. 
He is a dancer, singer, performer. 
You can't say tap off tap on to a dancer without them choosing to dance. Also, you can't say and 5, 6, 7, 8 and expect them not to prep for a combination. 
Typical Seattle weather met me on the first day with a misty rain. Cool enough for a sweater and a jacket. After September is the perfect time to be in Seattle. Not too cold not too warm. Sometimes rain but it's the charm of Seattle. 
Arriving downtown my sister had found her home here right next to Pike Place Market with a killer view of the sound. Living on the 29th floor her view is to die for. Go to the roof deck and sit next to one of the open gas fireplaces with a glass of wine and taking in the vastness of Seattle, Mt. Rainer (on a clear day) and the Cascades. Watching the Seaplanes, cruise ships…the big wheel. West coast makes you stop and exhale. 
Pike Place Market is my happy place. Day 1 – lunch with Nehemiah, then we walked to the Market. Stopped in at La Panier. Drawn in by the best fresh baking bread smells. Fresh every day since 1983. 
Warmly welcomed by their lovely staff. I explained I am planning a charcuterie tray and wanted to serve a baguette. She gave me 2 choices one more beautiful than the other. How do you choose? It's like asking who is your favorite child. Not exactly…but as a good Mamma and lover of bread, I took both. One was crispy on the outside with a light delicate bread. The other a bit denser and chewier crust. Both were perfect. 
She also suggested we stop in at her favorite place for cheese. 
De Laurentis. 
Just before leaving La Painer I had to get a dozen French macaroons. My weakness.
Strolling past all the booths at the Market and when I say all the booths truth is you can never find all the booths. I had been to this Market a few times on previous trips. Pike Place was designed with surprising and almost secret alleys, nooks and crannies. vendors can be found in all sorts of corners and closets. All worthy of stopping by and to my sad bank account I had to purchase something at almost all that I discovered.
De Laurentis is a wonderful place that I found myself going to every day. Joe was a master. Making suggestions and sharing knowledge as if I was at Murray's counter on Bleecker Street in NYC.
Cheese and wine stores are a dime a dozen in NY. My favorite, of course, is Murray's.
I had discovered Murrays when I worked at a bar down the street on Bleecker in the village. Murray's cheesemongers were frequent patrons at our bar which was always the best day ever when they came in and would send over the best of their cheeses to our staff.
I had this cheese once recommended – a French Sheeps milk that I could never remember. 
At de Laurentis I mentioned this to Joe and he knew immediately what I wanted. Slicing a taste of Ossau Iraty. YES, it was the flavor I had missed for years, 
Joe suggested a soft creamy brie and another lovely cheese that complimented the Ossau. We had a jam and Marcone almonds added. And then the meats. Recla Dell'Alto Adige Speck…
Pio Tosini Prosciutto di Parma
And a few salamis. 
Tapenade, chippoli onions and a burrata. 
This charcuterie was complete. 
Next stop the fish market 
Jumbo shrimps an oxymoron. Bigger than my fist. 
I had to catch an lb or 2 from the famous Pike's Fish Market. 
The fruit/vegetable vendors standing with a pairing knife slicing samples of the best fruits to all that walk pass. How do you walk past these guys? They sell you without being out being pushy.
If the crack was fruits and vegetable then these guys would be the best crack dealers and I admittedly am an addict. 
It's fruits and veggies for goodness sakes. Every bite was so fresh and flavorful. 
Finishing our afternoon picking up heirloom tomatoes, basil, shishito peppers and a few other odds and ends where these guys give you a taste of everything. It's like sneaking a taste at the market but this time they encourage you to try first. 
What a great first day. 
My efforts reaching out to many food establishments on a small list of go to's in Seattle was not unsuccessful. 
I was invited by Piroshky Piroshky but wasn't due to visit until my next to the last day here in Seattle. How do I wait that long…oh just by eating everything? 
My day at Piroshky…once I walked the few blocks to 1501 4th Ave, Ste 110, Seattle, WA 98101. I walked inside an office building to a hit of gorgeous aromas. There is a street window where you can quickly grab a treat. Inside the smells of fresh-baked meat pies savory and sweet and filled with goodness and love.
The history is great as an east coaster I do love the immigrant stories of Ellis Island and settlement stories.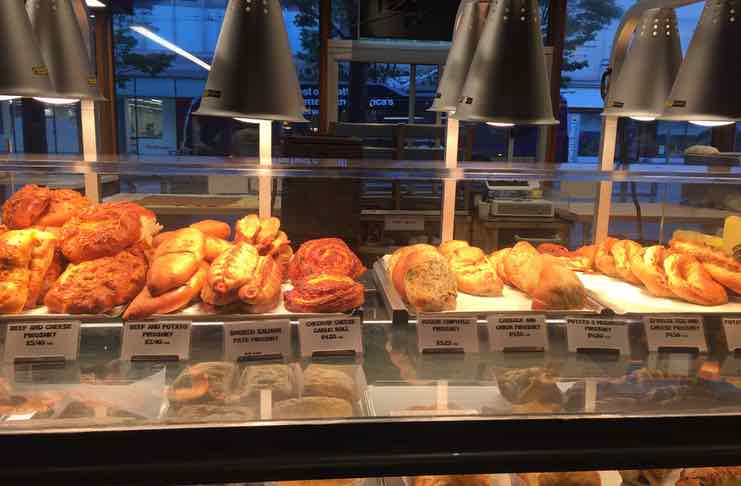 West coast has them too…similar but different…
Piroshky(pi-rawsh-kee) Story:
"We opened our doors for the very first time in 1992 hoping to bring a taste of Russia to the Pacific Northwest. Blending traditional recipes with local flavor, our selection of Piroshkies offers a wide array of choices, both savory and sweet.Traditionally served throughout markets and homes in Eastern Europe, often asked is "What is a Piroshky?" The most simple answer is that they are handheld pies, and their fillings are as diverse and differing as the cultures and people who make and serve them. That is the beauty of Piroshky — everyone makes it a little differently, and recipes are passed down from generation to generation. From babushka to children.Here in our bakery at the Pike Place Market, starting two decades ago we decided to embrace and integrate the taste of the Northwest into our own traditional recipes. Our Piroshkies are individually made from scratch and hand-molded into their very own unique shapes — customers are delighted to find that this makes differentiating between them an easier task.Though our bakery is small, our selection is anything but. We are always happy to offer suggestions and guide you in your selection. C'mon down, breath in the oven's aroma, and take a look at our freshly baked goods. It is not uncommon for Piroshkies to go straight from the oven and into your hands."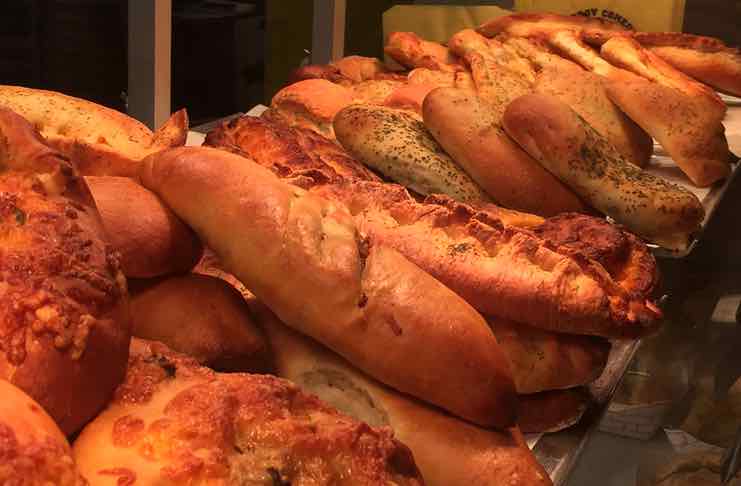 I love that the staff at Piroshky make themselves familiar with the story. John was baking that day and he kneaded the bread, twist these beautiful pumpkin maple twists while telling me the story. 
He takes pride in his work and loves seeing people from everywhere every day.
This a staple and tradition in Seattle. A warm tasty pie that is hearty to fill the tummy and keep a person going all day. Perfect for those damp misty days. 
The Salmon pie was one of my favorites. The bread was a little heavier than I expected but again this is designed as a pie to take on a run to work. A perfect lunch or late breakfast to get you through the day. 
John was in the midst of preparing the new to the menu pumpkin Toffee almond braid. After watching him master the twist I saw the passion and love he has for his craft as well as the people in Seattle. 
I had to return later that day to actually try this beautiful treat.
The customer service that I witnessed by the staff at Piroshky Piroshky not just at this location but the very busy Market location was more than selling hand pies. The gentle smile and easy greeting was Seattle. The smiles are warm and gentle which seems to me to be a necessity to live in a mostly cloudy, misty region. Views to literally take your breath away but not as much as strolling up and down the hilly sidewalks. 
Falling in love in Seattle is easy. 
New Yorkers have a passion for their city. We have relationships with concrete, high rises, history and a giant park in the middle of all this chaos. 
Seattle has that passion and love oozing out of the mountains and the water…water everywhere. They love this city almost as much as they love their Seahawks. 
The beauty of Seattle is indescribable. The people are unique and warm and quirky. Proud Seattlites. They love the rain they love love love the Seahawks and no one likes umbrellas. 
I think it's not necessarily the Seattle Freeze but rather they are special. To be here you have to get it. If you don't that's ok. They're fine with that. You can come back and come back I will. 
Living and loving in NYC, food has been a passion of hers. East Coast to West, Faith's goal is to explore and learn with the contribution of other like-minded foodies. Faith Rein has written for 2Girlsfromabar@blogspot.com. Youtube channel – faith.rein, love food love faith. You can find her @: Faith.rein/facebook (always looking to add friends) / faith rein@twitter / faith.rein@instagram / faith.rein@gmail.com