Name: Que Chevere
Where: 115 Delancey Street
Imagine: you're in a massive two-story building, surrounded by food—all types of food might I add—and you're oddly comfortable being overwhelmed by the options.  THAT is what it's like being in The Essex Market. Now imagine that you're hungry and your stomach is making you move in many directions towards food, only to notice vendors who are swamped with customers, and the chefs are working faster than ever before to minimize the wait-time per customer.  That was what it was like for Que Chevere during opening week.
Que Chevere is located in a corner on the lower level of The Essex Market, which, with all the people, was somewhat difficult to find; but, once you notice the glowing "Que Chevere" logo hanging on the wall, you'll never be able to miss the food stand again.
My boyfriend, Taylor, who also coupled as my photographer for the night, and I walked towards the stand, and let me tell you that we were in utter amazement of the line we were going to be waiting in for Que Chevere's signature Puerto Rican cuisine.  Seeing people line up to wait for something, hypes you up because it "must be that great;" needless to say I was getting anxiously excited to see what this food was all about. My friend from college, Jason, used to talk about his abuela's homemade Puerto Rican cooking all the time, so I couldn't wait to sit down and have my first full Puerto Rican food experience, wondering if it was going to be anything like Jason had described to me.  I finally got to the front, and the owner, Mike, welcomed us with open arms. Immediately, I could tell how passionate he was about his business, especially when he began talking about the food on the menu.
He explained to us that the menu centered around "building your own plate" by choosing options in different categories, all served up in one beautiful bowl presentation.  I ordered what Mike recommended (because of course, the owner knows best!), which was: pernil (roast pork), arroz con gandules (yellow rice with pigeon peas), tostones (fried plantains), topped with the "QC" sauce and salsa verde.  Mike shared that he used to eat this meal many times growing up. If I ate this meal many times growing up, I think I would open up an entire restaurant around it too, because OH MY GOODNESS, it was amazing.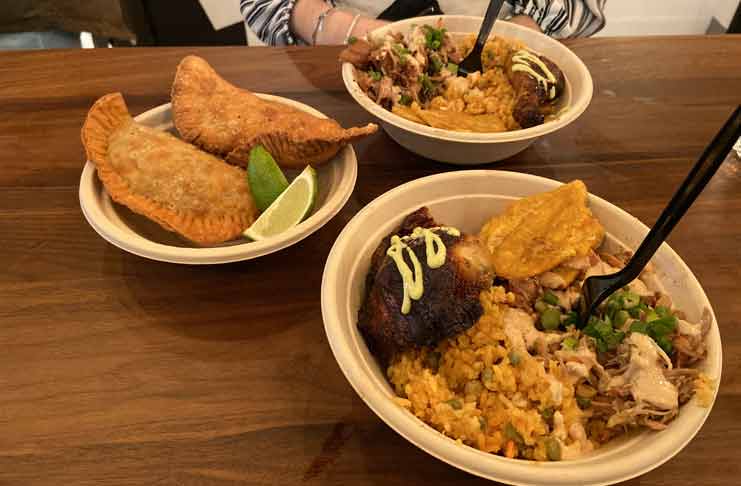 Let's break the bowl down: the shredded roast pork was so unbelievably tender that it was as soft as the rice.  The rice was uniquely flavored in the best was possible—truly like no rice I have ever eaten before—and let me also say that I've never had pigeon peas before, but that made the rice even more special.  Take those two dishes, combine them in a bowl with the QC and the salsa verde sauces, and you have an explosion of flavor in your mouth. But, the fried plantains. I have only eaten a few fried plantains over the years, and I was never very fond of them until Que Chevere.  Those fried plantains were truly the best ones I have ever eaten. I seriously considered getting a separate side order of those perfectly crispy and thin pieces of goodness. If I said to you: "which dishes would you consider as comfort foods?" many of you would respond: "mac & cheese," "potpie," and/or "meatloaf."  I too have thought this on many occasions, but somehow that bowl of Que Chevere food managed to give me that same "stick-to-your-ribs" feeling.
We also got to try sides of the asado de pollo (rotisserie chicken), the beef and chicken empanadas, and the maduros (fried sweet plantains), which fulfilled that homey feel as well.  The chicken was juicy and tender; it's not as portable of an option as the pork because of the bones, but if you have time to sit down and you don't mind getting your hands dirty, it's definitely worth a try.  The empanadas were huge flaky pockets filled with seasoned meat—two empanadas could easily fill you up! Taylor loved the maduros because of the sweet flavor they had, but we agreed that they might be a great snack or after-meal choice; especially for those of you who like to keep your salty foods separate from your sweet ones.  But no matter what you choose from the menu or when you choose to eat it, your stomach will be thanking you.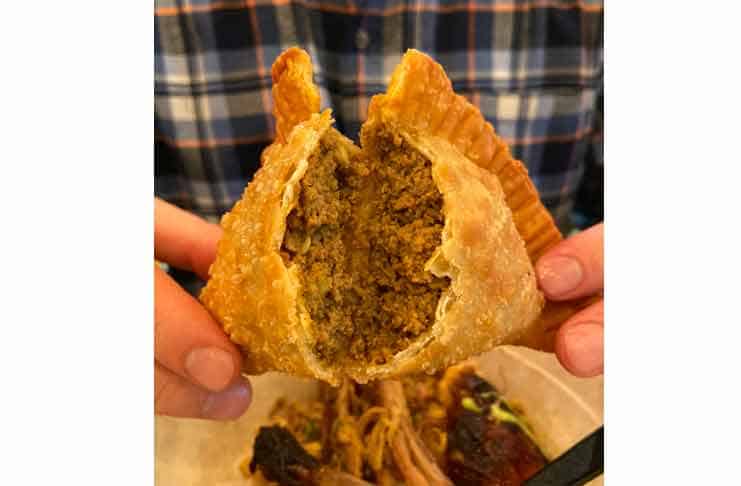 Mike had the vision to take his passions for his Puerto Rican heritage and food to create a new business.  However, the execution of his vision would not have been possible without his daughter Lillian and her recipes, as well as his chef, Maro, who has been able to successfully replicate those recipes time and time again.  Both Mike and Chef Maro took the time to check upon us, although I knew very well that they barely had time to breathe in between customers.
I asked Mike: "okay, so I have to know: what does 'Que Chevere' mean and where did the name come from?"  He told me about his family, about his children and his wife, and then ultimately explained that the restaurant was named after his father-in-law, and came up with a logo to complement it.  It was with that story that made the entire experience complete for me. I felt like I was apart of his family and got a glimpse of how much everything meant to them.
Take it to go, eat sitting down, eat standing up, it doesn't matter.  You'll want to wait on that potentially people-swamped line to get a taste of the rich Puerto Rican culture, because eating at Que Chevere, means that you're part of their story and part of their journey.  You can't feel more special than that eating at a restaurant.