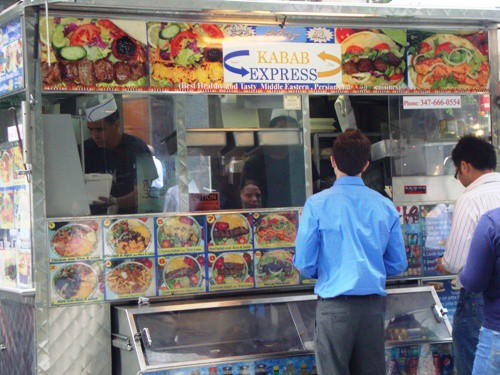 I happened to be near Kabab Express on 55th St just east of 6th Ave around lunchtime today.  I haven't tried their lamb or beef kababs yet, but their chicken kabab was pretty good, as was their koobideh kabab.  Unfortunately, it takes around 15 minutes to grill the kababs from scratch, and I didn't have a lot of time, so I went for the street food gold standard instead.  Today's Lunch is chicken over rice with white sauce and hot sauce ($5).  Would the chicken over rice from Kabab Express be as good as their kababs?  Find out after the jump.
In all fairness, I know it takes time to grill these kababs, and I've suggested in the past to NYSF readers they should call about 15 minutes ahead to 347-666-0554 for kababs, but this was a last minute thing and I didn't call ahead.  Guess the lamb and beef kababs will have to wait for another day.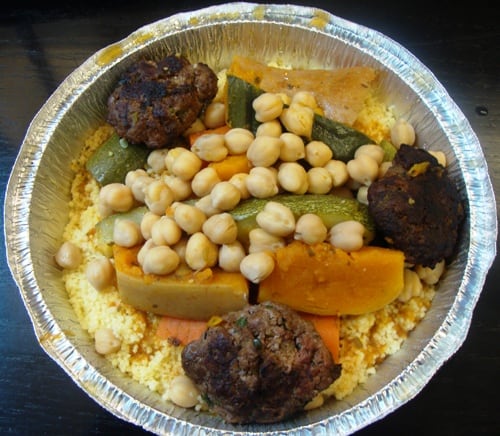 The chicken was a combination of white and dark meat, but it was cleaned well because there wasn't any of the funky stuff you get on some of the other halal carts that just hack up the chicken with a cleaver.  I prefer white meat chicken, but don't mind dark meat if it's prepared right.  This was done right, and there was not one bad bite in the bunch.
Kabab Express has 2 types of rice – yellow and brown.  I've had the brown rice twice before and enjoyed it.  Today I tried the yellow rice…and it was good too.  The yellow rice is moister and plumper than the brown rice.  Another thing about the yellow rice was the presence of diced carrots and some green pepper.  The veggies were still crisp and added a pleasant crunch to the rice.  At first I thought the crunch in the rice was a nut, but it turned out to be a carrot.
The hot sauce was excellent. Very hot.  The white sauce was mayo-based, but it was a little sweeter than the usual halal cart white sauce.  My guess is they add a bit of honey to the white sauce.  It's not overly sweet, but it is a little sweeter than the white sauce from most other carts.  It was a nice combination – a little heat and a little cooling from the hot sauce and white sauce, respectively.
There was a small salad of lettuce, tomato and a little red cabbage.  IMHO, white sauce doesn't usually make a good salad dressing, but this was a little sweeter and more dressing-like.  It still won't take the place of a good blue cheese or french salad dressing, but it was better than most of the other halal cart salads.
Today's Lunch was a 9 out of 10. This was definitely one of the cleaner-tasting chicken over rice platters in midtown.  It wasn't greasy, didn't have any funky stuff in it, the sauces were enjoyable, and my tongue is still tingling 1/2 hour later.  I'm getting a little tired of chicken over rice for lunch, but this was a good one.  I'll have to make sure to call ahead for the lamb or beef kabab next time just for a change of pace.