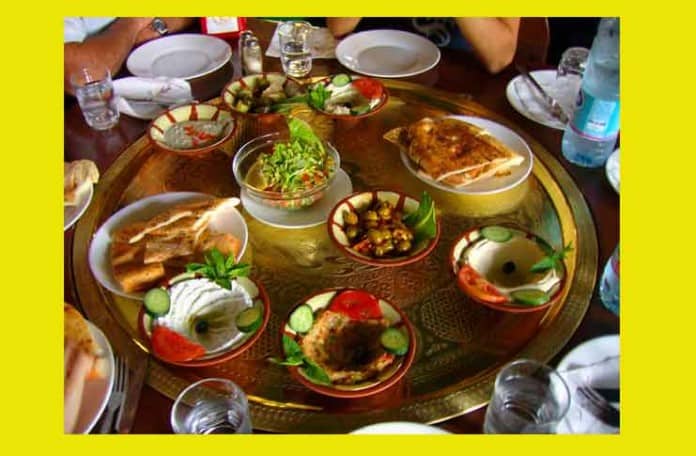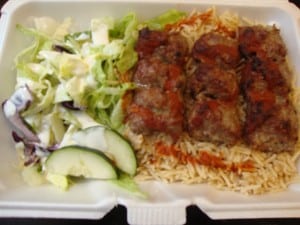 I've been wanting to get back to Kebab Express, on the southeast corner of 55th St and 6th Ave, since enjoying their grilled chicken kebab over rice in January, right after they opened.  They are a relative newcomer to the New York Street Food scene, but appear to have gained a following in the past 6 weeks.  I can see why.
Today's Lunch was the koobideh kebab platter ($7), which is a Persian minced meat dish with onion and spices.  It's similar to keema in Indian cuisine, but spiced a bit differently.  I didn't want the flavor of the meat to get buried, so I only ordered it with hot sauce, and only got white sauce on the salad.
They grill the kebabs right there, so everything is cooked fresh, and with 3 kebabs in the platter, there was plenty of meat.  The koobideh was nicely grilled and was very good with the hot sauce, but next time I'll get the white sauce too.  I dipped the koobideh in the white sauce that was on the salad, and it was better with the white sauce.  I will say, their hot sauce was hot, not the wimpy hot sauce some places have.
There was a choice of brown or yellow rice, and I chose the brown rice, which was excellent.  For some reason, I really enjoyed the rice today.  Perhaps it had something to do with going out drinking last night.
The salad was pretty basic with lettuce, a little red cabage and cucumber.  I declined the grilled half tomato, but if you like tomatoes, it looked very good.  I like salad at the end of a meal, and this was a refreshing finish for the meal.
It takes a little while to grill the kebabs, so I would suggest calling 10-15 minutes ahead to place your order.  Otherwise, you'll just be waiting at the cart for them to grill the kebabs to order, which takes a little while.  It's well worth calling ahead to 347-666-0554.
Today's Lunch was a solid 9 out of 10.  I'll be back!