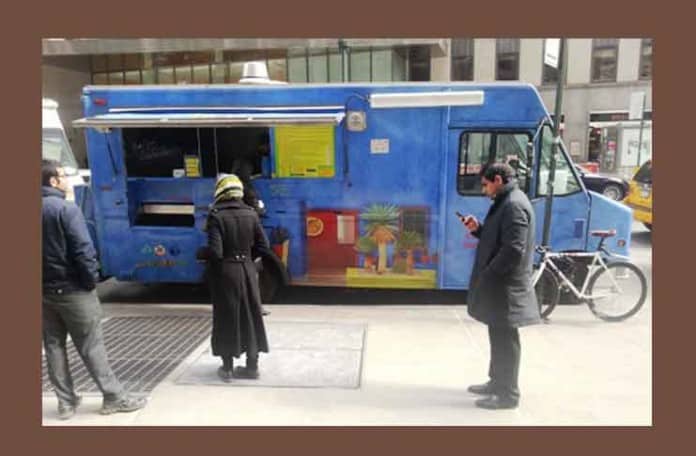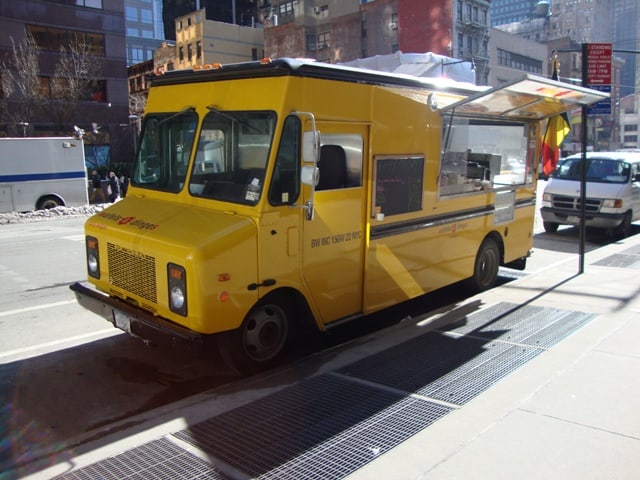 Another beautiful day in New York City!  A few of the trucks are starting the holiday weekend early, but many are still out on the street, as are the carts.  Enjoy some great street food today, as well as the long holiday weekend.   Should be a nice one.
waffletruck – Fantastic Friday! We're on 52 btwn 6 & 7 til 4:30pm. Operatically sing your order=1 free dinges today.
VLAIC – Single Origin Cold Extraction Iced Coffee being served at 5th & 15th, & 5th & 23rd all day…
fritesnmeats – Sorry Midtown cant find anywhere to park. Heading to Water & Broad. FiDi, Midtowns loss is ur gain. Start ur wkend w/Burger Love! C u soon
BistroTruck – Soup: bissarra ( split pea) Dessert: rasberry panna cotta. Special of the day: Couscous Royal (lamb, chicken, merguez & veggies)… Fish tacos all day long…
schnitzeltruck – Hey 52nd & lex, Extreme schnitzification @ 11:30? We have veal. if u wanna get ur schnitz on we are closing at 1:15 for private event. C u:)
CupcakeStop – Original truck in Soho on Broadway and Spring, New truck on Madison & 99th and shoppe inside the Limelight (6th & 20th, 1st fl).
RickshawTruck – fri 7/2: we're at 45th&6th ave and also outside Chelsea market at 15th&9th Ave. Serving up dumplings from 11-3pm!
GOBurger – Today we are across from seaport in front of market to days special verge burger and blt burger come have fun with us see you soon
3 new tweets.
1 new tweet.
JiannettosPizza – its friday! we are ready for your guys already….gettin a jump on today, happy 4th guys!
CalexicoCart – Sorry guys, the cart on Broome is closed today. However, the cart on Wooster is cooking it up and offering the Gringo Especial. Enjoy!
PapaPerrone – We are on 55th btwn Park & Mad. We have our famous eggplant and we have Italian ices. Have a safe and happy 4th of July
LCBBurgerTruck – Start the weekend off right with a LCB 100% All Natural Steakburger. The truck is located @ 111 Wall Street today. Happy 4th of July!
EddiesPizzaNY – The eddies pizza truck will be closed from friday july 2nd until monday july 5th. We will re open on tuesday july 6th on water and broad.
StreetSweets – Happy Friday. Street Sweets is going to the beach! Sorry Murray St, we wil miss u, but we will see u next Friday. Have a fun & safe holiday!
nyccravings – have a great 4th of july! we will not operate from 7/2-7/5…
Hoboken/Jersey City
TheTacoTruck – Finish off the week with a taco! Lunch in Hoboken today.
TheKrave – 7/2 – TGIF! – Have a great 4th of July weekend. The Krave team will be having a corporate outing on Tuesday… http://tumblr.com/xl1clhmt1