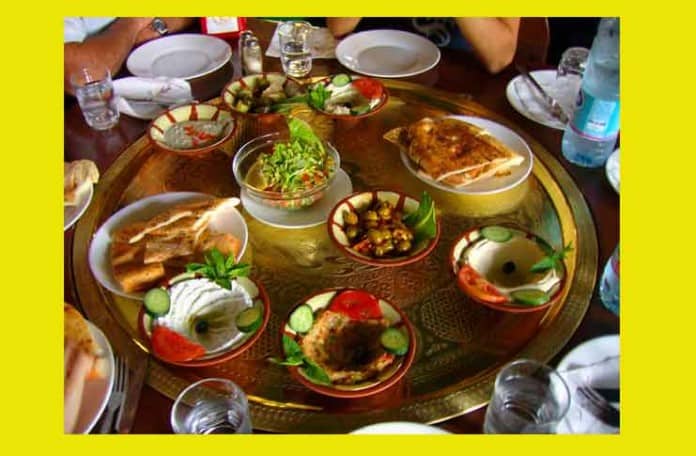 It's Thursday, which means it's time for a downtown street food review – another Wall Street Winner.  Here's the latest installment, eaten and written by FiDi Mama of the Money Grub blog.
In this week's edition, FiDi Mama tries a nondescript halal cart on the corner of Gold St and Maiden Lane.  How was it?  Find out after the jump.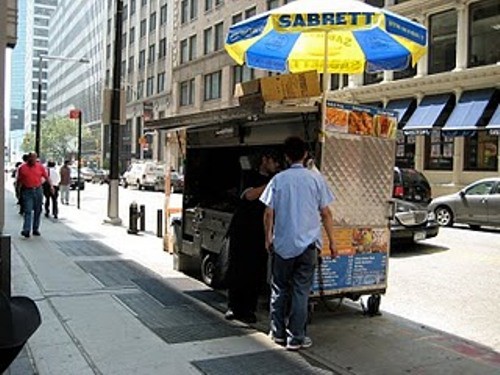 "Gold Street Halal"Location: Corner of Gold Street and Maiden Lane in front of Sovereign Bank branch.
Cuisine: Middle Eastern and American
Grub: Chicken over rice with side salad = $5 (Rabia tossed in a falafel ball and a few fries too).
Review: This nondescript silver cart with a Sabrett's hotdog umbrella on top is what a halal cart should be. Marinated chicken, freshly cooked, not greasy. Rabia, the cook, is a young guy who barely speaks English, but seemed to have no communication problem with the Asian postman hanging out with him. Rabia's pre-cooked chicken is piled high in big pieces on the side. He chops it up into bite-sized pieces when you order and warms up the rice on the grill too, adding some seasonings, sauces and a bit of vegetable. Rabia has a light hand with the yogurt and spicy sauce, letting the chicken flavors come through. HD preferred Rabia's chicken and rice to the plain chicken and vegetables I had made her. My only criticism is the uneven quality of the chicken. Some pieces were perfect white meat, but others had a bit of gristle/cartilage. The falafel was dry and flavorless. Fries don't travel well, but HD wolfed them down. Salad is basic iceberg and tomato, but fresh and crispy.
Rating: I'd return the day after tomorrow. 3 out of 4 pita.