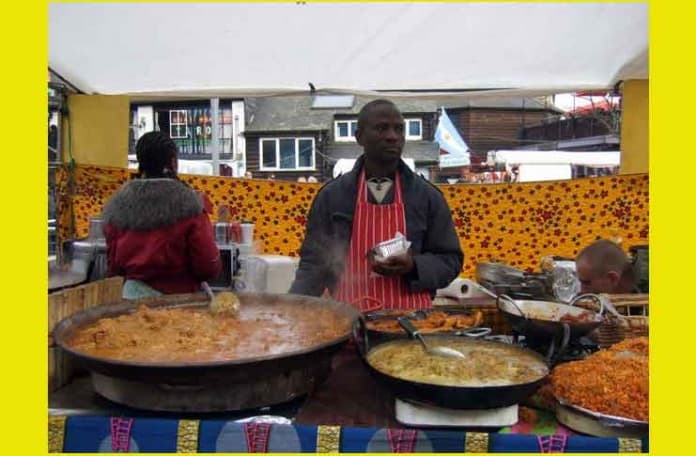 It's freakin' hot out, so I stayed near my office and went to the Jamaican Dutchy cart on the NE corner of 51st St & 7th Ave.  They were a Vendy Award finalist in 2009, and I've tried their jerk chicken sandwich and escovitch chicken, so it was time to try something new.  Today's Lunch is the sweet & sour chicken from the Jamaican Dutchy cart.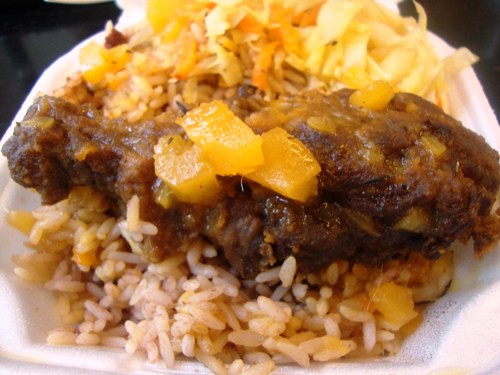 With the hot and humid weather outside, my appetite wasn't very large, so I ordered the small size for $7.
I don't know on what planet this is a small lunch because there were 2 pieces of fried chicken on a huge pile of rice with a large side of cabbage salad.  I didn't weigh it, but this had to be as much food as most of the chicken over rice lunches I've had from the halal carts.
The chicken pieces were a thigh and a leg, which were fried with a slightly spicy breading and covered with a light sweet & sour sauce. The chicken was very tender, just about falling off the bone.
The sauce was nice, not too heavy and cloy like it can be in the Chinese version of this dish.  There were also a nice amount of pineapple chunks in the sauce, which I enjoy.
The rice was really good too.  There were a few beans scattered throughout the rice, but this was definitely a rice dish, not rice & beans.  There was a pleasant undercurrent in the rice that took me a little while to figure out, but after a few bites it came to me – allspice (and possibly clove).  Some of the rice had sweet & sour sauce on it, which made it even better.  I would suggest asking for extra sauce on this dish so it seeps down to the rice.
The cabbage salad had some shredded carrots and was decent, but I try not to eat too much cabbage, working in an office with 25 other people.
Today's Lunch is a solid 8.5 out of 10.  I would have liked some white meat too, but the chicken I had was very tender and tasty, as was the sauce and rice.  If you want to know more about the Jamaican Dutchy cart, you can read our recent interview with O'Neill Reid here.