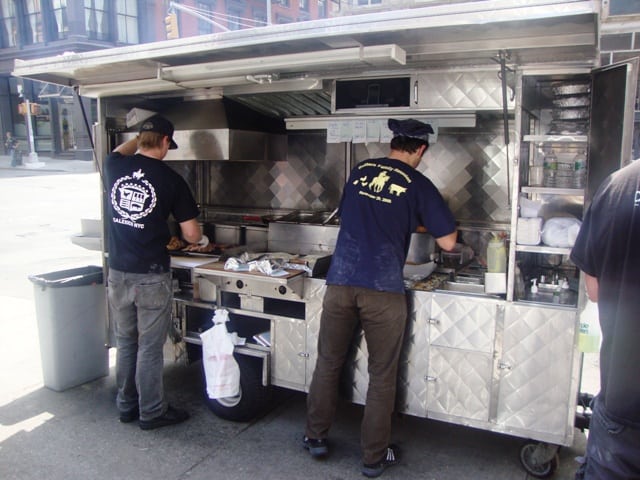 It may be another hot one today, but I'm picking up some great street food from one of the vendors on the right or the trucks below, and bringing it back to my office.  I suggest you do the same.
Our best wishes go out to Chef Samir of the Comme Ci, Comme Ça truck, who is having elbow surgery today.
As always, check the pink Mobile Munchies twitter feed on our homepage before heading out to make sure your intended food truck has not moved at the last minute because of a film shoot, police activity, or any number of other reasons.
CalexicoCart – The special today on Prince & Wooster is pulled chicken in our mole sauce. Enjoy!
schnitzeltruck – It's peanut butter schnitzel time, peanut butter schnitzel time;) 46th & 6th, you ready for schnitz time? B there 11:30. 347-772-7341
EddiesPizzaNY – Today (Tuesday 7/20) we are on water and broad until 3pm and then the west village until 9pm! Don't forget to call… http://fb.me/tzFO3I3Z
RickshawTruck – Midtown East: 52 + Lex as well as Midtown West 11av + 46 from 11a-3p and we got the summer watermelon-ade http://tinyurl.com/2edmf88
fritesnmeats – Howdy Midtown! Were on 48th & 6th with much Burger Love today! Stop by or give us a shout & avoid the line. 917.292.9226
waffletruck – Dear Prudence, Happy Tuesday! We're on 52 btwn 3 & Lex til 4:30pm. Sing us your favorite Beatles tune for 1 free dinges today.
CupcakeStop – Truck on 99th & Madison and 58th & 8th, shoppe inside the Limelight on 6th & 20th, 1st fl. and new bakery in Montclair NJ (1 Greenwood Ave)
1 new tweet.
nyccravings – 24th btw park and madison! Ready in 10 minutes.
StreetSweets – Street Sweets is @ Hanover Square & Water St. stop by & say helo 2 Bennett & Neptali, they r there 2 put some yummy in your in your tummy.
BistroTruck – We are on 11ave and 22 St at the chelsea art museum for an event for Monday 19th and Tuesday 20th. Soup chilled melon with mint. Special: Spiced Salmon brochettes with yogurt sauce over basmati rice & salad. Fish tacos. Special of the day: Mix grill (lamb, chicken, merguez & steak over basmati rice and salad). Dessert: homemade lemon pudding
joyridetruck – Today is the end of the Joyride-truck-less era. Long live the new one. See you all tomorrow.
Chefsamirtruck – NO TRUCK THIS WEEK 🙁 Chef Samir is having elbow surgery later today….Miss you already Lexington beautiful people!
Hoboken/Jersey City
laspicetruck – Hudson & york 11:45-2:00. Come try the new LST spice sandwiches and burgers, one from India and the other from lebanon!!! C u soon
TheTacoTruck – Serving lunch in Jersey City at Hudson and York from 12 to 2:30. Taco Tuesday at Exchange Place.