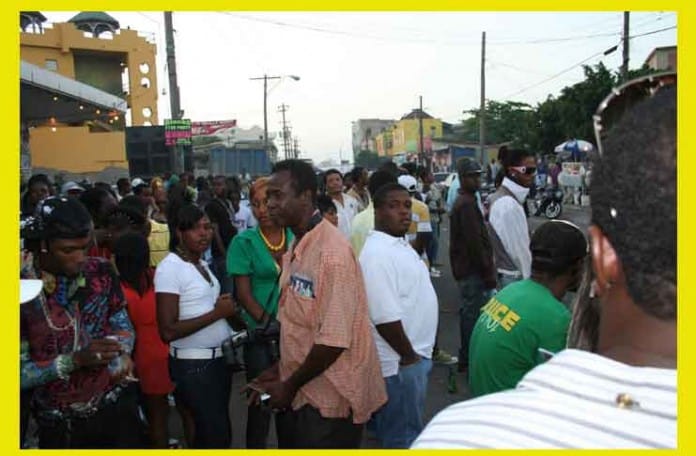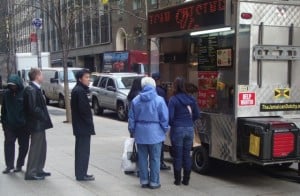 I've been having a lot of big meat and rice platters and other heavy foods for lunch recently.  Today I wanted something not as filling, but it had to be just as good as the other lunches I've had lately.
Therefore, Today's Lunch is a jerk chicken sandwich from the Jamaican Dutchy cart, a 2009 Vendy Award finalist.  In the past, I've had their escovitch chicken platter, which was very good, but it was a huge amount of food for lunch.  Getting the classic Jamaican jerk chicken in a sandwich was the way to go today.
He took out a roll, sliced it, and put mayo on the bottom.  He then took out a jerk chicken breast, sliced it horizontally and spread it out it on the roll.  Next was lettuce (I asked for no tomato) and then a ladle of brown jerk sauce to top it off.
It was delicious, and at $5, cheap for a sandwich in midtown.  Go into a deli in midtown and try to get a sandwich for $5.  It's not easy.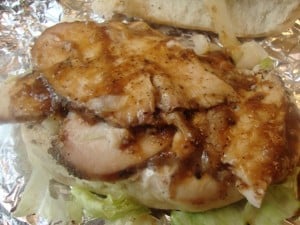 Sliced chicken breast with jerk seasoning around the edges and a peppery jerk sauce made for a great sandwich.  The roll was denser than a kaiser roll, which helped absorb the pepperiness of the chicken and jerk sauce.  The roll was similar to the potato rolls you find in the bread section of the supermarket.
On the NYSF food scale, Today's Lunch was a 9.5 out of 10.  Definitely one of the better sandwiches around.