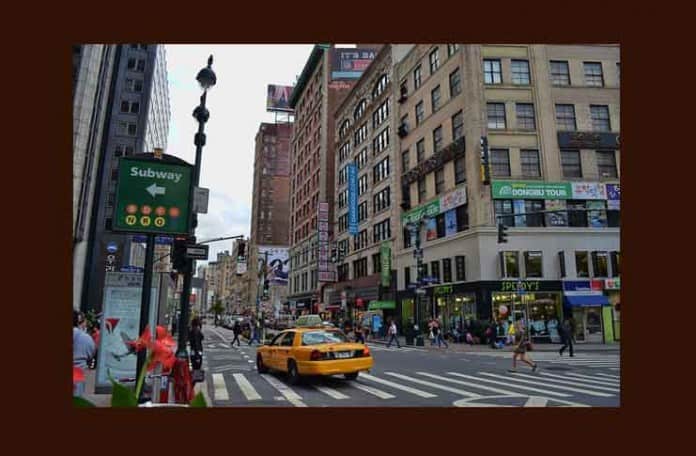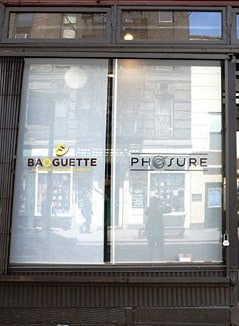 I had lunch near home today at Baoguette/Pho Sure, which is located at 120 Christopher St in the West Village.  They are listed in our Honorary Street Food category, which are storefronts with little or no seating serving what is generally considered to be street food in their home country.
Today's Lunch is a sloppy bao ($7), and since I have no self control, I also ordered a chicken summer roll ($6).
A sloppy bao is basically a cross between banh mi and sloppy joe – spicy ground beef in a red curry sauce with jalapenos, cilantro and basil.  The sandwich is topped with jullienned mango, which offsets the spiciness of the meat perfectly. This was a great sandwich!
One thing they do differently here is to take the bread out of the top of the roll, effectively hollowing it out.  This leaves more room for the meat and mango fillings, and also makes it neater to eat.  Great idea!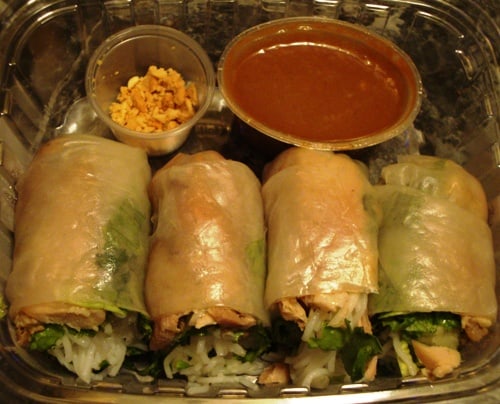 For the chicken summer rolls, there were two, which were cut in half, making four large pieces.  This could have been a lunch by itself for someone with a smaller appetite than me.  With the sloppy bao, this was a big lunch.
The chicken rolls had thin rice noodles, bean sprouts, mint leaves and chicken wrapped tightly inside cellophane rice wrappers.  The rolls came with ground peanuts and a peanut dipping sauce.
The chicken summer rolls were leafy and delicious.  The mint leaves and rice noodles gave them a very fresh taste, and the peanut dipping sauce added even more deliciousness.
Today's Lunch was very enjoyable.  The sloppy bao was spicy, meaty and even a little sweet and fruity with the julienned mango.  The chicken summer rolls were tasty and significantly lighter than the sandwich.
We definitely recommend Baoguette/Pho Sure for some delicious Honorary Street Food.