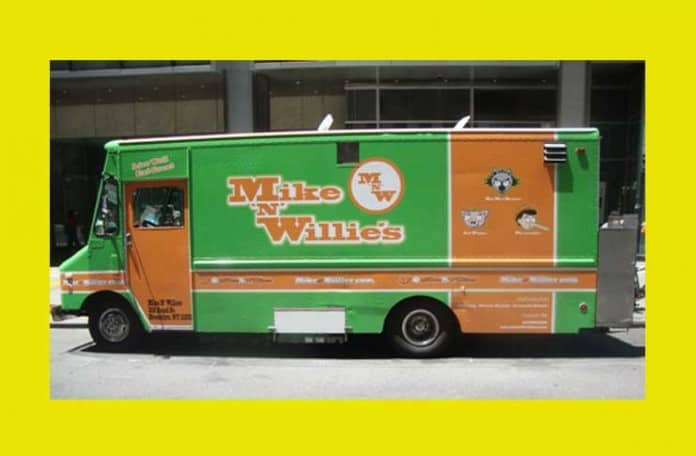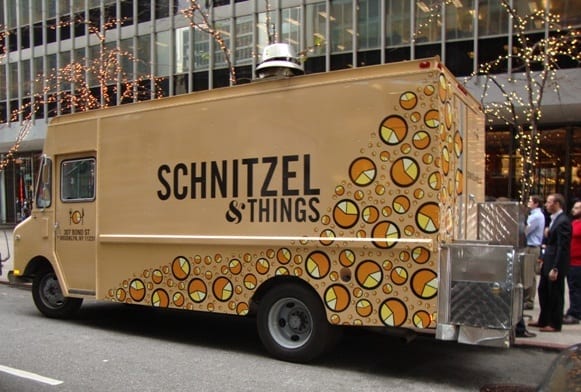 For all of you not suffering from triskaidekaphobia (fear of the number 13), here are today's Mobile Munchies.
The Schnitzel & Things truck is out of the shop and back at 52nd & Lex, Gorilla Cheese is trying the 18th & 5th area, and it's Chrissy's last day on the street as Miss Softee, after training a new crew, The Rolling Cones. Stop by and wish her well after she posts her location.
schnitznthings
Schedule for truck not changing. Friday as usual we'll be on 52nd & lex from 11:30-2:00. Next weeks spots will also be same as usual
CoolhausNY Stop by Union Square from 12-4pm today for a Friday the 13th Ice Cream treat! Maple Waffle Cookie with Nutella Ice Cream anyone?
Chefsamirtruck is on 38th St @ Broadway today! SMILE! Today is Iced Tea MADNESS DAY! All kind of teas $2
waffletruck Friday le 13th! Le Truck is on 47 & 3 til 4:31pm (the building on 52 complained). Do your superstitious bad-luck-eliminator dance=1 dinges. LE CARTS! Le Goesting is on 53 btwn 5 & 6 Le Bierbeek is on Grand & Broadway Le Vedette is on 60 & 5 YAY!
joyridetruck Columbia-ites, we are open and serving it up closer to the gates today. 116th&Broadway. Today's our last day up here, so get all your joyriding in.
Cevaptruck Cevap Truck is serving food on 46st btwn 5th and 6th today!!
TaimMobile We will not be on 52 as usual, we have a private catering event ! Will be back next wk though…