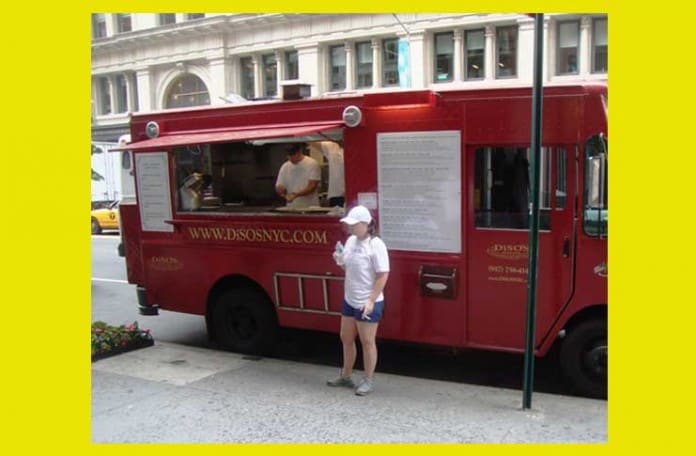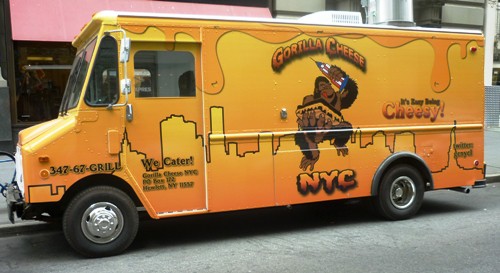 Not a pretty day outside, but there are plenty of reasons to get out for some great New York Street Food.
Gorilla Cheese NYC is downtown by Hanover Sq today, Bistro Truck has their new menu and is in a new spot at 27th & Park, and a couple of blocks up Park (around 30th), Feed Your Hole has Nutt Burgers (bacon & peanut butter).  Korilla BBQ now has 2 trucks on the street, and the Go Burger truck is back and looking for parking in midtown as I'm writing this.
GOBurger
We are looking for our landing spot in Mid-Town !! Hold on tight. We'"l let u know when we perfectly land.
feedyourhole
Were doing the Nutt Burgers for everyone who's been waiting for them! 8oz Prime Beef Burger+Double Smoked Bacon+Pnut Butta!!!
TaimMobile Today with Harissa falafel, on 46th btw 5th&6th! We don't fear the rain we hope you don't either!!! 🙂
KorillaBBQ
SURPRISE Chelsea! Introducing our new truck 2.0 to ur area for lunch today! Stay posted for exact location! Come check out our new look!RAWR. Dont think we're leaving u out Midtown East!!! Truck 1.0 jus got to its usual spot at 55th & Lex! Ready by 11:30! Come get sum!
Chefsamirtruck
Comme Ci, Comme Ça is on Old Slip @ Water St today! Hey Wall St! SMILE! Today is Iced Tea MADNESS DAY! All kind of teas $2
EddiesPizzaNY Open at 11am on 26 and park. Try a buffalo chicken hero or margarita pizza. Call ahead your order 9174397522
UncleGussys We are grillin it up on 51 and park avenue, posted up in the big blue truck, can't miss us.
KimchiTruck Good morning! We're on 28th & Park Ave. for lunch 11:30-2:30. See you soon.
BistroTruck
Ok, we found a spot on corner of 27st & park Ave. lunch service ready by 11.30a. Let's Goooo
gcnyc1 Gorilla Cheese NYC Happy Monday..Gorilla is @ 10 Hanover Square & Water Street…come get ur cheese on….
Mexicue 55th Street between Park & Madison @ 11:30
waffletruck Magnificentacular Monday! Le Truck is up on 113 & Broadway til 4:26pm. Yea, le carts abound! Le Goesting is on 49 & 3 Yea, verily, yea. Greet us like a renaissance fair employee for 1 free dinges. Verily. joyridetruck So much rain! Joyride's going to close for the day today and do some maintenance on the truck. See you tomorrow!
SweeteryNYC Mon 5/16 Hudson/King St 8-3:30p. 9Av & 59St 4-7:30p.
bigdsgrub This week- (5/16): 40th & 6th (5/17): FiDi @ Hanover Sq.(5/18): Zagat Food Truck Frenzy (5/19): Park ave & 33rd (5/20): 53rd btw Park & Lex
Frying_Dutchmen
Get ready for our Golden Ticket giveaway going on from May 20th to the 31st. There will be 5 winners who will get free fries for a month.