Today's Lunch is shrimp curry over white rice and a double from the Trini-Paki Boys Halal Food cart on West 43rd St, just east of 6th Ave.  This cart is owned by a couple, and the unusual name is because one of the owners is from Trinidad and one is from Pakistan.  They named the cart after their boys, the Trin-Paki Boys.  In New York, it sounds intriguing.  In London, it can be more like a racial slur.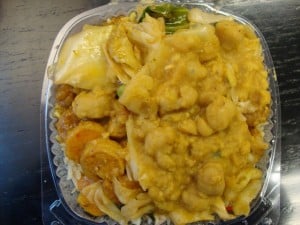 The shrimp curry over rice was quite spicy and good.  Instead of a few large shrimp, there were a lot of smaller shrimp, which was fine.  This was definitely one of the spicier lunches I've had, and I was glad for the rice after the shrimp was gone because it cooled me down a bit.   They also put a spoonful of vegies over half the shrimp, which you can see above.  Under the vegies was more shrimp curry.  I got the small size for $5, and it would have been plenty, even if I didn't get the double, although larger sizes are available, too.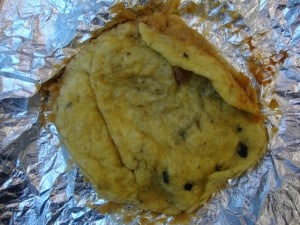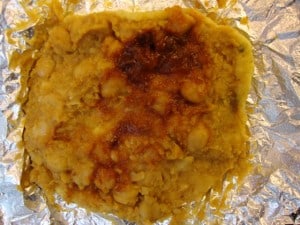 For the double ($2), he put two thin pieces of flat bread that looked like tortillas on the grill, warmed them up, spooned some chickpeas and sauce onto one, put the other on top and closed it up in foil.  It was spicy and a little sweet and very tasty.  It reminded me a little of ka-chori, and Indian dish I've had.  One reviewer on Yelp! said these doubles changed their life and one reviewer was unimpressed.  It didn't change my life, but I was impressed.  It was thoroughly enjoyable.
Today's Lunch was a very good, if spicy, one.  I tried some new dishes and was amply rewarded, as you will be if you try the Trini-Paki Boys cart.