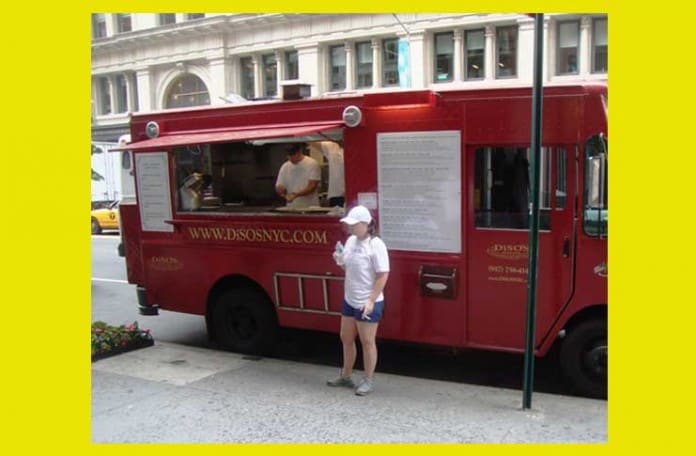 A nice day in NYC.  Not sunny, but warmer than usual.  Enjoy these Mobile Munchies today:
nyccravings – Hudson and King: Ready by 11:30!
CalexicoCart – Both carts are out and bringing the heat. Roasted pork shoulder in a jalapeño/tomatillo sauce is available on Broome St
VLAIC – Bakery Menu: HBBC, brownies, 3 kinds of muffins! Vermont aged chedder scones with chives, ricotta pound cake
TheTreatsTruck – We're on 45th St. and 6th ave from 11:30 to 3:30 then on 5th ave and 22nd st from 4 – 5:30. It's always time for a treat!!
RickshawTruck – Friday: Midtown West 45st and 6th av as well as Meatpacking/Chelsea Mkt @ 9th av and 15th st. Woohoo!
CupcakeStop – On Broadway and Spring w/ Red Velvet, German Chocolate, Banana (w/ Cream Cheese frosting), Lemon Poppy and Coconut Cream!
waffletruck – Friday wafel day on 8th Ave btw 56&57. Tell us 1 way to maintain sanity in the last weeks of this endless looooooong winter = 1 free dinges.
StreetSweets – We're back @50st just west of 6th Av (btw 6&7Av) from 8:30a to 5p We like the UES on Sat.(86st & 3Av) thou we might consider other locations
New Jersy Food Trucks
TheTacoTruck – Lunch today in Hoboken on Sinatra between 1st & 2nd from 11:30-2:30. Call ahead
201.577.4214
http://fb.me/5NWwBPG
thekrave – Location 2: Hudson and Harborside Pl, 11:45-2:15 http://tumblr.com/xl16lc1x0
thekrave – Location 1: Hudson and Essex, Inside Liberty Towers Gourmet, 11:45-2:30 http://tumblr.com/xl16lc1pt
As always, check the pink Mobile Munchies twitter feed on our homepage for the most up-to-date information.