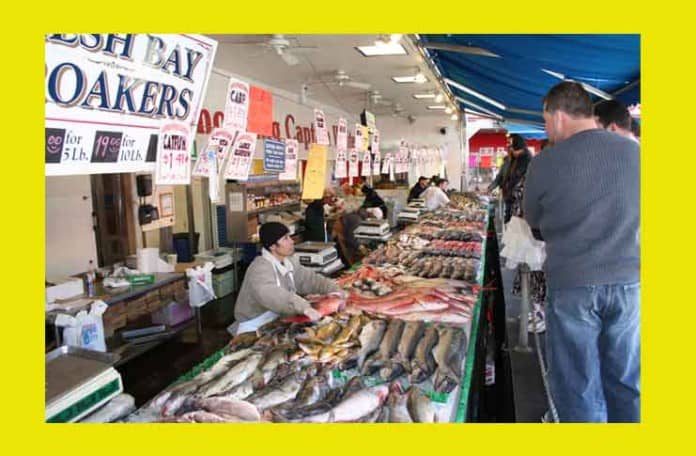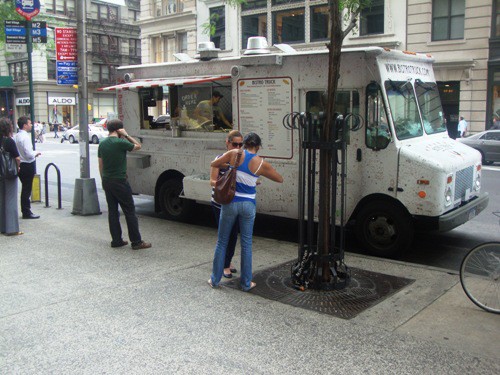 As NYSF readers know, I love fish tacos, and had a really good beer battered mahi-mahi  taco from Choncho's Tacos at the Food Truck Drive-In last Saturday.  In addition, the poached tilapia from Bistro Truck, parked daily on 5th Ave between 16th & 17th St, was one of my all-time favorite lunches – and their special today was fish tacos!
The stars were aligned for a great meal.  Would Today's Lunch live up to expectations?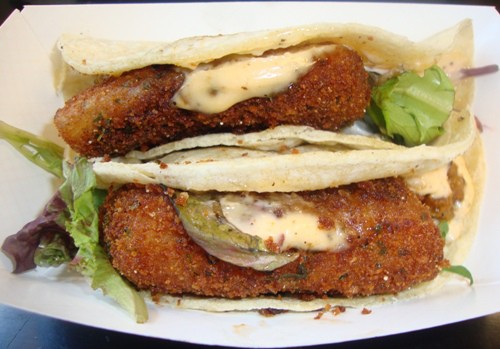 The Bistro Truck's fish tacos are made with tilapia, charmoula (carmelized onions & roasted tomato), spicy mayo and mixed greens on a corn tortilla.  There are two tacos in the lunch for $6.53 including tax.  Sounds good.
I wasn't sure if the fish would be grilled or fried.  It turned out to be fried in Italian-style bread crumbs, which gave it some herbiness.  The fish was a fairly thick piece of tilapia, which provided for an excellent filling for the taco.  Each bite of the taco contained mostly fried tilapia.
Other than the fish, the predominant flavor was charmoula, which was kind of like a cooked tomato/onion relish.  I'm not a big tomato lover, but the charmoula was good and added nicely to the taco.
The spicy mayo was good too, but not particularly spicy, and the mixed greens added some texture.  A little more spice in the mayo would have been appreciated, but it was still pretty good.
Unfortunately, they only used 1 tortilla per taco, which made them a little tough to eat at the end of each taco.  In Mexico, they use 2 tortillas per taco, and some places in NY do as well.  As the saying goes, "there ought to be a law" that all soft tacos must use 2 tortillas.  Think we could get that law through the City Council?
Today's Lunch was still a 9 out of 10.  I would have liked 2 tortillas per taco, and for the spicy mayo to be a little spicier.  However, the value was good, and the food was excellent.  Bistro Truck is definitely one of the better food trucks serving the NYC area.