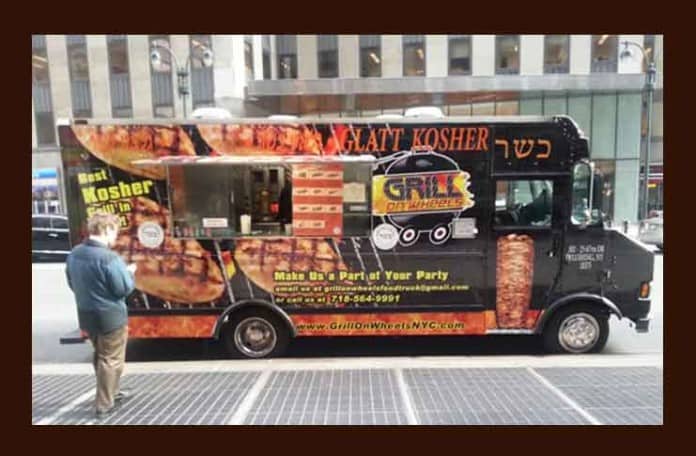 Another beautiful day today.  Enjoy some great street food from the vendors on the right and the trucks below.
As always, check the pink Mobile Munchies twitter feed on our homepage before heading out, as the trucks sometimes have to move on a moment's notice.
StreetSweets – Good morning Hanover Square we are here at Water St. Opening at 8:30am
RickshawTruck – Hey Midtown East we are waiting for parking! 52 + Lex pray to the parking gods…stay tuned
RickshawTruck – woohoo it's tuesday + that means dumplings, watermelon-ade + ice pops at 11av + 46 did you say ice pops!??
CalexicoCart – Both carts are out in soho today. Our special today is fresh ground beef, seasoned with chilis & cumin and topped with pico & sour cream.
schnitzeltruck – Did I mention we have veal? 11:30 @ 46th b/w 5th & 6th. The chipotle sour cream condiment is off the hook. Spicy:) c u soon.
waffletruck – Midtown East wafeling at 52 btw 3 & Lex. Free dinges for the top 3 reasons why you should really be on vacation today! Seaport@Fulton/Front.
biggayicecream – I'll have some lingonberry puree as a topping today- but a limited amount. YUM. Peppermint syrup + cacoa nibs will be returning ASAP.
EddiesPizzaNY – Come try and buffalo chicken bar pie. Call ahead your order. 9174397522. Today (tues 6/29), we are on water and broad street in fidi.
CupcakeStop – Today the Original truck at the Flatiron on 5th and 23rd, New truck at the Seaport and shoppe inside the Limelight Marketplace 6th & 20th
fritesnmeats – Were on 48th & 6th. El Cubano, Angus Skirt Steak Sandwich, Mixed Berries w/Vanilla Custard & Whipped Cream! U know u want some! Get some!
schnitzeltruck – Hey 46th b/w 5th & 6th. Comin to get ya. We have veal and two new condiments. New rule: above 90 no preorder minimum. Yaa!. C u @ 11:30
GOBurger – Truck is being serviced today! We might be up and running this afternoon – if we are, we'll let you know!!
waffletruck – Spekuloos by the JAR is now available at the truck and at the carts. It will be in the online shop in a few days. Best eaten by the spoon…
Hoboken/Jersey City
TheKrave – 6/29 – 12:00-2:00, Hudson & Harborside Pl. 5:30-9:30, Columbus and Marin Blvd http://tumblr.com/xl1ce85lq
laspicetruck – Hudson & york 11:45 caribbean chicx or pork. dessert week $2 today pistachio and strawberries, petit creme and raspberries!! mmm C u